Purpose
An instant credit for farming community to meet the emergent funds requirements for farm maintenance and other farm related activities due to COVID-19 pandemic.
---
Eligibility
Existing borrowers enjoying investment credit with satisfactory repayment track record.
---
Quantum of Loan
10% of Other Agriculture sanction limit i.e. Minimum Rs.10000/- and Maximum Rs.50000/- for existing regular Investment credit agriculture accounts
---
Nature of facility
Demand Loan
---
Rate of Interest
1 Year MCLR+SP i.e. 8.15+ 0.25= 8.40 % (at present)
---
Margin
Nil
---
Repayment Period
Half yearly / Yearly instalments depending upon the income generation and cropping pattern
---
Security
Hypothecation of assets created out of bank finance if any.
Existing security under Investment agriculture credit loan accounts to be extended.
The existing norms of no collateral security up to Rs.1.60 lacs to be followed if the combined limit is within Rs.1.60 lacs.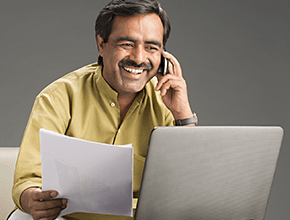 Request Callback
Please fill in these details, so we can call you back and assist you.