Leave behind the worries, journey ahead with the best memories.
Don't carry an extra baggage of worries when you're going out for a trip. From lost belongings to emergency medical care, you can leave all your concerns to us and enjoy your vacation as you imagined it.
At Tata AIG General Insurance Company Limited, journey is as important as the destination.
Features
Trip curtailment

If the Trip had to be curtailed by the insured after commencement of the trip, non-refundable unused portion of travel and accommodation costs or additional accommodation and/or travel expense can be claimed.

Hijacking

Pays distress allowance if insured common carrier has been hijacked.

Flight delay

Reimburses the amount of additional expenses, if your trip is delayed by more than 12 hours.

Fraudulent charges

If payment card is lost or stolen, the unauthorized charges will be reimbursed.

Accident andsickness medical expenses

Covers accident and medical sickness expenses made while on a trip abroad.

Checked in baggage loss

Covers Loss of checked baggage, held in care, custody and control of a common carrier, due to theft or due to misdirection by a common carrier or due to non-delivery at its destination.

Missed connections/missed departure

Reimburses reasonable additional expenses due to missed connections or missed departure by insured scheduled airline, on insured return journey.
Disclaimer
Bank of Baroda is authorized by the Insurance Regulatory and Development Authority to act as a Corporate Agent from 01/04/2019 to 31/03/2022 for procuring or soliciting business of Life Insurance, General Insurance and Standalone Health Insurance under Registration Code CA0004.Insurance is the subject matter of solicitation. For more details on risk factors, terms and conditions please read sales brochure carefully before concluding a sale. The purchase of Insurance product by Bank of Baroda customers is purely on a voluntary basis. The insurance products are underwritten by respective Insurance company. Bank of Baroda does not perform any insurance e-commerce activity on its website. The contract of insurance is between the Insurer and the Insured; and not between the Bank and the insured.
Claims Procedure:
The policy covers various travel emergencies faced whilst abroad.
Premium can be paid in Indian Rupees (except in case of employment).
Claim assistance available from an international service provider.
Claims are payable in foreign currency to doctors/hospitals abroad, directly by the service provider in most cases. In case, cashless service is not available insured can claim reimbursement.
The policy can be purchased by any citizens of India, Nepal or Bhutan going abroad for business or holiday purposes or any foreign nationals working in India for Indian employers of multi-national organizations getting salary in Indian rupees.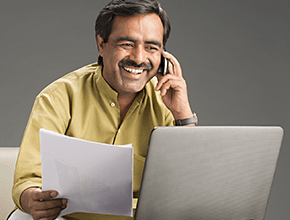 Request Callback
Please fill in these details, so we can call you back and assist you.

Chola Fire Property

CholaMS Group Health Insurance

Tata AIG Medicare

National Mediclaim Policy

National Super Top Up Policy

Auto Secure Private Car Package Policy

Auto Secure Two-Wheeler Package Policy

CholaMS Motor Insurance

Overseas Mediclaim Business and Holiday

Overseas Mediclaim Employment and Studies

AIGC business guard