Start-up and Ecosystem Engagement
Fintech Alliance : SME & Large Corporates
Contactless Underwriting (PSB Loans in 59minutes)
PSB Loans in 59 minutes is an online marketplace which helps in providing loan amount starting from Rs. 1 lakh to Rs. 5 crore to all the business entity. This initiative was taken to ease the MSME Business by reducing the loan approval process. The platform leverages technology to strengthen the credit delivery system and facilitate smooth flow of credit to MSMEs in hassle-free manner.
TReDS Online Discounting Platform
Bank of Baroda has on boarded all 3 RBI approved Trade Receivables Discounting System (TReDS) platforms i.e. A.TREDS, RXIL, MYNDSOL thereby becoming the first Bank to support this novel Fintech initiative. This online platform enables discounting of invoices of MSME sellers through a bidding process to ensure prompt realisation of receivables.
Digital Seller Financing
Collaboration with Amazon and Flipkart to offer collateral-free working capital loan to the merchants engaged in online selling through e-tailers.
Alternate Data Base Underwriting
Tie-up with CreditMantri for technology that helps bank to draw data of our SME merchants and assess the customers on the strength of personal and Business data points. Also helpful in offering low ticket credit products to first time borrowers and gradually capture other business requirements from them.
Baroda Tankerz
It is financed to SC/ST entrepreneurs for purchase of LPG tankers, who are successful allottees of transportation contracts by Oil Marketing Companies (IOC/BPCL/HPCL) under Stand-Up India Scheme.
Vehicle Financing
Bank has partnered with Uber, to finance individuals desirous of owning a vehicle and attaching it to Uber's platform. This initiative is promoting "Start-up India" Scheme by plummeting the entry barrier to financing and fostering drivers to become entrepreneurs.
GST Enabled Accounting Solution
Tie-up arrangement with Versify to offer their ready built GST enabled accounting software as 3rd party product to our customers on a monthly subscription basis.
MoU with SIDBI
Bank of Baroda signed a MoU with SIDBI with the objective of working together to strengthen credit delivery system and facilitate smooth flow of credit to the MSMEs and Startups in a hassle-free manner and thereby becoming preferred partner for various initiatives of SIDBI to support the MSMEs.
Information as a Service
Collaboration with Probe42 to obtain information on listed/unlisted companies from a number of sources, including the ROC, defaulter's lists, public filing, etc. available on demand for lending and gaining new business.
Fintech Alliance : Retail
Housing Loan
Bank of Baroda has tied up with Switchme for targeting existing housing loan borrowers who are looking to switch lenders to take advantage of lower interest rates. Switchme is a loan aggregator that helps loan seekers to understand the different loan products available in the market and help customers in selecting the right lender. Bank has empanelled Paisabazaar Marketing and Consulting Pvt. Ltd. for sourcing of home loan applications from their digital platform. This strategic partnership will provide our consumers exciting home loan finance offers along with easy loan options.
Education Loan
Tie-up arrangement with Gyandhan to source mortgage backed education loan applications for overseas studies. Gyandhan provides financial assistance for pursuing higher studies in India and abroad. Collaboration with Eduloans to source mortgage backed education loan applications for overseas studies. Education loans provides a platform for students to avail the best possible financial option for funding their studies.
Fintech Alliance : Wealth Management
Baroda M-Invest
Bank of Baroda partnered with Fisdom to launch the Baroda M-Invest app in the market f or the customers. The app blends cutting edge technology with personalized financial advice for investing in mutual funds. The entire enrolment and compliance process happens on the app after which the customer can do goal based investments in mutual funds.
Fintech Alliance : Technology
Payments: Truecaller Pay
Bank of Baroda partnered with Truecaller (Software Scandinavia AB, which is a privately held company in Stockholm, Sweden) for offering UPI payment services of BHIM Baroda Pay UPI app to users on their app (Truecaller Pay app which resides under its parent app) via secured API gateway. With this tie-up, users of any bank can link their bank account on Truecaller Pay for payments, such as utility bill payment, P2P funds transfer, payment via QR code, request payment and check balances. Users can directly send money to their contacts, without any need to remembering/sharing their bank account number, mobile number and VPA (Virtual Payment Address). The mode of payment is very simple, which gets completed instantly and funds get debited and credited instantly, online. Both the users get notifications of their app about the status of payment and they can also share the transaction receipt on WhatsApp. Users no need to keep multiple apps for payments anymore.
Sound Based Payment
Bank of Baroda partnered with ToneTag for contactless proximity communication using sound wave. The app SDK is integrated with Bank of Baroda's M-Connect Plus mobile banking application for making payment on ToneTag enabled POS terminals.
Payment Gateway
Collaboration with Razorpay, a payment gateway with the aim to revolutionize online payments by providing clean, developer-friendly APls and hassle-free integration.
Blockchain
Bank of Baroda is one of the founding members of two major blockchain based consortiums in India - 1.BIC (Blockchain Infrastructure Company) and 2.Bank-Chain.
Purpose of both consortiums is to experiment with DLT (Distributed Ledger technology) to implement financial use cases for the benefit of the banking industry in India. BIC is a community of 12 member banks and growing. Another blockchain based community is "Bankchain" which is a consortium of 36 Indian, global banks and financial institutions. The communities were formed with an objective to enable banks to minimize fraud and maximize efficiency, security and transparency.
Baroda Finathon Challenge
Bank had introduced "Baroda Finathon Challenge", a hackathon contest, inviting the techies, developers, students and start-ups to come up with exciting, innovative, novel and viable solutions themes such as innovation, customer acquisition, customer experience, conversational banking, collections, compliance and operational efficiency. The challenge successfully concluded by sifting out the most innovative solutions out of 4,600 teams. On 26th Feb, the finale was conducted in Mumbai to judge 3 winners amongst 8 shortlisted teams.
Fintech Alliance : Fin-AgriTech
In collaboration with Rural & Agri Banking and CSR Department
Post-Harvest Finance
Bank of Baroda signed MOU with Allfresh Supply Management Pvt. Ltd for extending finance to the farmers against pledge of warehouse receipts issued by the company. Allfresh Supply Management Pvt. Ltd procures and supplies fresh produce to its customers after appropriate post-harvest management activities designed to deliver fruit conforming to customer requirements.
Greenhouse-in-Box
Collaborated with Kheyti Tech Pvt Ltd to finance the Greenhouse-in-Box (GIB). Company offers services like inputs, training and market linkage creating a seamless path for steady income.
Farm Machinery on Rent
Partnership with EM3 to provide finance for farm machinery & farm implements to be given on rent. EM3 offers its services on a pay-for-use basis for every step of the farming process – from soil preparation to harvest.
Mobile Based Information
Tie-up with RML Agtech Pvt. Ltd to provide mobile based information to the farmers. RML Agtech Pvt. Ltd provides agri support solutions to the farmers to improve farm productivity and profitability through their information technology platform (mobile app/SMS/customer care centre) and field intervention.
High Quality Inputs
Bank of Baroda partnered with Lawrencedale Agro Processing India Pvt. Ltd (LEAF) for providing access to farmers to high quality inputs. LEAF's community farming helps to enhance every stage of the crop lifecycle, while ensuring profitable market linkages to enrich realization.
Fintech Alliance : Publications
FinTalk
FinTalk is a daily newsletter which has all relevant news pertaining to the fintech sector and events that affect the fintech space. Rolled out a few months ago, it is the only fintech newsletter in the Indian ecosystem. The newsletter has already achieved a subscriber base of more than 7,000 readers across corporates, academia and students within a short span of time. The newsletter is available for everyone who subscribes to it, through the following link - https://www.bankofbaroda.in/personal-banking/other-services/newsletter-fintalk
Special Editions
Collections is a special edition of our daily fintech newsletter FinTalk marking the top 15 FinTalk themes from over 200 digests published in 2018. This will provide a great way to revisit the trends and developments of Fintech space. In 2019, the special edition 'Insights' featured articles written by external industry leaders in areas like Insure-tech, Open Banking, RegTech etc.
Fintech Alliance : Start-up and Ecosystem Engagement
Baroda Start-Up Banking: 360 degree Solutions for Start-Ups
With an objective to support startup ecosystem in the country and help entrepreneurs in achieving their business goals, Bank of Baroda has launched #BarodaStartupBanking in major cities across India. Under this program, dedicated relationship managers will be offering a bouquet of tailor-made banking products and services designed exclusively for startups.
Bank of Baroda - IIT Bombay Innovation Centre (BOB - IIT B IC)
This is the first initiative of its kind with partnership between a leading BFSI organization and a technology institute. Establishment of '100 Ideas Programme' support the creation of 100 startups/R&D projects over a period of five years. The main purpose of BOB-IITB IC is to evaluate and adopt emerging technologies, develop a culture of innovation, foster innovations in hardware space, contributing to the bank's digital strategy.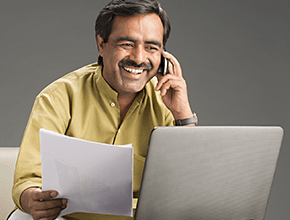 Request Callback
Please fill in these details, so we can call you back and assist you.