Get high-value Gold Loans & quick disbursements
---
High ranking security
Need a solution to meet your small business or any urgent need? Bank of Baroda gold loan is your safe and definitive route to meet emergency short-term assistance round the year. Avail instant Gold Loan from Bank of Baroda of any type – which suits your repayment tenure.
Read More
Demand Loan, Over draft and EMI
Loan Amount: Rs.50 lakhs per borrower.
Maximum Tenure: 12 Months and Max. 36 months for EMI scheme

Agriculture & Allied activities and other priority sectors
Loan Amount: Rs. 50 lakhs per borrower
Maximum Tenure: 12 months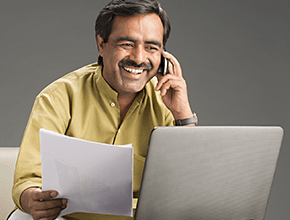 Request Callback
Please fill in these details, so we can call you back and assist you.

A gold loan is offered by a banking institution to any borrower against collateral, i.e., gold ranging from 18-24 carats of gold. Thereby, the loan amount depends on the quality and purity of gold, which is standardized to be around or less than 80% of the current market value of gold.

Is it good to take loan on gold?

Gold loan has an absolute security attached to it. It offers a lower and competitive rate of interest to the borrower; it is sanctioned quickly by banks and does not require income proof to apply for a gold loan.

What types of gold loans are available at Bank of Baroda?

We collectively offer 2 types of gold loans – Retail Gold Loan and Agri Gold Loan. In each type of loan, a borrower can avail maximum of Rs. 25 lakhs for any purpose, depending on the net weight and purity of gold.

The gold loan process starts when a borrower pledges their gold ornaments or coins to an authorized bank after submitting the required documents. Then, based on the purity of gold the bank sanctions a loan, which is then returned to the lender (bank), including the principal amount and the rate of interest.

Who is eligible to avail a Gold Loan from Bank of Baroda?

An Indian resident, being the true owner of the ornaments, minted coins by banks – is rightfully eligible to apply for a gold loan at Bank of Baroda. Each borrower is allowed to obtain a gold loan against a maximum of 50 grams of gold.

What are the modes for repayment of gold loans?

A borrower has multiple options to repay a gold loan. From digitally accepted modes to cash transfer to internet banking (Baroda Connect), a borrower has a hoard of options to choose from. Other than this, a borrower can repay with EMIs as well.

What are the benefits of a Gold Loan?

A gold loan translates to a secured loan. With a smaller number of documents required, it is the quickest way to obtain a loan to cover medical expenses, education loans, or any other purpose. Bank of Baroda gold loan provides quicker disbursal of loans against minimum of 18 grams of gold.

What happens if gold loan is not paid?

A bank, generally, allots a due date each month for the borrower to repay their dues. In a case where the borrower is unable to pay off the dues, the bank takes action and begins to charge a higher rate of interest. In further delay of repayment of gold loan – borrower receives a final notice, and the bank auctions/sells the gold to recover the sanctioned loan amount.

What is the maximum/minimum tenure of a Gold Loan?

An eligible borrower applying for Bank of Baroda gold loan receives a tenure of 12-36 months for Retail Gold Loan. Whereas, with Agri Gold Loan the tenure amounts to 12 months only.

Can I foreclose or prepay my Gold Loan?

Absolutely, Yes. You have an option open to repay the gold loan amount anytime before the final due date. To know more about the processing charges, if any, please get in touch with the staff at your nearest Bank of Baroda branch.

What are the primary factors that affect the loan amount received against gold?

Offering a gold loan depends on the current market value of the gold pledged to the bank. Basis which they sanction a percentage of gold's worth to the borrower. For instance, if a bank allows a loan on 80% of the current value of gold, then you are likely to receive not more than 80% of the net worth of the gold. Banks and financial institutions have a pre-decided % for all types of gold loan offered by them.

How long will it take to receive the gold loan amount?

Bank of Baroda gold loan is easy as it gets! After validating your KYC documents, you should contact the bank for further details. Get Bank of Baroda gold loan in an instant of 15 minutes.

Do I need to have a guarantor to apply for a gold loan?

No. Having a guarantor is absolutely not required. The only criteria – be the rightful owner of the gold with supporting documents. That's all!

Do I have to be an existing customer of the Bank of Baroda to avail a gold loan?

Any Indian resident can apply for Bank of Baroda gold loan. To apply, click here (embed a link for digital gold loan) or contact our customer support at (insert phone number), or email us at (insert email address) for the right assistance.

01 Jan 2021

#EkForeverRishta | Dream of owning Showroom comes true with #BarodaGoldLoan

HXEAdQFVEmM