A popular investment instrument that's low-risk and also guarantees assured returns
e-Kisan Vikas Patra Scheme
Kisan Vikas Patra is a small savings instrument that will facilitate people to invest in a long term savings plan. It is a popular investment instrument given that is of low-risk and also guarantees assured returns.
Rate of Interest: 6.9% w.e.f 01.10.2021 –to- 31.12.2021 (GOI revises the eKVP rate of interest on every quarter).
Tenure: 124 months w.e.f. 01.10.2021 –to- 31.12.2021 .
Minimum of Rs. 1,000 and in multiples of Rs. 100 with no maximum limit.
Certificate can be purchased by an adult for himself or on behalf of a minor or by two adults.
All branches are authorized to issue e-KVP.
Nomination facility available.
Lock in period of 2 years 6 months. Premature closure before 2 years 6 months is allowed only:

On the death of the holder or any of the holders in the case of joint holder.
On forfeiture by a pledge being a gazetted government officer.
When ordered by a court of law.
***For more details, please visit nearest Bank of Baroda Branch.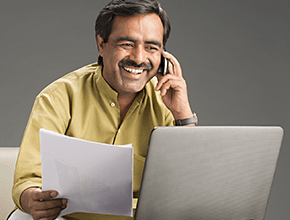 Request Callback
Please fill in these details, so we can call you back and assist you.