The right step to help her climb heights of success.

---
Opt for Sukanya Samriddhi Accounts Yojana and get multiple benefits.
Sukanya Samriddhi Accounts Yojana
Devised for the welfare of the girl child through provision of finances at the time of important events of her life i.e. education and marriage. Sukanya Samriddhi Yojana was launched on 02/12/214 as part of the Beti Bachao Beti Padhao. The Sukanya Samriddhi Account scheme offers a competitive rate of interest of 7.6% along with tax benefits.
Features of Sukanya Samriddhi Yojana
Who can open the account?
Parent of a girl child on behalf of the beneficiary can open the account any time after the birth of the girl child until she turns ten. At most, two account can be opened for up to 2 girl children each and three accounts in an exceptional case where girl children are born in the first or in the second order of birth or in both, on submission of an affidavit by the guardian supported with birth certificates of the twins/triplets regarding the birth of such multiple girl children in the first two orders of birth in a family. The beneficiary should be an Indian resident citizen.


Who can make the deposit?
Legal guardians or parents of the beneficiary can make the deposit until the beneficiary turns 18.


When can the beneficiary operate the account?
After she turns 18, she can operate the account.


Where can you open this account?
Sukanya Samriddhi Yojana accounts can be opened with authorized commercial bank branches. These accounts can be opened, for example, at any of the Bank of Baroda's branches. All you need to do is walk into a BOB branch with the following documents

- Filled up Sukanya Samriddhi Registration Form

- Birth certificate of the girl child

- ID proof of the depositor

- Residential proof of the depositor



How much is the minimum compulsory deposit to be made each year?
The depositor must make a deposit of minimum Rs. 250 up to Rs. 1,50,000 every year until 15 years from the date of account opening.


What happens if account is not maintained?
If deposit is not made each year, the account goes under default, which can be regularized by paying a small fine of Rs. 50 for each year of default along with the minimum annual deposit in respect of the defaulted years.


Does the beneficiary receive the amount on maturity? Yes, once the account matures, the beneficiary can collect the interest accrued along with the balance on providing the following documents:

- SSA withdrawal application

- Proof of residence and citizenship



Is the account transferable?
Yes. It can be transferred to any branch/Post Office within India, once the beneficiary provides proof of change of residence.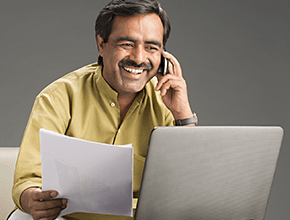 Request Callback
Please fill in these details, so we can call you back and assist you.