Ensure your loved ones stay insured.
Accident Care Individual Insurance Policy
Accident comes uninvited and they can unsettle your life and those of your loved ones. A little planning in this regard goes a long way for financial protection.
Presenting Accident Care Individual Insurance from Star Health and Allied Insurance Co Ltd.- a policy that offers protection to you and your loved ones in case you meet with an accident because whatever happens, life must go on.
Entry age between 18 to 70 years
Dependent children can be covered from 5 months
Family includes insured person, spouse, dependent children between 5 months and 25 years of age
Sum insured shall be on the basis of the monthly income from gainful employment as prescribed by the company
Product Brochures
Bank of Baroda is authorised by the Insurance Regulatory and Development Authority to act as a Corporate Agent from 01/04/2019 to 31/03/2022 for procuring or soliciting business of Life Insurance, General Insurance & Standalone Health Insurance under the Registration Code CA0004". Insurance is the subject matter of solicitation. For more details on risk factors and terms and conditions, please read the sales brochure carefully before concluding a sale. The purchase of insurance product by Bank of Baroda customers is purely on a voluntary basis. The insurance products are underwritten by the respective Insurance company. Bank of Baroda does not perform any Insurance e-commerce activity on its website. The contract of insurance is between the insurer and the insured; and not between the Bank and the insured.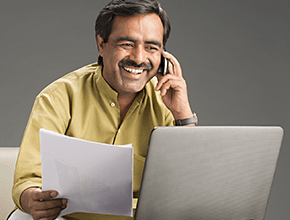 Request Callback
Please fill in these details, so we can call you back and assist you.