FAQs
Dedicated Team Of Experts
Working together for your success
The sun is an excellent representation of what Bank of Baroda stands for, its far reaching rays dispel darkness to illuminate everything they touch. Baroda Radiance embodies the aura and brilliance of the Sun representing an exclusive, reliable and client-centric partner addressing composite financial requirements of our elite clientele.
A team of certified and experienced wealth management professionals will help you devise a customized financial planning program, tailor made especially for you. Being an esteemed Baroda Radiance client grants you access to a team of wealth management professionals who work together for delivering cutting edge financial solutions to you.
Baroda Radiance assures you a joyful and memorable wealth creation journey.
Relationship Manager
Relationship Manager
Your personal single point of contact for
your all banking needs
Relationship Manager
Customer Service Managers
Customer Service Managers for all
your service needs
Investment Counsellor
Investment Counsellor
Investment Counsellor for customized
financial planning strategies
Why Invest with Baroda Radiance Wealth Management?
We are pleased to present to you, Baroda Radiance Wealth Management, a scientifically oriented and professionally managed Financial planning platform which endeavours to be a one-stop solution for your wealth management requirements. As has been the legacy of Bank of Baroda, the objective of this initiative is to be the partner and to partner with you in your wealth creation journey.
Trust
113 years legacy of client centricity. 131 Million clients across 21 countries have reposed their faith in us for generations.
Customized Financial
Planning
Each financial plan is unique and recommended based on the macro-economic trends, investor's goals and profile, asset allocation matrix, product appropriateness, etc.
Robust Research
Our recommendations & financial plans are based on strong, in-house research capabilities which help us generate superior portfolio performance for our clients.
Exclusive Lounges & Business Centers
Access the Baroda Radiance Lounges & Business Centres to make or review your financial plan or to conduct your business meetings in luxury.
Comprehensive Wealth Management Product Suite
Equity
Direct Equity
Cash-Delivery & Intraday
Equity Futures & Options
Currency Derivatives
Mutual Funds
Large Cap
Multi Cap
Mid and Small Cap
Balanced Funds
PMS
Discretionary
Non Discretionary
Insurance
Life Insurance
Term Plans, ULIPS
Retirement Plans, Child Plans
Micro-Insurance
General Insurance
Commercial Risks Insurance
Motor Insurance
Property & Rural Insurance
Health Insurance
Individual/Couple Assurance
Family floater plans
Debt
Mutual Funds
Income/Dynamic
Gilt Funds/MIP/Hybrid- Debt
Liquid/Ultra Short Term/ Short Term
Bonds/NCD's
Primary (Pvt./PSU)
Secondary (Pvt./PSU/ Sov.)
Tax Free Bonds
Alternate Investments
Structured Products
Pure Debt
Equity Participation
AIF
Long Short Fund
Listed Equity Funds
Pre-IPO Funds
Real Estate Funds
Gold
Gold ETF
Sovereign Gold Bonds
Much More Than Banking
Baroda Radiance comes built in with exclusive privileges ranging from unique experiences to travel advantages, priority
service and preferred pricing. Only for you, only with Baroda Radiance!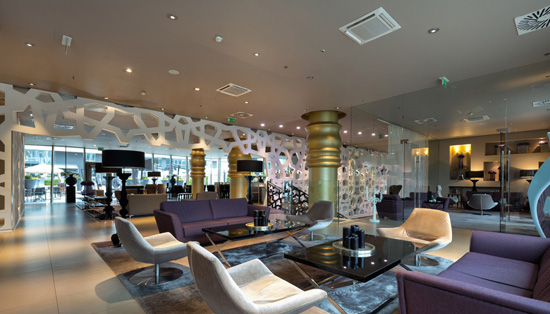 bob World VISA Sapphire Debit Card
"Another best in class offering for Radiance customers" (T & C Apply)
Bank of Baroda Concierge Services
Travel Assistance
Travel Assistance
Pre trip information services
inoculation & visa requirements
Lost luggage assistance
Lost Passport Assistance
Embassy referral services
Lifestyle Assistance
Lifestyle Assistance
Restaurant referral
Flower, Gift, Chocolate delivery
Hotel/Airline Referrals
Roadside Assistance
Roadside Assistance
Emergency Towing
Repair on Spot
Alternative Travel Arrangement
Medical Assistance
Medical Assistance
Improved Healthcare
Emergency Ambulance Service
Referral
Medical Referrals
For Further Information please contact Bank of Baroda Concierge Desk
1800 266 9199 (Toll Free)
Services are being offered by service providers and charges may vary according to the service rendered.
Disclaimer
Baroda Radiance Proposition is available for the customers interested in Wealth Investment products and fulfilling the eligibility criteria of Quarterly Average Balance of 50 Lacs and above in Saving/ Current and Term Deposit.
Baroda Radiance Proposition will be provided as per the availability of Senior Relationship Manager at the location.
Presently, Baroda Radiance Proposition is available at the following locations.
Locations
Ahmedabad
Anand
Bengaluru
Bhopal
Chandigarh
Chennai
Coimbatore
Delhi/NCR
Hyderabad
Indore
Jaipur
Kanpur
Kolkata
Lucknow
Ludhiana
Mumbai
Nagpur
Pune
Udaipur
Vadodara
Visakhapatnam