Empowering you to be an Atmanirbhar Woman.
---
Own the evergreen, traditional ornament of prosperity.
To entrust women's financial needs and positively support their entrepreneurial skills. We, at Bank of Baroda, provide instant retail gold loan at concessional ROI of up to 0.40% to women. Get safe loans with up to 36 months payback tenure on EMI.
Read More
Sr. No
Parameter
Particular
1.
Type of facility
Demand Loan, Over draft and EMI
2.
Purpose
Any purpose other than speculation
3.
Eligibility
All individuals, being true owner of the gold ornaments/jewellery & specially minted gold coins sold by the Banks (maximum up to 50 gm per borrower). The applicant must be Indian resident.
4.
Maximum Limit
Rs.25 lakhs per borrower.
5.
Tenure
12 Months and Max. 36 months for EMI scheme.
6.
Repayment Mode
Interest on monthly basis. The principal will be repaid by way of bullet payment at any time during the tenure of the loan.
EMI – EMI on monthly basis.
7.
Interest Rate*

| | |
| --- | --- |
| Demand Loan | BRLLR+SP+1.00% |
| Overdraft | BRLLR+SP+1.10% |
| EMI | BRLLR+SP+1.00% |

8.
Processing charges

| | |
| --- | --- |
| Up to Rs 3.00 lakhs | NIL |
| Above Rs 3.00 lakhs up to Rs 25.00 lakhs | Applicable charges +GST |

9.
Security
Secured by min. 18 carat Gold Jewellery/Ornaments.
10.
Pre closure / Pre payment
NIL
* Subject to change of BRLLR.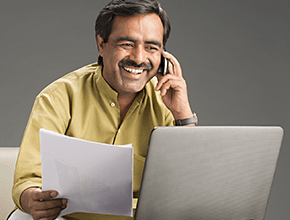 Request Callback
Please fill in these details, so we can call you back and assist you.

What is a Retail Gold Loan?

Specifically, while taking a loan, the borrower fulfills one purpose with the money lent. Whereas, in the case of a retail gold loan, the bank gives a hoard of avenues to the borrower for the loan against gold. The gold pledged can be used for personal uses, such as – purchase of a car, education, marriage, or other expenses except speculation.

What is gold loan interest rate?

Bank of Baroda gold loan interest rate is 7.75%* for demand loan and gold loan on EMI scheme. Whereas it is 7.85%* for overdraft gold loan. *Liable to change as and when the BRLLR changes.

How to calculate gold loan interest?

The gold loan interest rate is calculated on a monthly basis by the lender (bank or NBFC). You can easily check bob gold loan interest rate today with an entire break-up of tenure, interest rate, and eligible loan amount.

What are the features of the Retail Gold Loan Schemes?

An ornament or gold is an asset for a lifetime. At Bank of Baroda, the loan against gold goes up to Rs. 25 lakhs with no processing charges for gold loan up to Rs. 3 lakhs. A list of undeniable features which retail gold loan possesses – instant loan approvals, competitive rate of interest, no pre-closure charges, hassle-free documentation and workable tenure for dues.

Are there any EMI options for gold loan?

Yes. You can opt for EMI to pay the loan dues against gold. Maximum tenure for repayment under EMI scheme – 36 months (3 years).

Yes, it is safe to apply for a loan against gold. The gold loan interest rate is comparatively lower than other personal loans while a customer gets gold loan as instantly as possible, i.e., under 15 minutes.

How much gold loan per gram can I get at BOB?

At Bank of Baroda, gold loan per gram shifts from day to day in line with the market value of gold. In addition, the gold loan per gram includes 25% margin. You can apply for a gold loan online or visit the nearest branch.

How to pay gold loan interest of BOB online?

We accept all forms of digital payments for gold loan interest, including RTGS, NEFT, through BOB world (Mobile banking) and BOB connect (Internet Banking) etc.

How to renew BOB gold loan online?

Once you reach the end of the tenure, let's say, 12 months, you can visit the nearest branch for a new mandate on your existing BOB gold loan. Currently, there are no facilities provided to renew it online or digitally.

What are documents required to apply for a gold loan?

You should have your bank account KYC complied, i.e., proof of residence, passport size photographs, proof of signature and proof of identity.

What is the kind of security against which I can avail a gold loan?

The gold deposited at the bank as collateral is the most secure instrument. Gold loan in itself is a secured and most sought-after type of loan.

Can I avail a loan against my Gold Bullion (coins, gold bars, or gold biscuits)?

No. The banks do not have a provision for accepting gold bars or coins for loan against gold. Although, institutions accept minted gold coins issued by banks – where each person has a pre-decided limit of 50 grams of gold.