Bank of Baroda is Backed by our Government!
---
Don't Just Save, Invest too!
Government Deposit Schemes
Make long term investments that are backed by the Government of India. Bank of Baroda offers to be the liaison between government investment schemes and your personal financial growth. Investing in government schemes can be a tax saving instrument and added benefit of attractive interest rates. What are you waiting for? Invest in Government Investment Schemes NOW!
Floating Rate Savings Bonds

The government has announced the launch of Floating Rate Savings Bonds, 2020 (Taxable). 93 authorized branches of Bank of Baroda have subscription of this scheme.

No maximum limit for investment in the bonds.
The interest rate of the bond, would be reset half yearly at 7.15 percent.

Gold Monetization Scheme

Gold is mobilized from households and institutions of the country to facilitate its use for productive purposes, and in the long run, to reduce country's reliance on the import of gold.

102 Bank of Baroda branches are authorized to accept gold deposit.
Rate of interest depends on type of deposit.

Senior Citizen Savings Deposit Scheme

The SCSS account is a robust and safe account designed especially for seniors to earn long term savings in their old age.

Retired individuals above the age of 60 to 55 or retired personnel of 50 years in defence services.
Depositors are allowed to open multiple account under this scheme with combined maximum limit of Rs. 15 lakhs in all accounts.

Sovereign Gold Bonds

A sovereign gold bond is a government security that is denominated in gold grams. Investors invest in these bonds when the scheme opens and it is redeemed on maturity.

It is a substitute for physical gold.
Interest of 2.5% paid half yearly for tenure of 8 years.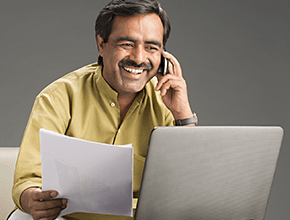 Request Callback
Please fill in these details, so we can call you back and assist you.