Sovereign Gold Bonds Growth, trust and security along with flexibility.
A sovereign gold bond (SGB) is a government security that is denominated in gold grams. It is a substitute for physical gold. Investors invest in these bonds when the scheme opens and it is redeemed on maturity. The Reserve Bank of India on behalf of the Government of India manages the sovereign gold bond scheme.
Bank of Baroda offers customers the opportunity to invest in the sovereign gold bond scheme through all of its branches in the country.
Sovereign Gold Bond 2021-22
Gold bold held in demat form
No hassles of dealing with physical gold
No capital gains tax on redemption
Discount for online investors
Can be used as collateral for loans
Redemption linked to prevalent gold price
Minimum and maximum investment:
The minimum investment that can be made in this bond is 1 gram. Each individual or HUF can hold a maximum of 4 kgs every year in such bonds. For trusts, charitable institutions, the maximum limit is 20 kgs.
---
Fixed interest rate:
Interest will be earned on the Sovereign Gold Bonds at the rate of 2.5% annually, paid semi-annually.
---
Transparency in prices:
The prices of the gold bond are transparent since they are linked to the price of gold in the market.
---
Exit option:
There is an exit option for investors after the 5th year of the date of issue of the Bond. Repayments will be done on the next interest payment date.
---
Multiple joint holders and nominees permitted:
The sovereign gold bond offers multiple joint holders and nominees to the investors.
---
Bonds traded on the stock exchange:
Bonds held in demat form will be eligible to be traded on the stock exchanges.
---
Mode of payment
Cash, demand draft, cheques or internet banking are acceptable modes of payment for the sovereign gold bond scheme, India. However, cash is only accepted up to Rs. 20,000.
---
SGB 2021-22 (Series-IX) 10th January 2022 to 14th January 2022
The issue price for SGB-Series-2021-22-Series-IX is Rs 4786/- per Gram and GOI in consultation with RBI has decided to offer a discount of Rs. 50/- per gram less than the nominal value for the investors applying online. For such investors, the issue price will be Rs 4736/- per gram.
Sovereign Gold Bond 2021-22, Series I, II, III, IV, V, VI, VII, VIII & IX
The schedule of Sovereign Gold Bonds 2021-22 Tranche I-VIII as announced by Reserve Bank of India is specified as under, provided that the Central Government may, with prior notice, close the Scheme at any time before the period specified below.
| S. No | Tranche | Date of Subscription | Date of Issuance |
| --- | --- | --- | --- |
| 1 | 2021-22 Series I | May 17-21, 2021 | May 25, 2021 |
| 2 | 2021-22 Series II | May 24-28, 2021 | June 01, 2021 |
| 3 | 2021-22 Series III | May 31-June 04, 2021 | June 08, 2021 |
| 4 | 2021-22 Series IV | July 12-16, 2021 | July 20, 2021 |
| 5 | 2021-22 Series V | August 09-13, 2021 | August 17, 2021 |
| 6 | 2021-22 Series VI | August 30-September 03, 2021 | September 07, 2021 |
| 7 | 2021-22 Series VII | October 25–29, 2021 | November 02, 2021 |
| 8 | 2021-22 Series VIII | November 29-December 03, 2021 | December 07, 2021 |
| 9 | 2021-22 Series IX | January 10-January 14, 2022 | January 18, 2022 |
---
Eligibility for Investment:
The Gold Bonds under this scheme may be held by a Trust, HUFs, Charitable Institutions, University or by a person resident in India, being an individual, in his capacity as such individual, or on behalf of minor child, or jointly with any other individual.
---
Form of Security:
The Gold Bonds shall be issued in the form of stock certificate, as specified in Form 'C'. The Gold Bonds shall be eligible to be converted into demat form.
---
Applications:
Application form from investors will be received at branches during normal banking hours on the weeks of subscription.
---
Date of Issue:
The date of issuance shall be as per the details given above.
---
Denomination:
The Bonds shall be denominated in units of one gram of gold or multiples thereof. Minimum investment in the Bonds shall be one gram with a maximum limit of subscription per fiscal year (April-March) of 4 kg for individuals, 4 kg for Hindu Undivided Family (HUF) and 20 kg for Trusts and similar entities notified by the government from time to time.
---
Interest:
The Bonds shall bear interest from the date of issue at the rate of 2.5 % (fixed rate) per annum on the nominal value. Interest shall be paid in half-yearly rests and the last interest shall be payable along with principal on maturity.
---
Redemption:
The Bonds shall be repayable on the expiration of eight years from the date of issue of the Bonds. Pre-mature redemption of the Bond is permitted after fifth year of the date of issue of the Bonds and such repayments shall be made on the next interest payment date. The redemption price shall be fixed in Indian Rupees and the redemption price shall be based on simple average of closing price of gold of 999 purity of the previous 3 working days, published by the India Bullion and Jewellers Association Limited.
RBI/depository shall inform the investor about the date of maturity of the Bond one month before its maturity.
*The loan against SGBs would be subject to decision of the lending bank/institution, and cannot be inferred as a matter of right by the SGB holder.
---
Tax Treatment
Interest on the Bonds shall be taxable as per the provisions of the Income Tax Act, 1961 (43 of 1961). The capital gains tax arising on redemption of SGB to an individual has been exempted. The indexation benefits will be provided to long term capital gains arising to any person on transfer of bond.
---
Joint Holding and Nomination
Multiple joint holders and nominees (of first holder) are permitted. In case of joint holding, the investment limit of 4 kgs will be applied to the first applicant only.
Nomination of and its cancellation shall be made in Form 'D' and Form 'E', respectively.
An individual non-resident Indian may get the security transferred in his name on account of his being a nominee of a deceased investor provided that:
the Non-Resident investor shall need to hold the security till early redemption or till maturity; and
The interest and maturity proceeds of the investment shall not be repatriable.
---
Transferability
The Bonds issued in the form of stock certificate shall be transferable by execution of an instrument of transfer as in Form 'F'.
---
Tradability:
The Bonds shall be eligible for trading on date notified by the Reserve Bank of India. (It may be noted that only bonds held in demat form with depositories can be traded in stock exchanges).
---
Know-Your-Customer (KYC) requirements:
Every application must be accompanied by the 'PAN details' issued by the Income Tax Department to the investors (individuals and other entities). KYC Documents such as Voter ID, Aadhaar Card/PAN or TAN/Passport will be required.
---
Cancellation:
Cancellation of application permitted till the closure of the issue, i.e. until Friday of the particular week of subscription. Part cancellation of submitted request for purchase of gold bonds is not permitted.
---
Lien Marking:
As the bonds are government securities, lien marking etc. will be as per the extant legal provisions of Government Securities Act, 2006 and rules framed there under.
All branches of Bank of Baroda in India are authorized to issue SGB.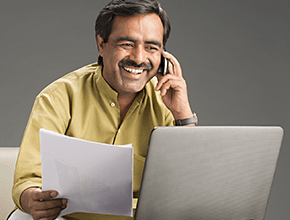 Request Callback
Please fill in these details, so we can call you back and assist you.