A right career begins with a right education.

Leave a missed call on: 8467001122
Education Loan EMI Calculator
Education Loan EMI Calculator
Loan Amount:

₹500000

Rate of Interest (%):

9.15

Loan Terms (monthly):

120

Equated Monthly Installment (EMI) will be
This loan is given out for school education in any recognized school. The maximum loan granted is Rs. 4 lakhs and is payable in 12 installments after disbursement.
Read More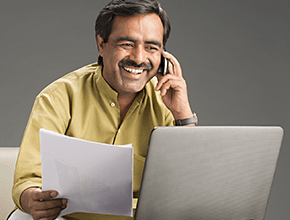 Request Callback
Please fill in these details, so we can call you back and assist you.

Who can apply for the loan?

Any Indian national fulfilling criteria stated above is eligible for education loan.

The parents, guardians, friends and relatives can be co-obligant.

How much does Bank of Baroda lend?

Studies in India - Maximum Rs.125.00 Lakh for Medical & Aviation & for others Rs.10 lakhs

Studies abroad - Rs. 150.00 lakh for Institutions specified in List of Premier Institutions & Rs. 60.00 lakh for Institutions not specified in List of Premier Institutions

For how long a period can I get the loan?

We grant loans for a term of 10-15 years after repayment holiday/moratorium.

What is the repayment holiday/moratorium period?

What is the mode of repayment?

The accrued interest during the repayment holiday period to be added to the principal and repayment in Equated Monthly Instalment (EMI) is fixed.

Do you offer any concession?

Yes, we do offer 0.5% interest concession to the girl student Loanee

What type of interest do you charge under your Education Loan Scheme?

We charge simple interest at monthly rests during the repayment holiday/moratorium period.

Do you levy any penalty for default under the scheme?

Yes, we charge penal interest @ 2% on overdue amount in the loan exceeding Rs. 4 lakhs.