ASBA - Application supported by blocked amount - enables investors to apply for IPO/ FPO/ NFO issues without making immediate payment. The application amount is blocked in investor's bank account and is released in a proportionate amount on allotment of shares.
---
ASBA Online Facility
It is simple, instant, secure, and available 24x7.
---
Eligibility
All our Baroda Connect customers (net banking users) having transaction rights are eligible to utilize the ASBA online facility.
---
Key Benefits
Free of cost
No application forms needed
Easy to operate from anywhere
Facility available 24x7
Create once with demat accounts details
---
Online Subscription of IPO/FPO/NFO
Bank of Baroda introduces yet another new functionality for the benefit of the internet banking users having transaction rights - ASBA.
Under this functionality, any internet banking user can make application for IPO subscription for any company. The functionality is user friendly and simple and available 24x7.
---
Advantages to customers
No need to procure and submit IPO application forms from broker or Bank
The facility is free of cost to the users.
Facility available 24x7. On closing day of an issue, the subscription can be made only up to 3 pm.
Easy and convenient to operate from comfort of your home/office. Saves time and energy.
---
Pre-requisites
For using the ASBA functionality through internet, user should
Maintain an account with Bank of Baroda
Be a Baroda Connect user having transaction rights
---
Process for on-line application by internet user
Login to our net banking page using your Baroda Connect login ID and password
The user after Login will find ASBA/ IPO menu on the top bar of net banking page.
The ASBA/ IPO menu shall have following sub-menu (explained in detail below).
---
Investor Registration Option
Users to register (create) once the investor details such as investor name, depository detail, DP ID, client ID, PAN no. (This is a onetime creation and can be used for all future subscription to IPO/ NFO etc.) The investor creation in the menu will save time at the time of subscribing in future issues and would also avoid any omission or typographical mistakes that usually reject applications.
---
Subscribe an IPO
The menu shall display all the current IPO/FPO/NFO issues open for subscription.
Users to click at IPO issue which he/she intend to subscribe in the displayed list.
Details of the IPO selected are displayed.
User to select Investor name, account no. and investment category from dropdown.
User to input bid quantity, price per share. User can bid 3 price options. On clicking on calculate bid amount, the highest bid amount of the 3 options will be displayed. This shall be the amount for which the lien will be marked in the selected account.
Only retail individual investors (employee and shareholders also included) can bid at cut-off price.
User to ensure that bid is in marketable lot and the bid amount is within minimum and maximum bid amount given in the price band of the issue.
Details - as per investor registration is displayed. Click on submit button.
All IPO subscription for Individual category greater than Rs. 2,00,000, message will be displayed as IND – HNI.
All IPO subscription for Individual category less than or equal to Rs. 20,00,00, message will be displayed as IND – Retail.
Acknowledgement receipt is displayed and is printable.
---
Modify a Bid
In case user desires to have the IPO modified, the same can be done through this menu.
Modification of bid is allowed only for Open IPO.
Once the Bid is closed, user will not be able to modify the bid.
User can modify the quantity and price. The bid amount is recalculated and lien shall be marked for incremental amount. However, in case of downward revision the original lien amount shall continue till the allotment.
---
Unsubscribe Bid IPO
In case user wants to withdraw the bid, this option is to be invoked when the particular bid is open.
Once the bid is closed, user will not be able to withdraw the bid.
By clicking on the link, the details are displayed and user to authenticate for withdrawal. Accordingly, the lien will be revoke.
---
View Subscribed IPO
User can also view all the subscribed IPO made through internet banking anytime for any date range.
---
Notes
For all successful submission, lien is noted on the given account till allotment/ non-allotment of the IPO.
In case of non-allotment, the lien will be released.
Lien noting of the blocked amount can be viewed by clicking on accounts menu and lien inquiry on the side menu against the respective account.
On allotment the account shall be debited with the requisite amount and lien on balance amount shall be released. The investor can also view the no. of share allotted.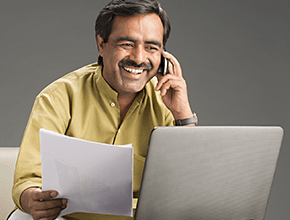 Request Callback
Please fill in these details, so we can call you back and assist you.