Pen your child's 'BIG' little stories
IndiaFirst Life Little Champ Plan
A complete and flexible plan for the financial protection of your loved ones. The Indiafirst Life Little Champ Plan offers the safety of life insurance cover through 8 payout options in the event of a death. You can securely grow your investments through bonus accumulation and get tax benefits under Sections 80(C) and Section 10(10D) of the Income Tax Act, 1961. Use a top up loan calculator and apply today!
Age for Entry
Entry Age
Years
Minimum
21 years
Maximum
45 years
Premium Paying Term
Premium Payment Term is 7 to 14 years. Minimum and Maximum Policy Term will depend on the chosen Premium Payment Term.
Sum Assured
Sum Assured
Amount (In Rs.)
Minimum
1,50,000 (for premium payment term 7 to 9 years)
2,00,000 (for premium payment term of 10 to 14 years)
Maximum
No limit (Subject to underwriting)
---
---
Bank of Baroda is authorised by the Insurance Regulatory and Development Authority to act as a Corporate Agent from 01/04/2019 to 31/03/2022 for procuring or soliciting business of Life Insurance, General Insurance & Standalone Health Insurance under the Registration Code CA0004". Insurance is the subject matter of solicitation. For more details on risk factors and terms and conditions, please read the sales brochure carefully before concluding a sale. The purchase of insurance product by Bank of Baroda customers is purely on a voluntary basis. The insurance products are underwritten by the respective Insurance company. Bank of Baroda does not perform any Insurance e-commerce activity on its website. The contract of insurance is between the insurer and the insured; and not between the Bank and the insured.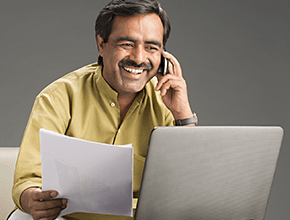 Request Callback
Please fill in these details, so we can call you back and assist you.

IndiaFirst Life e-Term Plan

IndiaFirst Group Term Plan

IndiaFirst Guaranteed Retirement Plan

IndiaFirst Life Cash Back Plan

IndiaFirst Life Guarnteed Monthly Income Plan

IndiaFirst Life Wealth Maximizer Plan

IndiaFirst Maha Jeevan Plan

IndiaFirst Money Balance Plan