Diversify your portfolio with a zero credit risk investment option with good returns
Floating Rate Savings Bonds
The government has announced the launch of Floating Rate Savings Bonds, 2020 (Taxable). 93 branches of Bank of Baroda have authorized for subscription of this scheme. To see a details list of these branches click here
Eligibility
The Bonds may be held by:-

A person resident in India, in her or his individual capacity, or in individual capacity on joint basis, or in individual capacity on any one or survivor basis, or on behalf of a minor as father/mother/legal guardian.
A Hindu undivided family.

There will be no maximum limit for investment in the Bonds.
Income Tax: Interest on the Bonds will be taxable under the Income Tax Act, 1961 as applicable according to the relevant tax status of the Bonds holder(s).
The Bonds will be issued for a minimum amount of Rs. 1000 (face value) and in multiples thereof. Accordingly, the issue price will be Rs. 1,000 for every Rs. 1,000 (nominal) face value.
Nomination facility available.
The interest rate of the bond, would be reset half yearly (in sync with the coupon payment date) starting with Jan 1st, 2021 and thereafter every July 1st and Jan 1st and is linked/pegged with prevailing National Saving Certificate (NSC) rate with a spread of (+) 35 bps over the respective NSC rate. Accordingly, the coupon rate for first coupon period i.e. July 1 to Dec 31, 2020, payable on Jan 01, 2021 is arrived at 7.15% (6.80% + 0.35% = 7.15%). All subsequent coupon reset would be based on the fixation of rate of interest on NSC on Jan 01 and July 01 following the above methodology.
The Bonds held to the credit of Bond Ledger Account (BLA) of an investor shall not be transferable, except transfer to a nominee(s) legal heir in case of death of the holder of the Bonds.
The interest on the Bonds will be payable at half yearly intervals up to 30th June and 31st December.
Tax will be deducted at source while making payment of interest on the Bonds from time to time and credited to Government Account.
The Bonds shall not be tradable in the secondary market and shall not be eligible as collateral for availing loans from banks, financial Institutions and non-banking financial companies.
The Bonds shall be repayable on the expiration of 7 years from the date of issue.
Premature encashment in respect of the Bonds shall be allowed for individual investors in the age group of 60 years and above.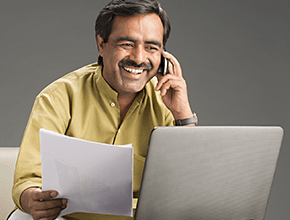 Request Callback
Please fill in these details, so we can call you back and assist you.