Boost your business aspirations

with collateral free Mudra Loans.
Home Loan Eligibility Calculator
Mudra Loan EMI Calculator
Loan Amount:

₹500000

Rate of Interest(%):

8

Loan Terms:

36

Equated Monthly Installment (EMI) will be

₹49,209
The Pradhan Mantri Mudra Yojana or PMMY is a flagship scheme of the Government of India to extend affordable credit to micro and small enterprises.Mudra schemes are designed to bring enterprises into the formal financial system, or to "fund the unfunded". Loans under PM mudra loan scheme are available to non-farm micro or small enterprises engaged in income generation through manufacturing, trading and services. Apply for a Mudra Loan online today and use the Mudra EMI calculator facility to grow your business.
Most Important Terms and Conditions (MITC)
There are three types of Mudra loans depending on the loan amount:
Shishu: Loans sanctioned under the PMMY scheme up to Rs. 50,000
Kishore: Loans sanctioned under the PMMY scheme from Rs. 50,001 up to Rs.5 Lakhs
Tarun: Loans sanctioned under the PMMY scheme Rs. 5,00,001 up to Rs. 10 Lakhs
While there is no minimum loan amount under the Mudra loan scheme, the maximum loan amount that can be taken under the PMMY is Rs. 10 Lakhs.
Borrowers don't need to pay processing charges or offer collateral if they avail a Mudra loan.
As per the PMMY scheme, the Mudra loan can not only be offered to enterprises in the non-farm sector but also can include those engaged in allied agricultural activities, such as horticulture and fisheries.
The interest rate on Mudra loans is determined by the marginal cost of lending rate or MCLR, which is calculated according to the RBI guidelines.
All non-farm enterprises
Under micro enterprises and small enterprises segment
Engaged in income generating activities
Engaged in manufacturing, trading and services
Whose credit needs are up to Rs. 10 lakhs
Now allied agriculture activities have also been included under PMMY scheme w.e.f. 01/04/2016.
Maximum Limit
Rs. 10 lakhs (for all categories)
---
Repayment Period
Maximum 60 months
---
Margin
| | |
| --- | --- |
| Loan up to Rs. 3 lakhs | 10% |
| Loan above Rs. 3 lakhs | 15% |
---
Bureau Score validation
Minimum bureau score cut off as per Bank's guidelines or other banks
---
Age
Minimum: Borrower - 21 years, Co-applicant- 18 years
Maximum: Age of the applicant/co-applicant/guarantor + repayment period should not exceed 70 years
---
Security
Hypothecation of vehicle financed
---
Insurance
Comprehensive Insurance of the vehicle with Bank's clause
---
Pre-closure charges
Nil
---
Credit Shield
| | |
| --- | --- |
| Loan up to Rs. 3 lakhs | Not mandatory |
| Loan above Rs. 3 lakhs | Mandatory to obtain term life insurance or group credit life insurance. Validity of such insurance to be minimum sanctioned period with minimum sum assured equal to sanctioned amount. Borrower may obtain this insurance cover from any IRDA approved life insurance company (including our tie-up partners) and the same to be assigned in Bank's favour. |
---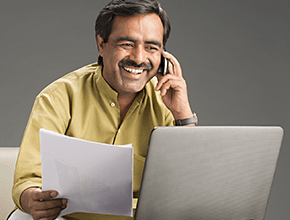 Request Callback
Please fill in these details, so we can call you back and assist you.