Saving is good. Saving smartly is even better.

---
Choose from our wide range of Baroda Savings Accounts
Government Savings Account (Baroda Gov Bodies SB Account)
Government departments/bodies/agencies in respect of grants/subsidies released for implementation of various programs/schemes sponsored by Central Government/State Governments subject to production of an authorization from the respective Central/State Government departments to open savings bank account.
MInimum QAB Balance
Nil
Cheque Book
Free Unlimited
Sweep Facility
Threshold limit to create FFD will be Rs. 5 lakhs. Auto transfer of funds exceeding Rs. 5 lakhs to fixed deposit with a minimum of Rs. 50,000 for 180 days will be effected. In case of requirement (honouring of cheque, requirement of funds etc.), there will be re-transfer from the deposit account to the original saving account in multiples of Rs. 50,000. Sweep will take place on every Monday.
NEFT/RTGS/IMPS (outward and inward) through Branch channel as well as through Internet Banking
Nil Charges
Cash Transaction (Deposit/Withdrawal
Cash deposit free unlimited in home branch
Cash withdrawal is not permissible from non-base branch.
Internet Banking
Allowed Free
SMS alerts
Allowed Free
E–Statements
Allowed Free
Transferability of Account
Transferability of account is allowed subject to submission of all the KYC documents in new branch.
Ledger Folio Charges
Nil
Collection of outstation cheques
No collection charges, only postage payable.
Baroda Cash Management Services
The state-of-the-art Baroda Cash Management Services is leveraging on this opportunity by bringing the benefits of this digital integration to its Government customers.
The Cash Management System coupled with Bank of Baroda's unmatched branch network will enable the corporates to accelerate their receivables, enhance control over their payments and enable just-in-time funding.
Public Financial Management System services
PFMS facility is available to facilitate registration of implementation government agencies and to initiate direct online payments to beneficiaries
Collection of taxes & Fees
Manage collections of fees, taxes etc. through various online modes by linking this account with our Payment Gateway, POS terminals, Payment Kiosk etc.
As per RBI guidelines, Savings Account cannot be opened for:
Government Departments/bodies depending upon budgetary allocations for performance of their functions.
Municipal Corporations or Municipal Committees.
Panchayat Samitis.
State Housing Boards.
Water and sewerage/Drainage Boards/State Text Book Publishing-Corporations/Societies/Metropolitan Development Authority/State/District Level Housing Co-operative Societies.
Any political party or any trading/business or professional concern, whether such concern is a proprietary or a partnership firm or a company or an association.
Most Important Terms & Conditions of Baroda Govt Bodies SB Account
Interest calculation and frequency:
Interest is calculated on daily product basis and credited to accounts quarterly. For this purpose Bank's quarters are April to June, July to September, October to December and January to March. Interest is credited to the account within 15 days of end of quarter. However, value date effect as of 1st day of the month is given while crediting interest.
---
Dormant/Inoperative Account:
Account becomes inoperative/dormant if there are no customer induced transactions in Savings Account for over a period of two years. Interest is continued to be applied in all such Savings Bank accounts. No charges are levied for in-operation of accounts.
Activation/Closure of Dormant/Inoperative accounts will be done after submission of necessary KYC documents, photo, and fresh specimen signature subject to satisfaction of the Bank.
All Accounts which have remained inoperative/dormant for a period of 10 years and above will be treated as unclaimed deposits and will be transferred to RBI. Upon receipt of the request from the customer such deposits will be returned subject to conditions.
---
Disclosure of information:
The Bank may disclose information about customer's account, if required and permitted by law, rule or regulations, or at the request of any public or regulatory authority or if such disclosure is required for the purpose of preventing frauds, or in public interest, without specific consent of the account holder(s).
All relevant policies including code of commitments to customers and grievance redressal policy are available at the branches.
MITCs OF ATM/DEBIT Card, Mobile Banking, Net- Banking in Application Forms are available separately.
The Bank will notify, 30 days in advance, any change in terms and conditions/ Fees and charges on its website.
Deposits along with interest kept in different branches of our Bank is insured by Deposit Insurance & Credit Guarantee Corporation (DICGC) maximum upto Rs 5,00,000 ( Rs. 5 lakh).
---
MITCs OF ATM/DEBIT Card, Mobile Banking, Net Banking in Application Form are available separately.
The Bank will notify, 30 days in advance, any change in terms and conditions/interest rates and charges on its website.
All deposits to the extent of Rs. 5 lakhs per depositor of our bank (except Deposits of Central/State/Foreign Governments and commercial banks) are covered under Deposit Insurance & Credit Guarantee Corporation (DICGC).
---
Cheque Return:
(Inward Return): per instrument charges
Up to Rs. 1 lakh - Rs. 125
Above Rs. 1 Lakh to less than Rs. 1 crore - Rs. 250
Above Rs. 1 crore - Rs. 500
---
(Outward Return) per instrument charges
Up to Rs. 1 lakh - Rs. 250
Above Rs. 1 lakh to less than Rs. 1 crore - Rs. 500
Above Rs. 1 crore - Rs. 750
---
In case bank remains out of funds: Actual interest @ 7.5 % over Base rate is to be charged extra Cheque returned due to technical reason – not at the fault of customer – No Charges. Charges for copy of original of cheque paid by the Bank – a) Rs. 100 upto 6 months old record. b) Rest - Rs. 250.
All other rules like service charges on inoperative accounts, addition / deletion of names, payment of interest, etc. governing Savings Bank Accounts shall also apply to these accounts mutatis mutandis unless otherwise specified.
*All charges are exclusive of GST.
*All charges are subject to changes from time to time.
*For latest service charges, please visit our website www.bankofbaroda.com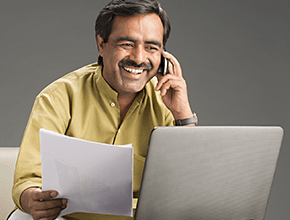 Request Callback
Please fill in these details, so we can call you back and assist you.

Baroda Advantage Saving Account

Super Savings Account

Jeevan Suraksha Savings Bank Account

Baroda Champ Account

Baroda Mahila Shakti Saving Account

Baroda Pensioners Savings Bank Account

Baroda Platinum Saving Bank Account

Baroda Salary Classic Account

Baroda Salary Premium

Baroda Salary Privilege

Baroda Super Salary Account

Baroda Senior Citizen Privilege Scheme

Baroda Police Forces Salary Package

Salary and Pension Solutions for Indian Central Forces Personnel

Salary and Pension Solutions for Indian Military Personnel

Salary and Pension Solutions for Central/State Government employees for drawing Salary/Pension

Baroda SB Self Help Group