In a cashless world, be smart, bank smart.
Find smart ways of banking services from Bank of Baroda.
---
Bank from anywhere, anytime

No need to visit a branch

Various smart banking options
Bank of Baroda provides various digital products like ATM, debit card, mobile banking, internet banking, etc. to make your banking experience smooth and save time & money. These products help customer in banking without actually walking into the branch.
Explore our range of Digital Products designed for your unique needs.
Digital onboarding of Current A/C customers

Instant banking services 24/7 from your home.

Go cashless, carry cards.

Get in the fast lane with Baroda FastTag.

Banking at your fingertips.

Convenience of banking, now at your doorstep.

Automated banking to accommodate 24x7 banking service.

Merchant Payment Solutions

Secured payment gateway through merchant's website.

Get information on how to bank securely.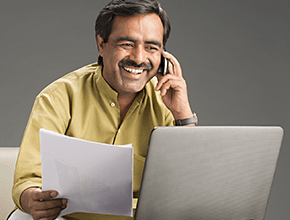 Request Callback
Please fill in these details, so we can call you back and assist you.

How do I apply for loan application/ submit Proposal for 'in principle sanction'?