A robust and safe scheme designed for seniors To earn long term savings.
Senior Citizen Savings Scheme
Bank of Baroda offers the Senior Citizens Saving Scheme(SCSS Scheme) account to individuals above the age of 60 years or 55 years for those who have retired on superannuation or under a voluntary or special voluntary scheme or 50 years for the retired personnel of defence services (excluding civil defence employees). Depositors are allowed to open multiple account under this scheme with combined maximum limit of Rs. 15 lakhs in all accounts. The SCSS account is a robust and safe account designed especially for seniors to earn long term savings in their old age.
Depositors receive interest every quarter
High rate of interest
Guaranteed returns
Nomination facility available
Eligibility
Senior citizens aged 60 years and above are eligible for this scheme. The scheme is also applicable to retired individuals above 55 years of age under voluntary or special voluntary scheme and 50 years for the retired personnel of defence services (excluding civil defence employees).
---
Rate of interest
Account holders can earn interest at the rate of 7.4% (01.10.2021 –to– 31.12.2021) on their deposits. The interest is payable on a quarterly basis and is fully taxable.
---
Minimum and maximum deposit limit
The account shall be opened with a minimum deposit of Rs. 1,000 or any sum in multiples of Rs. 1,000 not exceeding Rs. 15,00,000.
---
Tenure
The tenure of the deposit is 5 years and can be further extended by 3 years.
---
Premature withdrawal
The account holder may withdraw the deposit and close the account at any time subject to the certain conditions.
---
Nomination facility
Depositors may appoint a nominee or nominees under this scheme.
---
Account renewal
The account can be extended for 3 years only once after the completion of 5 years' term.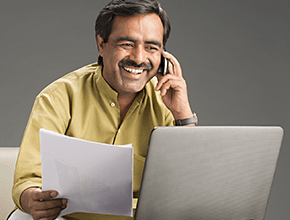 Request Callback
Please fill in these details, so we can call you back and assist you.