A small saving today leads to greater happiness tomorrow!
---
Opt for convenient & flexible, Bank of Baroda Deposits.
An amount deposited at regular intervals for years with a goal to earn high-interest rates is known as a Recurring Deposit Account. This account inculcates a habit of saving a certain amount, regularly. It has flexible options for tenure, which later reflects as a substantial amount at the time of maturity.
Open Recurring Deposit Account online to start small today!
Read More
Open a recurring deposit account with Bank of Baroda and create a habit of saving regularly. The monthly instalments on RD accounts especially, encourage new investors to set aside money throughout the year.

Minimum deposit: Rs. 50
Minimum 6 months, Maximum 120 months

A product that is basically a Flexible Recurring Deposit a/c with feature of Flexible Monthly Instalment mode. Attractive rates of interest are on the way!

Minimum deposit: Rs. 100
Minimum 12 months, Maximum 120 months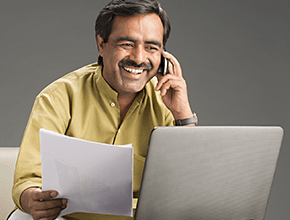 Request Callback
Please fill in these details, so we can call you back and assist you.