Target Customer
Hospitals / Nursing Homes / Diagnostic Centres / Pathology Laboratories / Eye Centres / ENT Centres / Small and Medium size specialty clients like Skin clinics, Dental clinics, Dialysis centres, Endoscopy centres, IVF centres, Poly clinics, X-ray labs etc.
Manufacturers of healthcare products, suppliers of medical oxygen, Oxygen cylinders, Oxygen concentrators, Pulse Oximeters, permitted drugs (including Covid-19 drugs), Vaccines, Ventilators, PPEs, Inhalation masks, ICU Beds etc.
Importers of vaccines and Covid related drugs.
Logistic firms engaged in critical healthcare supply.
---
Purpose
For setting up / expansion/ renovation/ modernisation of Clinics/ Nursing homes/ Hospitals/ Pathology Labs/ Diagnostic Centre / set up Oxygen plant along with power back etc.
For purchase of medical equipment including ancillary equipment.
To provide finance to manufacturers of healthcare products / manufacture permitted drugs (including Covid-19 drugs), Vaccines, Ventilators, PPEs, Inhalation masks, ICU Beds etc. for meeting working capital requirement and acquisition of fixed assets.
To import Vaccines and Covid related drugs.
To finance logistic firms engaged in healthcare activities.
Financing of Receivables of hospitals empanelled under AB PM-JAY
---
Type of facility
Term Loan, Cash Credit, Bank Guarantee (P/F), Letter of Credit
---
Tenor of loan
Term Loan upto 10 Years, Working Capital - Yearly Renewal.
---
Eligibility
Constitution as Individual/ Proprietorship Firm/ Partnership Firm/ Trust/ Society/Public Ltd / Private Ltd. (with powers to borrow).
At-least one of the Promoters/ Director should have requisite qualification in the respective branch of medical science from a recognized University like MBBS/MD/BDS or any degree in physiotherapy/ radiology etc. or professional qualified doctors should be a part of management of the Hospital / Nursing Home / Pathological /Diagnostic Canters.
Business unit should have required approvals/ registrations / permit / licence, wherever applicable, from the statutory/ regulatory authority.
ITR is mandatory in case of all existing units operating for more than one Financial Year.
Unit should not have incurred losses in past 2 years.
---
Quantum of Loan
Above Rs. 10 lacs.
---
Rate of Interest
For MSME Regulatory: BRLLR+SP+1.65%. Others: MCLR + SP+1.80%
---
Service Charges
Upfront Fee/ Processing Fee/ Inspection Charges: 50% concession. BG/LC Charges: 50% concession.
---
Primary Security
First and exclusive charge over the assets financed by the Bank.
In case of Multiple Banking/ Consortium, Loan facility shall rank pari-passu with the existing credit facilities, in respect of underlying security as well as cash flows for repayment.
---
Collateral Security
Nil Collateral for Loans upto Rs. 2.00 Crs, if covered under CGTMSE. Loans above Rs. 2 Cr: Minimum 25% SARFAESI enabled tangible collateral security.
---
Validity of scheme
Upto 31.03.2022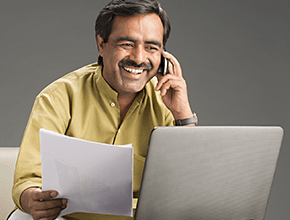 Request Callback
Please fill in these details, so we can call you back and assist you.