Travel light with Bank of Baroda.
---
TravelEasy in your pocket!
Travel Card- Multi Currency Forex Card
Baroda TravelEasy Multi Currency Forex Card - It is a prepaid International currency card, designed to make your international travel a worth of memorable experience. The card is safer, secure and convenient to carry as compared to currency & traveler's cheques. Baroda TravelEasy Multi Currency Forex Card ensures that your time is best utilized in your pleasure or Business trip instead of wasting your time for money changers or encashing your traveller's cheque.
Baroda TravelEasy MCFX card is available at 220 + authorized foreign exchange branches in India. The card can be used to withdraw cash from ATMs as well as for making purchases at any of the 25 million merchant's outlets worldwide displaying the VISA sign..
Read More
Travel Card- Multi Currency Forex Card : Benefits
Travel Card- Multi Currency Forex Card : Features
Easily available at 150 + authorized foreign exchange branches in India.
Can be purchased by both account holders and non account holders.
Card is a VISA Platinum EMV Chip NFC enabled.
Card can be loaded with three currencies i.e. USD, GBP & EURO.
Immediate activation and ready to use on real time basis after load.
Card will be valid for a period of minimum three years from the date of activation or the date printed on the card whichever is earlier.
Card is reloadable in nature and can be reloaded any number of times, within the overall limit of the customer as per FEMA guidelines.
Card can be used at all VISA accepted E-COM, POS terminals and ATM machines.
Cardholder will be intimated for all transactions on registered mobile number through SMS
Comes with a mobile application which shows current balance of all wallets, allows cross currency conversion and also has a live ATM locator.
Live offers from VISA on mobile application based on location.
Enable or disable any or all channels of the card through mobile application.
A retail users can purchase only one card with an ID (passport) i.e. there can only be one active card with a person at any given point of time. If the card is lost or damaged, same will be replaced on the underlying ID.
Corporate customers can purchase any number of cards subject to completion of Full KYC of each card holder and fulfilment of FEMA/bank guidelines.
Travel Card- Multi Currency Forex Card : Do's & Don'ts
Do's
Ensure that you sign on the signature panel, on the back side of the card, as soon as you get the card.
Change your PIN or memorize your PIN and ensure destroy your PIN Mailer
Make a separate note of your card number and customer care number for emergency use.
Don'ts
Do not write your PIN Number on the card.
Do not swipe the card on unauthorized places or suspicious places. Always look for VISA logo at Point Of Sale machine at merchant establishment.
Do not swipe your card if merchant does not have an electronic Point of Sale card swiping terminal. Any usage of the card other than electronic use will be deemed unauthorized and you will be solely responsible for such transactions.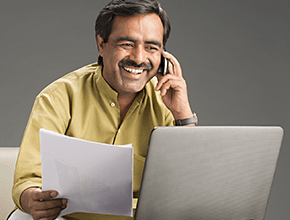 Request Callback
Please fill in these details, so we can call you back and assist you.

What are the eligibility criteria?

The Card can be issued to Individual accounts holder / Self-Operated Savings, Current and Overdraft accounts. For joint accounts, with operating instructions as 'either or survivor' and 'anyone or survivor' the card can be issued to anyone or all the joint account holders.

My Debit card doesn't work for online or international transactions. Why?

As per recent guidelines, at the time of issue / reissue / renewal, all the debit card will be enabled for use only at contact-based points of usage [viz. ATMs and Point of Sale (PoS) devices] within India. Existing cards which have never been used for Online/ International/Contactless transactions shall be mandatorily disabled for this purpose. Now, to enable the channels, through BOB ATM/Baroda M-Connect Plus (Mobile Banking)/Baroda Connect (Internet Banking)/IVR.
Kindly use your card for first transaction on BOB ATM or Green PIN generation through BOB ATM/Baroda M-Connect Plus(Mobile Banking)/Baroda Connect (Internet Banking)/IVR and then try online transactions.

What are the different types of Debit cards issued by Bank of Baroda?

Bank is issuing different types of debit cards in coordination with Visa, MasterCard and RuPay. To know the details of different card variants being issued by the bank, please refer to ATM/Debit Card section on our Bank's website Click

Is there any Fee for the issuance of Debit card?

The fees are subject to change from time to time at the sole discretion of Bank/RBI etc. For service charges related queries, please refer to Debit Card section on our Bank's website. For charges, please refer Click here Can a fresh Debit card issued in lieu of lost/damaged card and what is the amount to be charged? Yes, Rs. 200/- + Tax is charged for replacement of damaged card/lost card.

How many accounts maximum can be linked to my Debit card and what is the procedure?

A maximum of 9 accounts held in the same name and same capacity can be linked to a Debit card. Please submit a request for linking multiple accounts on your debit card to your base branch.

My Debit card doesn't work on ATMs. Why?

Debit Card does not work on ATMs due to some of the following reasons: Your debit card may be blocked. You may not have swiped the card properly. Your card might have got damaged/deteriorated due to which it is not accepted by ATM where the card reader may be weak. In such a case you may try at another ATM and if still does not work, request for a new card to your branch/contact centre. Your account may be inoperative or frozen at the branch level due to some reason. Please contact your branch to know the account status. You may be using the wrong PIN. Connectivity from the ATM has failed. In such case please try after some time or use another ATM.

How many transactions for Current Account holders at other bank's ATM machine's are free?

No transactions are free.

How many attempts of wrong ATM PIN will lead to blocking of a Debit Card?

Soft blocking : After 3 attempts of wrong pin in a day(within 24 hrs.) debit card will be blocked for the next 24 hrs. Hard Blocking: After 12 attempts of wrong pin in a month debit card will be blocked permanently.

Which of the following modes can be used for hot listing of Debit Card by the customer?

Contact Centre/Toll free numbers 1800 258 44 55 or 1800 102 44 55.
Mobile Banking (M Connect).
WhatsApp Banking.
Net Banking (Baroda Connect)
Base Branch.

What are the Debit Card variants, wherein international usage is allowed?

Visa Platinum/Contactless.
Baroda VISA Vyapaar.
MasterCard Platinum.
RuPay Platinum/Contactless.
RuPay Select.
MasterCard World (Baroda Radiance).