Save now for a stress-free retirement.

---
Open Baroda Pensioners Savings Bank Account and get unlimited benefits.
Baroda Pensioners Savings Bank Account
Eligibility
All customers within the age group of 18-70 are eligible to avail the Life Insurance benefits. Any resident individual who has attained the age of 18 years and has not completed the age of 70 years can avail the facility of Life Insurance Cover from "IndiaFirst Life Insurance Co. Ltd" (IFLIC) up to an amount of Rs. 5 lakhs after the payment of required premium and submission of simple Health Declaration Form (DOGH).
---
Sum Assured
The sum assured starts at a minimum of Rs. 1 lakh and goes up to Rs. 5 lakhs (in multiples of Rs. 1 lakh).
Under the scheme, only one insurance cover per person shall be allowed.
---
Periodicity
Period of insurance is one year from 1st January to 31st December every year and is annually renewable. In case of those accounts which are opened in due course in the middle of the year, premium shall be paid on prorata basis only for the year in which the insurance is subscribed as per details mentioned below:
Premium Table
Insurance premium chart – Rs. 1 lakh

Age in Years

18-35

36-50

51-59

60-70

Month of joining the scheme

Premium ( Inclusive of GST )
with effect from 01/01/2020

Coverage in months

Jan

138

276

768

1,975

12

Feb-20

127

253

704

1,811

11

Mar-20

115

230

640

1,646

10

Apr-20

104

207

576

1,482

9

May-20

92

184

512

1,317

8

Jun-20

81

161

448

1,153

7

Jul-20

69

138

384

988

6

Aug-20

58

115

320

823

5

Sep-20

46

92

256

659

4

Oct-20

35

69

192

494

3

Nov-20

23

46

128

330

2

Dec-20

12

23

64

165

1
From second year onwards, the premium for the full year will be auto-debited at the central level in the month of January.
Insurance cover shall be available only till the savings account is active and the premium amount once collected shall not be refunded, even if the account is closed.
Transactions that are savings oriented in nature are permitted. Commercial transactions are non-allowable transactions. If non-allowable transactions are noticed then the Bank may close the account with prior notice/intimation citing reasons thereof.
Minimum Balance Requirement
Nil
---
Charges for non-maintenance of minimum balance
Nil
---
Free transfer of funds through demand draft/bankers cheque up to a maximum limit of Rs. 1 lakh per month.
---
Nomination Facility
Available
---
Overdraft facility in savings bank a/c: Up to a maximum of 2 months pension amount (Net credit to SB a/c last month), if any other credit facility is not being availed by the pensioner.
---
Immediate credit of outstation cheques up to Rs. 25,000 as per the Bank norms.
---
Cash Deposit
For Rs. 5 lakhs and above, PAN card must be submitted as per the requirement of Income Tax.
---
At Cash Machines
Cash deposit with debit card up to Rs. 2 lakhs per day is allowed if the PAN is registered and, Rs. 49,999 if the PAN is not registered to your account .
Cardless transaction (by feeding account number) is allowed up to Rs. 20,000 per day.
Fake note, suspicious note is impounded and receipt is given to the customer. Torne/mutilated/taped notes are not accepted by these machines.
---
Cash Withdrawal
Maximum of Rs. 50,000 per day withdrawal allowed to the account holder only at outstation branches.
Third-party cash payment at local non-base branches and outstation branches is totally restricted.
---
Interest Calculation and Frequency
Interest is calculated on a daily product basis and credited to accounts quarterly. For this purpose, Bank's quarters are May-July, August-October, November-January and February-April. Interest is credited to the account within 15 days at the end of the quarter. However, the value date effect as of 1st day of the month is given while crediting interest.
---
Withdrawal(s) & use of Withdrawal Form (Slip)
Withdrawals will be allowed either by withdrawal forms or by cheques. Payment against the withdrawal form along with passbook is allowed for self only with per day limit of Rs. 25,000 (Minimum Rs. 25 in Rural/SU and Rs. 50 in metro/urban).
---
Passbook and Statement of Account
Free passbook.
Rs. 100 per duplicate passbook/statement with latest balance only.
---
SMS Alerts and Charges
Charges Rs. 15 per quarter are levied.
---
Registration and Execution of Standing Instructions
No charge within the Bank.
Rs. 100/- per occasion will be levied for Standing instruction failure because of insufficient funds.
---
Transfer of Account/Scheme
Upon submission of application along with pass book and unused cheque leaves the account can be transferred to another branch/scheme free of charge.
---
ATM/Debit Card/Credit Card and Charges:
Free debit card for the first year then charges Rs. 100 per annum will be levied.
---
Overdraft facility in Savings Bank A/c: Up to a maximum of 2 months pension amount (Net credit to SB a/c last month), if any other credit facility is not being availed by the pensioner.
---
Closure of Account and Charges
All the authorised signatories of the account will give in writing with his/her/their intention to close the account. The relative passbook, debit card and unused leaves should be surrendered along with the letter requesting closure.
In case of pre-mature closure of the account, no charges will be levied if the account is closed within 14 days of first customer induced credit into the account. However, Rs. 200 is levied if the account is closed beyond 14 days but within 1 year of the first customer induced transaction. However, in case of death of the account holder, no charges will be levied.
---
Dormant/Inoperative Account
If there are no customer-induced transactions in the savings accounts for over a period of two years. Interest is continued to be applied in all eligible Savings Bank accounts. No charges are levied for the in-operation of accounts.
Activation/closure of dormant/inoperative accounts will be done after submission of necessary KYC documents, photo, fresh specimen signature, subject to satisfaction of the Bank.
All accounts which have remained inoperative/dormant for a period of 10 years and above will be treated as unclaimed deposits and will be transferred to RBI. Upon receipt of the request from the customer such deposits will be returned subject to conditions.
---
Disclosure of Information
The Bank may disclose information about customer's account, if required and permitted by the law, rule or regulations, or at the request of any public or regulatory authority or if such disclosure is required for the purpose of preventing frauds, or in public interest, without a specific consent of the account holder(s).
All relevant policies including Code of Commitments to customers and Grievance Redressal Policy are available at the branches.
MITCs OF ATM/debit card, mobile banking, net-banking in application form are available separately.
The Bank will notify 30 days in advance, of any change in terms and conditions/fees and charges on its website.
All deposits to the extent of Rs. 5 lakhs per depositor of our bank (except deposits of Central/State/Foreign Governments and commercial banks) are covered under the Deposit Insurance & Credit Guarantee Corporation (DICGC).
---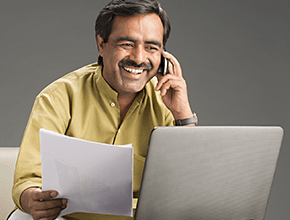 Request Callback
Please fill in these details, so we can call you back and assist you.

Baroda Advantage Saving Account

Super Savings Account

Jeevan Suraksha Savings Bank Account

Baroda Champ Account

Baroda Mahila Shakti Saving Account

Baroda Platinum Saving Bank Account

Baroda Salary Classic Account

Baroda Salary Premium

Baroda Salary Privilege

Baroda Super Salary Account

Baroda Senior Citizen Privilege Scheme

Baroda Police Forces Salary Package

Salary and Pension Solutions for Indian Central Forces Personnel

Salary and Pension Solutions for Indian Military Personnel

Salary and Pension Solutions for Central/State Government employees for drawing Salary/Pension

Baroda SB Self Help Group

Government Savings Account (Baroda Gov Bodies SB Account)