Happy to be India's
International Bank
Proud to serve over.
Apart from activities pertaining to management of funds and liquidity, the domestic treasury also handles financial instruments like
Commercial Papers (CP)
Certificate of Deposits (CD)
Government Securities
Treasury Bills (TB)
Bonds and Debentures
Equities and various other derivatives
The products and services offered by SITB cater to the inter-bank market as well as to the corporate customers of the bank. The bank is an active participant both in the inter-bank market and the corporates for all the products.
The bank offers its customers - including firms, companies, corporate bodies, institutions, provident funds trusts, regional rural banks, urban cooperative banks and non-banking financial companies -opportunities to invest in Government Securities as allowed by Reserve Bank of India for non-competitive bidding.
Bank's below mentioned branches are authorised for this purpose and prospective investors may contact for our services.
| City | Branch Name | Telephone No. |
| --- | --- | --- |
| Ahmedabad | Navrangpura | 079-27541494, 27540095, 27541936 |
| Chennai | North Beach Road | 044-23454247, 23454243, 23454244 |
| Kolkata | India Exchange | 033-22214468, 2220676 |
| Mumbai | Fort University | 022-22704524 |
| Mumbai | P M Road | 022-43408600, 22663348 |
| New Delhi | Parliament Street | 011-23321849, 23325557, 23328666 |
---
Derivatives
As an OTC product, the bank also arranges for hedging interest rate risks or currency risks by offering Interest Rate Swaps (IRS), Forward Rate Agreements (FRA) or Currency Swaps, with reference to acceptable benchmark rates. Bank of Baroda also offers derivative products like Options and Swaptions for obtaining protection against adverse movements in exchange and/or interest rates, while retaining the advantage of higher profit from favourable movements.
All "B" Category foreign exchange authorised branches of the bank are authorised for this purpose. Customers can contact "B" Category authorised branches or Derivatives Desk in Treasury Branch, Mumbai, Baroda Sun Tower, 4th & 5th Floor, C-34, G Block, Bandra Kurla Complex, Bandra (E), Mumbai-40005
Tel :022 66363645, 66363644,
Fax :022-67592840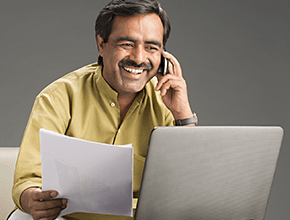 Request Callback
Please fill in these details, so we can call you back and assist you.