Grow with Bank of Baroda.
---
Your micro, small, medium enterprises today will be a large corporate tomorrow.
Interest Rates and Charges
Digital Mudra Loan : Features
Available on platform
bobWorld Application Baroda Connect, Bank of Baroda Website
---
Purpose of Assistance/Nature of assistance.
Need based Term Loan/Working Capital Loan to eligible borrowers.
MUDRA loan is not for consumption/personal needs.
---
Amount of Assistance
Amount of assistance Upto to Rs 10 lakh in three categories viz. Shishu, Kishore and Tarun.
---
Margin/Promoters Contribution
Margin/Promoters Contribution is as per the policy framework of the bank.
---
Security
First charge on all assets created out of the loan extended to the borrower
No Collateral Security and elligible accounts covered under CGTMSE.
Digital Mudra Loan : Interest Rates and Charges
Interest rate Interest rates are to be charged as per the policy of the bank.Interest Rates & Charges
Upfront fee/Processing charges as per the policy of the bank.
There is no minimum loan amount for Mudra loans.
Digital Mudra Loan : Terms and Conditions
Eligible Borrowers
Individuals, Proprietary concern, Partnership Firm, Private Ltd. Company, Public Company are eligible to apply for Mudra Loan.
The applicant should not be defaulter to any bank or financial institution and should have a satisfactory credit track record.
The individual borrowers may be required to possess the necessary skills/experience/ knowledge to undertake the proposed activity.
---
Prerequisites for applying Mudra loan through this platform
Before applying the Mudra loan, the applicant should ready with following things;
Its valid mobile number and email ID,
PAN Details, GSTN username (In case registered with GSTN),
Mobile no registered with GSTN,
Latest 6 months Bank statement downloaded from respective bank's website/ received from banks mail ID/bank detail such as Account no and IFSC Code,
Business registration details (if applicable) KYCof business and business promoter/partner/proprietor,
Associate concern details,
Existing loan details.
---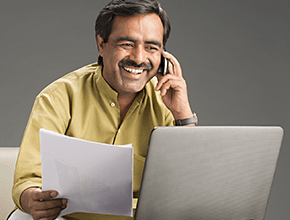 Request Callback
Please fill in these details, so we can call you back and assist you.