Passionate about making a difference? Let us do it together.
---
Give your startup a strong foundation with Baroda Startup Current Account.
Baroda Startup Current Account
No charges for NEFT/RTGS/IMPS transactions up to 2 years.
Auto and reverse sweep facility enabling current account holder to earn interest.
Monthly statements: Two times in a month free of charge.
Balance Certificate: Free
Folio Charges: Free
Signature verification: Free
Cheque book: 200 cheque leaves are free per month upto 2 years.
Free Baroda Connect (Internet Banking)
Value added SMS Alert Facility: Allowed.
POS, Bharat QR Code & Bhim QR Code: 50% of POS(one machine) monthly charges. 50% discount on issuance of demand draft/bankers cheque.
Demat Services: Waiver of 25% of annual custody charges to partners and directors.
Processing charges: 100% waiver in case car loans are in the name of partners and directors of the Company.
Collection of outstation cheques by sending cheques physically through post - 50% of Normal collection charges.
Credit Card: Complimentary credit card(free for first year) limited to two partners or two directors with free personal accidental insurance facility.
Baroda Cash Management Services: Enjoy the convenience of BCMS services for bulk payment & collection at competitive rates offered by the bank.
Baroda Payment Gateway: Accept online payments through all modes through state of art payment gateway of the bank.
Transactions
All genuine purpose oriented transactions are allowed. There is no restriction on number of transactions in the current account.
---
Transfer transaction
In case of transfer transaction one entry i.e. either debit or credit entry of the transaction must be in the branch transferring the fund.
---
Cash Deposit
At base branch and local non-base branch:
Upto Rs. 50000 Or Up to 10 packets i.e. 1000 pieces of notes of any denominations taken together, whichever is higher - free of charge per day. For additional 1000 pieces (10 packet) or part thereof charges @Rs. 10 (Min Rs.10 & Max. Rs.10,000) will be charged.
At outstation branches:
There is no restriction for cash deposit in outstation branches if PAN is available in the account. Service charge will be levied as under:
| Shortfall in Average Balance | Slab of Charges |
| --- | --- |
| Up to Rs. 25,000 | NIL |
| Above Rs. 25000 to Rs. 50000 | Rs. 25/- |
| Above Rs. 50,000 to Rs. 1 lakh | Rs. 50/- |
| Above Rs. 1 lakh | Rs. 100 |
---
Minimum Balance Requirement
Rs. 2,50,000 (charges for non-maintenance of min balance, Rs. 1000 +GST. However, for 1st year, there will be waiver of these charges).
---
Interest Payment
No interest is payable in current account.
---
Withdrawal(s)
Withdrawal allowed by cheque only. No upper limit for cash withdrawing at base branch. At local non-base branch and outstation branches cash withdrawal up to Rs. 25,000 per day per account is free of charges thereafter service charges is levied @ Rs. 2 per thousand or part thereof minimum Rs. 50 and cash withdrawal is allowed to account holder up to Rs. 50,000 per day only by self cheque. Third party cash payment at non-base branches is not allowed.
---
Statement of Account
Statement of Account is provided twice a month free of cost. Duplicate statement will be issued with present balance only @ service charge of Rs. 100 + GST. For old entries of individual accounts charges @ Rs. 75 per ledger page(25 entries treated as one ledger page). For Non-individual accounts charges @ Rs. 150+ GST for duplicate statement with current Balance only. For old entries the rate is Rs.150 per ledger page for non-individual accounts.
---
Standing Instruction
For standing instruction within the bank there is no charge. Charges @ Rs. 50 +remitance charge+ postage charged for SI sent out of the branches. Charges @ Rs.100 per occasion will be deducted if the instruction could not be executed on a particular date due to insufficient balance.
---
Transfer/Closure of Accounts
A/c can be transferred/closed at the written request of customers only. New cheque book will be issued to him. No charges required for transfer of an account. For closure of Current account within one year @ Rs. 600+ GST will be deducted.
Unclaimed Deposit Account remaining dormant for 10 years are treated as unclaimed deposits and are transferred to RBI.
---
Disclosure
The bank may disclose information about customer's account, if required or permitted by law, rule or regulations, or at the request of any public or regulatory authority or if such disclosure is required for the purpose of preventing frauds, or in public interest, without specific consent of the account holder(s).
All relevant policies including code of commitment to customers and grievances redressal policies are available at the branch.
The bank will notify, 30 days in advance regarding any change in terms & conditions/fee and charges on its website.
---
DICGC Insurance Cover
Details of insurance cover in force under the scheme offered by Deposit Insurance and Credit Guarantee Corporation of India (DICGC) to the extent of Rs. 1 lakh per depositor.
---
Addition/deletion of partners/directors
Rs. 100 +GST per occasion.
---
Change of Authorized Signatory
Rs. 250 per change
---
Stop Payment
Rs. 200 +GST per instrument; Rs. 1000+GST for whole cheque book
---
Opening A/c with restrictive operation
Rs. 500 per instruction
---
Cheque return charges
Inward return charges: Rs. 125+GST (Up to Rs. 1 lakh), Rs. 250 +GST (Rs.1 lakh to 1 crore) & Rs. 500 +GST (above 1 crore).
Outward return charges: Rs. 250 +GST (Up to Rs.1 lakh); Rs. 500+GST (Rs.1 lakh to 1 crore) & Rs. 750 +GST (above 1 crore)
Financial Reason(both for drawer & payee). If cheque returned for technical reasons for no fault of customer no charges are deducted.
Copy of original of cheque / DD (paid by the Bank)
Rs. 100 +GST upto 6 months old record, beyond 6 months- Rs. 250 +GST
---
Sweep facility
The threshold limit in this account is Rs. 5,00,000 which can be increased in multiples of Rs.1000 at the choice of the customer.
First Sweep out of Rs. 25,000 will take place when the balance in the account is Rs. 5,25,000 for 30 days by default though it may change at customer's request between 15 to 45 days. The sweep amount can be changed in multiples of Rs. 25,000.
Sweep will take place on every Monday. In case of holiday, sweep will take place on the next working day.
As per KYC guidelines issued by the Bank.
Any one of
A) Recommendation letter from incubator established in a post-graduate college in India/incubator recognized by Government of India/incubator funded by Government of India or State Government or
B) Evidence of being funded by an angel investor of a reputed network or VC fund(registered with SEBI) or
C) Certificate of recognition from DIPP/DPIIT
Rules for transfer/inter-sol transfer/clearing transactions and charges:
Transfer transaction at base branch
Allowed freely without any limit.
Transfer transaction at non-base branch(local as well as outstation)
Normally allowed only at a branch where either drawer or payee maintains account. However, for genuine transactions, branch head is authorized to allow transactions at non-base branch(where neither drawer nor payee maintains account) on case to case basis subject to certains conditions. There are no charges for inter-sol transfer transactions.
Clearing transactions: There is no restriction for clearing transactions.
All charges are exclusive of taxes
All charges are subject to changes from time to time.
For latest service charges, please visit our website www.bankofbaroda.com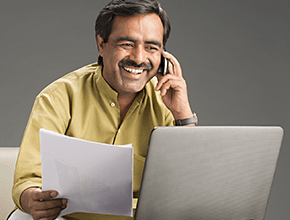 Request Callback
Please fill in these details, so we can call you back and assist you.

Who can open a current account?

An individual, proprietorship and partnership firm, limited company and even a limited liability partnership can open a current account. For specific eligibility criteria on current account opening, contact the nearest branch.

What is the minimum balance needed for a current account?

One of the benefits of a current account is the low minimum average quarterly balance. However, this amount varies based on the type of current account you hold. Ask your relationship manager or bank executive for more details.

What are the benefits of a current account ?

With a current account, you can do a large number of transactions in a single day. You also access several banking services free of charge, depending on the type of current account. This includes applying for overdraft facilities on your current account.