We are everything your business needs.
---
Bank of Baroda is a one-stop destination for all your financial needs.
A viable source of finance because we value your business! Get funding for your company's every day operations or long term investments with the various loans that Bank of Baroda MSME Banking has to offer.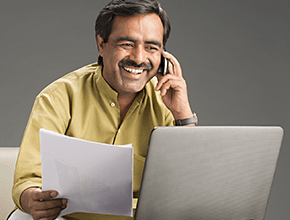 Request Callback
Please fill in these details, so we can call you back and assist you.

What are the criteria for micro & small Enterprises?

The micro, small and medium enterprises in the manufacturing and service sector are defined as under in MSMED act, 2006.

| Particulars | Investment in plant & machineries in case of manufacturing enterprises | Investment in equipment in case of service sector enterprises |
| --- | --- | --- |
| Micro enterprises | Up to Rs. 25 lakhs | Up to Rs. 10 lakhs |
| Small enterprises | Above Rs. 25 lakhs and up to Rs. 500 lakhs | Above Rs. 10 lakhs and up to Rs. 200 lakhs |
| Medium enterprises | Above Rs. 500 lakhs and up to Rs. 10 crores | Above Rs. 200 lakhs and up to Rs. 500 lakhs |

The micro and small (service) enterprises shall include small road & water transport operators, small business, professional & self-employed persons, retail trade i.e. advances granted to retail traders dealing in essential commodities (fair price shops), consumer co-operative stores and advances granted to private retail traders with credit limits not exceeding Rs. 20 lakhs and all other service enterprises, as per the definition under MSMED Act.

Whether term finance and working capital finance is sanctioned by the Bank?

Yes. Both term finance and working capital facilities are sanctioned by the Bank.

Is collateral security required?

No collaterals/third-party guarantee for loans up to Rs. 100 lakhs which are covered under CGTMSE. For other accounts which are not covered under CGTMSE, the Bank may stipulate collaterals as per Bank's guidelines.

Whether a borrower, who has availed certain credit facilities secured by collaterals and/or third party guarantees and is sanctioned distinct/separate credit facility without collateral security/third party guarantee, can be covered under CGTMSE scheme?