Making financial dealings convenient since 1908.
---
Let our electronic clearing service help power your business.
Electronic Clearing Service (ECS)
Electronic Clearing Service (ECS) : Benefits
This is a unique system under which Bank of Baroda helps companies and institutions making heavy payments disburse these amounts directly into the bank accounts of the beneficiaries such as account holders, shareholders, investors etc.
Benefits to a Corporate Body
Corporate bodies who have periodic and large volume payments to a fixed group investors/beneficiaries enjoy the following benefits:
Savings in administrative cost presently being incurred for the printing of paper instruments in MICR format and dispatching them by registered post.
Elimination of fraudulent encashment due to loss in transit of instruments.
Reconciliation of transactions is made automatic. By the time the ECS cycle is completed, the user institution gets an electronic data file from its bank with the date of payment and banker's confirmation thereon
Cash management becomes easier as arrangement for funds is to be made only on the specified date.
Ensures better customer/investor service.
In line with practices adopted by the best companies the world over who pay their shareholders/investors and customers.
---
Benefits to the Customers
Prompt payment on the due date.
Convenient receipt of money reduces trips made to the bank for depositing dividend/interest warrants.
Elimination of fraudulent encashment against instruments lost in transit.
---
BoB Cash Reach
BoB Cash Reach is a tailor-made product for the customers that enables faster remittance of funds. A more economic, convenient, smoother mode of operation which can be availed by a well-supported network of centres.
Smoother: Time and money spent on dispatches are saved.
More economic: Involves a premium service at nominal cost with a pickup service from the client's office
More Convenient: The collection and credit are both done on days convenient to the client.
Centred towards client benefits: All the benefits are passed on to the clients, in terms of enhanced quality, ease of liquidity and profit maximisation through better resource management.
Spread over a good network: Initially launched at 5 centres, with the connectivity to be now fanned over to around 200 centres.
Electronic Clearing Service (ECS) : Terms and Conditions
It is generally used for salary and pension payments (subject to a minimum of 2500 payments and an upper limit of Rs. 1 lakh on any individual payment).
This service is available at 16 centres. Very soon, 30 centres in all will be able to enjoy the benefits of this system.
Over 50 corporate bodies and Government departments are already using the system for bulk and repetitive payments with 20 more corporate bodies ready to launch into the same.
To promote electronic banking culture, a highly "concessional" service charge structure has been adopted.
At present, the sponsor bank would pay the clearinghouse Rs. 1.5 per instrument of which Rs. 0.5 would remain with the clearinghouse and Rs. 1.00 would be credited to the destination bank.
No service charges are levied by the destination bank branch for crediting the customer's account with the amount due.
To know more, visit our nearest branch Click Here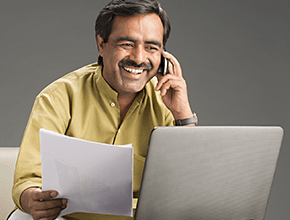 Request Callback
Please fill in these details, so we can call you back and assist you.