Design Your Dreams!
---
With Our Specialised Scheme for Financing Textile Units.
Scheme For Financing Textile Units
Nature of facility

Term Loan/Demand loan, Cash Credit and

Non-Fund based limit ie LC & Bank Guarantees

Export facilities: PC, PCFC, FBP, FBD, PSDL

Limit

Minimum: Rs.25 lacs, Maximum: Rs.50 crores.

Purpose

Working Capital requirement both Fund Based and Non-Fund Based.
Financing new project i.e. acquisition / construction of Land and Building and Plant and Machinery (including second hand Plant and Machinery as per guidelines) based on the project cost.

Eligibility

All new/existing units (including taken over from other banks) engaged in textile activity (as recognised by Ministry of Textile, Govt. of India) including Job worker /Traders (including e-commerce traders) under this scheme.

Baroda SME Gold Card: Borrower accounts with 'Standard' category for the last 1 year with credit rating BOB-5 can be covered under this scheme.

Constitution of borrower: Proprietorship / Partnership concerns / LLP / Private Limited Co. / Ltd Co. HUF are not eligible.

Method of assessment of working capital limit

As per Bank Guidelines.

Note: Assessment of limit should be independent of TUFS subsidy i.e. while calculating DSCR and Margin, projected TUFS subsidy should be excluded.

Rate of Interest

Starting from BRLLR+SP+0.80%

(Concessions may be allowed based on merit of the case)

Note: For export credit facilities, the ROI to be charged as per extant Guidelines issued by Bank.

Margin

Type of Facility

Type of Primary Asset

Margin

Cash Credit

Stock and Book Debts*

25% (minimum).

Sanctioning Authority may prescribe higher margin on case to case basis.

Term Loan

Factory Land & Building

30%

New Plant & Machinery and other misc. fixed assets

25%

Second hand Plant & Machinery (under TUF scheme)

30%

Second hand Plant & Machinery (imported)

30%

Second hand Plant & Machinery (indigenous outside TUF scheme)

40%

*Book Debts up to age of 120 days may be financed.

Period

For working capital facilities : 12 Months
For Term Loan: Maximum 9 years (including moratorium period)
Service and other charges

Type of Service Charge

Applicable Service Charges

Processing Charges/Upfront Fee/Documentation

50% of applicable charges

Remittance Charges

Intersol Charges

Inspection Charges

Mortgage Creation Charges/ TEV Study Charges

50% Concession to CMR 1-3 rated accounts may be allowed.

Security

For Term Loan:

1st charge over entire fixed assets and 2nd charge on current assets.

For Working Capital:

1st or 2nd charge over fixed assets and 1st charge on current assets.

| | |
| --- | --- |
| Exposure | Collateral Security Requirement** |
| Upto Rs.10 Crores | Decided by sanctioning authority. |
| Above Rs.10 Crores | Min 40% required other than fixed assets of unit already charged as primary security |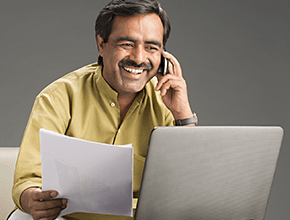 Request Callback
Please fill in these details, so we can call you back and assist you.