Foreign currency need not be a foreign concept, with a trusted partner.
---
Proud to be India's International Bank.
External Commercial Borrowings
External Commercial Borrowings : Overview
The foreign currency borrowings raised by the Indian corporates from confirmed banking sources outside India are called "External Commercial Borrowings" (ECBs). These foreign currency borrowings can be raised within ECB Policy guidelines of Government of India/Reserve Bank of India applicable from time to time.
External Commercial Borrowings : Features
ECBs at Bank of Baroda
Bank of Baroda is very active and is a leading player in granting and arranging various forms of foreign currency facilities through ECB route for the Indian Corporates. Bank of Baroda focuses on all type of foreign currency credit requirements of Indian corporates in arranging the foreign currency loans.
Bank of Baroda, India's International Bank, having a strong global presence with more than 100 branches/offices in 24 countries including the major global financial centres (Brussels, Dubai, Hong Kong, London, New York, Singapore, etc.) is very evenly placed and have an edge over all others in its capability to arrange/grant the funds from the international market.
Bank of Baroda has a few decades of experience in arranging foreign currency loans. This long experience and wide presence across the globe brings leverage to Bank of Baroda to understand the ECB market better thus offer best terms to the clientele.

---
International Merchant Banking Cell (IMBC)
With rising activities by Indian corporates in the global market as well as back home in India, the quest for cheaper and quicker global fund is growing at a substantial pace. Mid-sized companies have also joined the bandwagon. The idea behind is to scale up operations, become globally competitive and get access to foreign markets.
They will also require the international corporate/merchant/investment banking services to arrange the funds as well for other purposes.
International Merchant Banking Cell (IMBC) has been set up at BCC, Mumbai to pay focused attention to the international merchant banking needs of Indian corporates with special emphasis on external commercial borrowing.
IMBC has been offering corporate/merchant/investment banking services with a range of products/activities as enumerated below:
Arranging/granting foreign currency loans or external commercial borrowing.
Providing whole range of transactional banking services to Indian corporates for their offices, joint ventures, subsidiaries abroad at places where we have branches.
Offering foreign exchange or derivative products.
Providing buyers credit or suppliers credit.
Arranging/underwriting/participating in syndicated loan.
Raising funds for corporates through bilateral loans or club deals.
Arranging funds from international markets by way of bonds, FRNs, FCCBs, etc.
Arranging loans from export credit agencies of other countries.
Advisory services on overseas investments.
Innovative tailor-made solutions to the specific requirements of corporates.
Structured financing for procuring specific assets such as rigs, ships, aircrafts, etc.
Financing and structuring cross border acquisition debt.
---
Global Syndication Centre (GSC) at London (UK)
Regional Syndication Centre (RSC) at Dubai (UAE)
Regional Syndication Centre (RSC) at Singapore
Bank has set up Global Syndication Centre (GSC) at London (UK), Regional Syndication Centre (GSC) at Dubai (UAE) and Regional Syndication Centre (RSC) at Singapore to exclusively arrange tailor made solutions for foreign currency/services at a competitive price for Indian/non-Indian corporates.
It has a dedicated, professionally expert and specialist team both in India and abroad with international exposure in the area of arranging loan syndication and other services.
Intending corporate/Institutional clients can contact any of the following offices:
---
Assistant General Manager
International Division, BCC
Mumbai
Tel No. : 91-22-6698 5409
Fax No. : 91-22- 26523509 Email : intl-mktg.bcc@bankofbaroda.com
The concerned branch will assess/appraise the financial and other information to be given by the company like any other rupee credit facilities. The corporates need to ascertain that their requirement is as per the ECB guidelines of the RBI/Government of India. Details of ECB policiesguidelines are available on RBI website www.rbi.org.in 
The pricing of the foreign currency loans/services implies the total cost to the company comprising –
Rate of interest/margin (it is linked with the risk profile of the intending borrower)
Arrangement/upfront fee and other fees
The arrangement fee/upfront fee is a one-time cost. The pricing depends on various factors such as the credit rating of the borrower, tenor of the loan, demand/supply position of the foreign currency available, market conditions, etc. The prices keep on changing as per the market scenario and are normally valid for a period of 30 days. In addition to the pricing, there are legal/documentation/out of pocket expenses, etc. These are normally in the range of USD 15,000 or USD 20,000, but can be higher in some cases.
Pricing offered is flexible, can be discussed and negotiated.
---
ECB through Syndicated Loans - Stages in brief:
To discuss the terms and conditions of the ECB and finalize the same with Bank of Baroda.
To give the mandate to Bank of Baroda to arrange the ECB.
Bank will arrange to end to end solutions as required for syndication.
To obtain required approvals from RBI/Government of India.
Execute loan agreement and create charge on the securities, if applicable.
If applicable, obtain exemption from withholding tax under Section 10(15)(iv)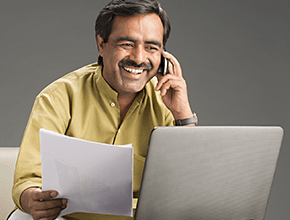 Request Callback
Please fill in these details, so we can call you back and assist you.