Making financial dealings convenient since 1908.
---
Let our financial services help power your business.
Collection Services Business Msme
Outward Bills for Collection
All branches of Bank of Baroda have the facility of collecting cheques, demand drafts, interest warrants, dividend warrants, refund orders, clean bills and documentary bills from customers and various centres. All cheques and other instruments are collected into properly introduced accounts and sent for collection on the day of receipt from the customers or the next working day.
---
Time-Bound Collection
All branches of Bank of Baroda are prompt in terms of the collections and forwarding of cheques and other instruments. For metro cities, when financial instruments are presented in a branch, the proceeds are credited to the customer's account on the same day in the following week. For state capitals, (centres with more than 100 branches), the amount is credited only after 10 days. If these instruments are not collected within 14 days of lodgement, interest at 2% per annum over savings bank rate is paid and is credited to the customer's account, without the customer having to claim it
The branches also accept requests for collection of loan certificates/FDRs issued by Joint Stock Cos.; prize money of lottery tickets, foreign currency notes etc. The bank levies service charges as stipulated from time to time.
---
Inward Bills for Collection
Bills of exchange, promissory notes, hundi's, etc., (clean/documentary), payable locally but received from outstation branches/banks/parties are treated as "Inward Bills for Collection". Also, bills received from Bank of Baroda branches and from other banks, directly from drawers or outstation parties are treated as Usance Bills
---
BoB Quick
The funds collected in this offering are credited to the customer's account within a guaranteed period of 7 days. Bank of Baroda's BOB Quick ensures a better collection service, which creates new avenues of income and ensures better investment of funds. All cheques amounting to Rs. 25000 and above are drawn on select banks and are eligible for "Quick inter-station clearing". Rs. 50 per packet is charged for courier charges with an additional but nominal collection charge.
---
National Clearing Special Facilities
This product is an undertaking by the Reserve Bank of India, for inter-city clearing of cheques between the four metropolitan centres of Delhi, Mumbai, Chennai and Kolkata.
---
Settlement of transactions on the basis of the net value of instruments.
All financial instruments are cleared promptly with the introduction of mechanised cheque processing, achieved through MICR technology. The concept of clearing has been extended to clearance of outstation cheques also.
In addition to the four metropolitan centres, certain other centres have also been identified for "One Way National Clearing". These centres are Nagpur, Ahmedabad, Hyderabad, Bangalore, Pondicherry, Trichy, Trivandrum, Vellore, Baroda, Erode, Madurai, and more.
To know more, visit our nearest branch Click Here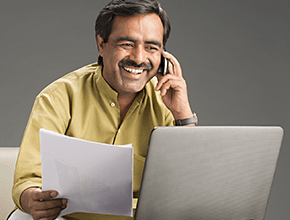 Request Callback
Please fill in these details, so we can call you back and assist you.