Digital onboarding of current account customers.
---
Find smart ways of banking with Bank of Baroda.
Bank of Baroda has been consistently working towards innovative digital offerings and "Current Account Opening" is a part of digital transformation journey. Bank of Baroda has embarked upon digitizing its current account customer on-boarding process through tablets for instant account opening through Baroda TABIT. The aim is to provide superior banking experience and ease of on-boarding customers over traditional channels. This facility is available for sole proprietorship & individual current account holders.
---
Baroda TABIT offerings are:
Instant current opening for sole proprietorship and individual current account through tablets.
UI design optimization for enhanced user experience and ease of data capture for users.
Pre-filling of data for existing customers.
Instant current account opening and registration of additional services:

Internet banking
Mobile banking
Personalized debit card
Personalized cheque book
SMS alert
UPI/VPA/QR (coming soon)
Visit your nearest branch, and open your current account today through Baroda TABIT and enjoy a seamless banking experience.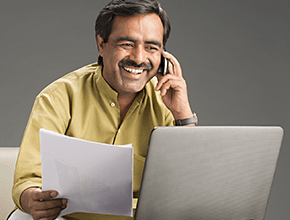 Request Callback
Please fill in these details, so we can call you back and assist you.