Secure your future plans with a reliable financial partner.
Choose a suitable type of Account.
Resident Foreign Currency A/C - for NRIs returning to India for settling in India
Most Important Terms and Conditions (MITC)
Amounts in RFC accounts are deemed to be freely repatriable for the bona-fide purposes of the NRI.
No permission of Reserve Bank is required for opening or transferring RFC funds abroad.
RFC funds can be freely drawn in Indian Rupees for use locally.
For going abroad again, an NRI can freely use this money and also have the accounts re-designated as FCNR and NRE accounts just as they were before 'return to India'.
Money will be held as term deposits for periods from twelve months up to five years.
Interest rates will be as follows:

RFC deposits of 12 months up to 60 months will be charged with the same interest rates as FCNR Deposits (no interest will be paid for premature payment before12 months).

If an individual who has been a non-resident in India in 9 out of 10 previous financial years preceding that year, or has during the 7 previous years preceding that year been in India for a period of, or periods amounting in all to, 729 days or less then he will be treated as 'resident but not ordinarily resident' (RNOR) and can claim income tax exemption on 'RFC'.
---
Ordinary Non-Resident Accounts
Ordinary non-resident accounts will be converted to resident accounts by banks in India on return of the account holder to India and consequently becoming a legal resident of India.
---
Non-Resident (External) Rupee Accounts
NRE accounts will also be converted to resident rupee accounts or RFC accounts (if eligible) at the option in of the account holder on the return of the account holder to India and their becoming legal residents in India. In case of NR(E) fixed deposit, the accounts will continue to earn agreed rate of interest till maturity even after these being converted to resident account.
---
FCNR (B) accounts
FCNR accounts will be converted to resident rupee accounts or RFC account (if eligible) at the option of the account holder on the return of the account holder to India and their becoming residents in India. FCNR accounts can be allowed to be continued till maturity.
In case the account is converted to resident rupee account, the foreign currency amount will be converted to Indian Rupees at TT buying rate ruling on the day of conversion. Interest on the new deposit would be payable at the relevant rate applicable on such deposit.
---
RFC Accounts
In case the amount is transferred to a RFC account, the rate of interest applicable to RFC account will be payable.
You can also open RFC account with the assets brought by you on return as well as your foreign assets held abroad at any future date, should you so desire. Your present NRI accounts will be re classified and called RFC accounts while the continuity of the deposit will be maintained till maturity date of the deposit.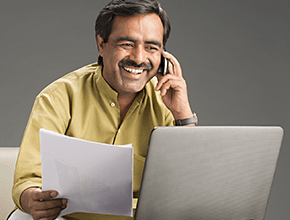 Request Callback
Please fill in these details, so we can call you back and assist you.

Rupee Linked Foreign Currency Deposit Scheme for NRIs

Foreign Currency Linked Rupee Deposits (FCLRD) Scheme

Foreign Currency Non Resident B Term Deposit

Baroda Advantage Fixed Deposits NRO-Non Callable

Baroda Premium NRE Savings Bank Account

NRE Rupee Current Account

NRE Rupee Fixed Deposits

NRE Rupee Savings Account

NRO Rupee Current Account

NRO Rupee Fixed Deposits

NRO Rupee Savings Account

RFC Domestic Account GCO for Resident Indians