The right financial plans for limitless opportunities.
Choose a suitable type of Account.
Foreign Currency Linked Rupee Deposits (FCLRD) Scheme
Most Important Terms and Conditions (MITC)
Option to keep the deposit receipt free of cost in bank's safe custody.
Acceptance and execution of standing instructions.
Automatic renewal on due date for similar period at the prevailing rate of interest in the absence of fresh instructions to ensure that your money grows timely.
Intimation of due dates enable you to plan your finance portfolio.
Addition and deletion of name of account holders is permitted.
The minimum deposit amount is USD 10000 or its equivalent.
NRIs can open this account by inward remittances in any convertible currency from abroad through normal banking channels by way of:

Demand drafts
SWIFT
Foreign Currency

Foreign traveller's cheques (during their personal visit) as well as transfer from any non-resident (external) rupee savings and fixed deposit account or foreign currency non-resident deposit accounts of any NRI on maturity.
However local rupee cheques and cash currency in Indian Rupees cannot be deposited in this account.
The remittance received from abroad is converted into rupees and placed in NRE rupee deposit for 12 months. The customer is required to book forward contract for the maturity amount on the date of deposit itself.
The effective yield to the customer will be the difference between the rate of interest on NRE rupee deposits and the forward premium prevailing on the date of effecting the transaction.
The deposit is subject to the rules framed by the Reserve Bank of India.
Deposit will be accepted for a period of 12 months only. In case of premature withdrawal of the deposit receipt, the receipt needs to be signed by all the depositors irrespective of the operational instructions "either or survivor", or "anyone or survivors/survivor".
Deposit receipts are not transferable by endorsement.
Deposit receipts will, when so required, be issued in the names of two or more persons and be made payable to any one or more of them or to any one or more of the survivors of them or the last survivor. However, all the persons must be Indians resident abroad or persons of Indian origin, resident abroad.
Interest on deposits will be paid on maturity along with the principal. No interest will be payable for deposits run for less than 12 months.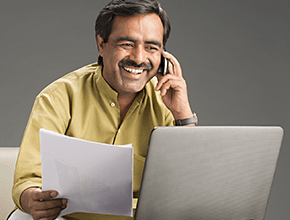 Request Callback
Please fill in these details, so we can call you back and assist you.

Rupee Linked Foreign Currency Deposit Scheme for NRIs

Foreign Currency Non Resident B Term Deposit

Baroda Advantage Fixed Deposits NRO-Non Callable

Baroda Premium NRE Savings Bank Account

NRE Rupee Current Account

NRE Rupee Fixed Deposits

NRE Rupee Savings Account

NRO Rupee Current Account

NRO Rupee Fixed Deposits

NRO Rupee Savings Account

Resident Foreign Currency A/C - for NRIs returning to India for settling in India

RFC Domestic Account GCO for Resident Indians