Saving is good, saving smartly is even better.

Choose a suitable type of Account.
NRO Rupee Savings Account
Most Important Terms and Conditions (MITC)
The principal funds are entirely non-repatriable while the interest is repatriable after deduction of tax at source.
NRO FD/SB: 30.90% withholding tax plus applicable surcharge/cess is applicable in NRO FD/SB accounts where DTAA is not applicable or the NRI depositor is not in a position to provide required documents/formalities for availing rebate in withholding tax. Surcharge is applicable @2.5% of TDS/tax amount to foreign company if the company has net income exceeding Rs. 1 crore.
Interest rates on deposits payable half-yearly (June and December).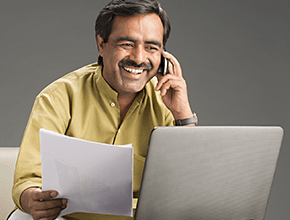 Request Callback
Please fill in these details, so we can call you back and assist you.

Rupee Linked Foreign Currency Deposit Scheme for NRIs

Foreign Currency Linked Rupee Deposits (FCLRD) Scheme

Foreign Currency Non Resident B Term Deposit

Baroda Advantage Fixed Deposits NRO-Non Callable

Baroda Premium NRE Savings Bank Account

NRE Rupee Current Account

NRE Rupee Fixed Deposits

NRE Rupee Savings Account

NRO Rupee Current Account

NRO Rupee Fixed Deposits

Resident Foreign Currency A/C - for NRIs returning to India for settling in India

RFC Domestic Account GCO for Resident Indians