Saving is good, saving smartly is even better.
Choose a suitable type of Account.
Baroda Premium NRE Savings Bank Account
Most Important Terms and Conditions (MITC)
Quarterly average balance (QAB) of Rs. 50,000 is to be maintained by depositor.
Penalty of Rs. 500 + service tax as applicable will be charged for non-maintenance of QAB of Rs. 50,000 in account.
No charges for collection of cheque drawn on self-account/travel cheques/currency notes tendered during personal visit.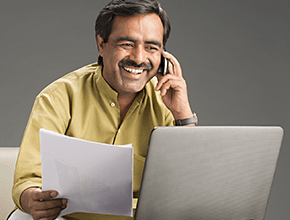 Request Callback
Please fill in these details, so we can call you back and assist you.

Rupee Linked Foreign Currency Deposit Scheme for NRIs

Foreign Currency Linked Rupee Deposits (FCLRD) Scheme

Foreign Currency Non Resident B Term Deposit

Baroda Advantage Fixed Deposits NRO-Non Callable

NRE Rupee Current Account

NRE Rupee Fixed Deposits

NRE Rupee Savings Account

NRO Rupee Current Account

NRO Rupee Fixed Deposits

NRO Rupee Savings Account

Resident Foreign Currency A/C - for NRIs returning to India for settling in India

RFC Domestic Account GCO for Resident Indians