The reliable plan for your future goals.
Opt for the best suited Loan.
Loans Against FCNR (B) Deposits in Rupees
Interest charged to the loan/overdraft account must be credited promptly every quarter (March, June, September and December). In case of default of 2 consecutive quarters interest payment, the fixed deposit shall be prematurely withdrawn for liquidating the amount of loan/overdraft outstanding.
Purpose
For personal purposes or for carrying on business activities except for the purpose of re-lending or speculative purposes or carrying on agricultural/plantation activities or for investment in real estate business. Repayment shall be made either by adjustment of the deposit or by fresh inward remittances from outside India through normal banking channels. The loan can also be repaid out of local rupee resources in the NRO account of the borrower.
For making direct investment in India on non-repatriation basis by way of contribution to the capital of Indian firms/companies subject to compliance with the provisions of the Foreign Exchange Management (transfer of Indian security by a person resident outside India) Regulations, 2000 and Foreign Exchange Management (investment in proprietary or a partnership firm) Regulations, 2000.
For acquiring a flat/house in India for his own residential use subject to the provisions of the relevant regulations made under the Act of Reserve Bank of India.
Premature Withdrawal: The facility of premature withdrawal of FCNR deposits shall not be available where loans against such deposits are to be availed.
Fixed Deposits: Facilities for loans/overdraft against FCNR (B) Fixed deposits in Indian Rupees only.
Convertibility: Loan/overdraft amount do not enjoy the benefit of convertibility or cannot be repatriated or credited to accounts having the features of convertibility i.e. non-resident external and foreign currency deposit accounts.
Loans/Overdraft: Wherever the fixed deposit is under interest payment scheme, the depositor shall direct that the interest be credited to loan/overdraft account only.
---
Third Party Advances
In case of advance to third party an undertaking will have to be made by both the borrower and depositor that no direct or indirect foreign exchange consideration was paid to the depositor for his agreeing to pledge his deposit to the bank as a security for the advance.
---
Features
Loan/overdraft where the depositor himself/herself requests for the Advances facilities against FCNR (B) in INR
Margin: 10% of present value of the deposit.
Rate of interest: MCLR plus 100 bps.
Amount : As per request of the depositor, up to 90% of the present value of the deposit.*
*As per current RBI guidelines in force, rupee loans is allowed to depositor/third party without any ceiling subject to usual margin requirements.
---
Loan/overdraft where the depositor himself/herself requests for the advances facilities against FCNR (B) in INR to third party whether non-resident or resident
Margin: 20% of present value of the deposit.
Rate of interest: Up to Rs. 2 lakhs - MCLR plus 100 bps
Rate of interest: Above Rs. 2 lakhs
For Personal purpose: MCLR plus 300 bps.
For Business purpose: MCLR plus 400 bps.
Amount: As per request, up to 80% of the present value of the deposit or Rs. 100 lakhs whichever is lower.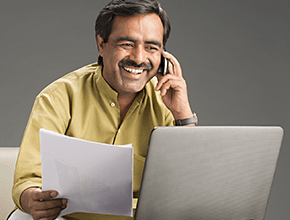 Request Callback
Please fill in these details, so we can call you back and assist you.

Baroda Car Loan for NRI/PIOs

Baroda CRE Home Loan for NRI/PIOs

Baroda Home Improvement Loan for NRI/PIOs

Baroda Home Loan

Baroda Home Loan Advantage for NRI/PIOs

Loan Against FCNR (B) Deposits in Foreign Currency in India

Baroda Top Up Loan for NRI/PIOs

Loans/Overdrafts Against Security of Non-Resident (Rupee) Fixed Deposits

Mortgage Loan