Secure your money and watch it grow too.
Choose a suitable type of Account.
Most Important Terms and Conditions (MITC)
Option to keep the deposit receipt free of cost in bank's safe custody.
A matured term deposit of period 1 year and above will be auto-renewed on its due date itself, for further period of one year at the applicable rate of interest prevailing on the due date and term deposit issued for less than one year, on maturity will be renewed for the same period with the applicable interest rate prevailing on the due date in the absence of any specific instruction from the customer.
Intimation of due dates enable you to plan your finances portfolio.
Premature withdrawal for the purpose of renewal at better interest rate is permitted without penalty clause on demand.
Close relatives (resident) can apply as joint holders to the account.
Only NRIs can open an account.
NRO FD/SB: 30.90% withholding tax plus applicable surcharge/cess is applicable in NRO FD/SB accounts where DTAA is not applicable or the NRI depositor is not in a position to provide required documents/formalities for availing rebate in withholding tax. Surcharge is applicable @2.5% of TDS/tax amount to foreign company if the company has net income exceeding Rs. 1 crore.
The principal funds are entirely non-repatriable while the interest is repatriable after deduction of tax at source.
Interest is paid/credited every quarter (i.e. March, June, September and December).
Procedure for issuance of Duplicate Fixed Deposit Receipt and in case of Lost Fixed Deposit Receipts
An application from the depositor should be obtained.
Applicants must be properly identified.
Duplicate receipt may be issued only in cases where the un-expired period of deposit exceeds 12 months.
In all other cases only a letter of acknowledgement of deposit may be given to the depositor.
An indemnity bond should be obtained in the prescribed format in all cases.
One or two sureties considered good for the amount involved, must execute the indemnity along with the depositor(s). Credit report on sureties be prepared in prescribed format and kept on record.
Sureties may be waived where the deposit is renewed for a further period of at least 12 months or where the depositors maintain other accounts which are well conducted.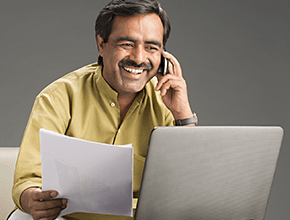 Request Callback
Please fill in these details, so we can call you back and assist you.

Rupee Linked Foreign Currency Deposit Scheme for NRIs

Foreign Currency Linked Rupee Deposits (FCLRD) Scheme

Foreign Currency Non Resident B Term Deposit

Baroda Advantage Fixed Deposits NRO-Non Callable

Baroda Premium NRE Savings Bank Account

NRE Rupee Current Account

NRE Rupee Fixed Deposits

NRE Rupee Savings Account

NRO Rupee Current Account

NRO Rupee Savings Account

Resident Foreign Currency A/C - for NRIs returning to India for settling in India

RFC Domestic Account GCO for Resident Indians