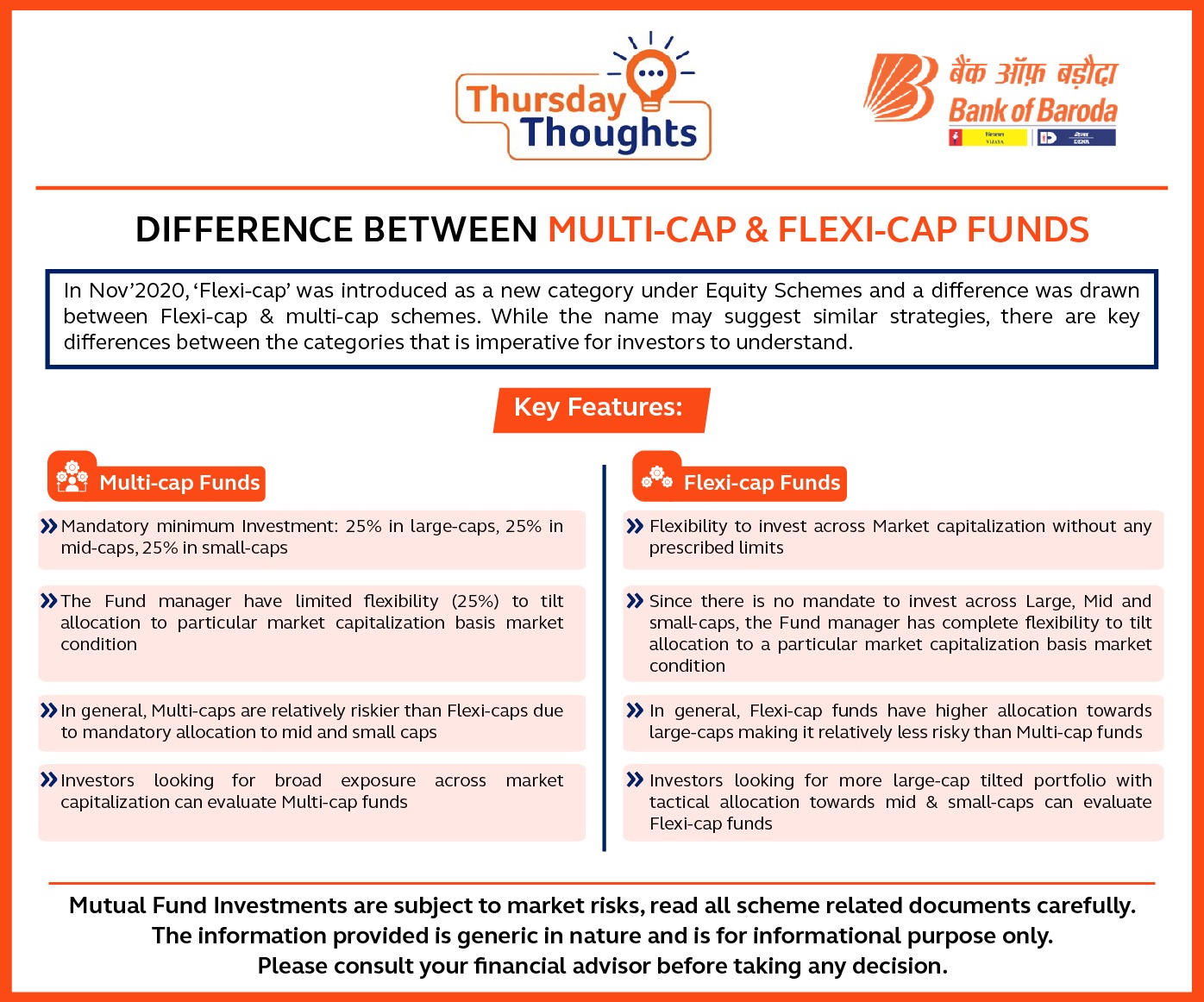 In Nov'2020, 'Flexi-cap' was introduced as a new category under Equity Schemes and a difference was drawn between Flexi-cap & multi-schemes. While the name may suggest similar strategies, there are key differences between the categories that is imperative for investors to understand.
Key Features:
1. Multi-cap:
Mandatory minimum Investment: 25% in large-caps, 25% in mid-caps, 25% in small-caps
The Fund manager has limited flexibility (25%) to tilt allocation to particular market capitalization basis market condition
In general, Multi-caps are relatively riskier than Flexi-caps due to mandatory allocation to mid and small caps
Investors looking for broad exposure across market capitalization can evaluate Multi-cap funds
2. Flexi-cap Funds
Flexibility to invest across Market capitalization without any prescribed limits
Since there is no mandate to invest across Large, Mid and small-caps, the Fund manager has complete flexibility to tilt allocation to a particular market capitalization basis market condition
In general, Flexi-cap funds have higher allocation towards large-caps making it relatively less risky than Multi-cap funds
Investors looking for more large-cap tilted portfolio with tactical allocation towards mid & small-caps can evaluate Flexi-cap funds
Mutual Fund Investments are subject to market risks, read all scheme related documents carefully The information provided is generic in nature and is for informational purpose only. Please consult your financial advisor before taking any decision.
Read more
The contents of this article/infographic/picture/video are meant solely for information purposes and do not necessarily reflect the views of Bank of Baroda. The contents are generic in nature and for informational purposes only. It is not a substitute for specific advice in your own circumstances. Bank of Baroda and/ or its Affiliates and its subsidiaries make no representation as to the accuracy; completeness or reliability of any information contained herein or otherwise provided and hereby disclaim any liability with regard to the same. The information is subject to updation, completion, revision, verification and amendment and the same may change materially. The information is not intended for distribution or use by any person in any jurisdiction where such distribution or use would be contrary to law or regulation or would subject Bank of Baroda or its affiliates to any licensing or registration requirements. Bank of Baroda shall not be responsible for any direct/indirect loss or liability incurred by the reader for taking any financial decisions based on the contents and information mentioned. Please consult your financial advisor before making any financial decision.