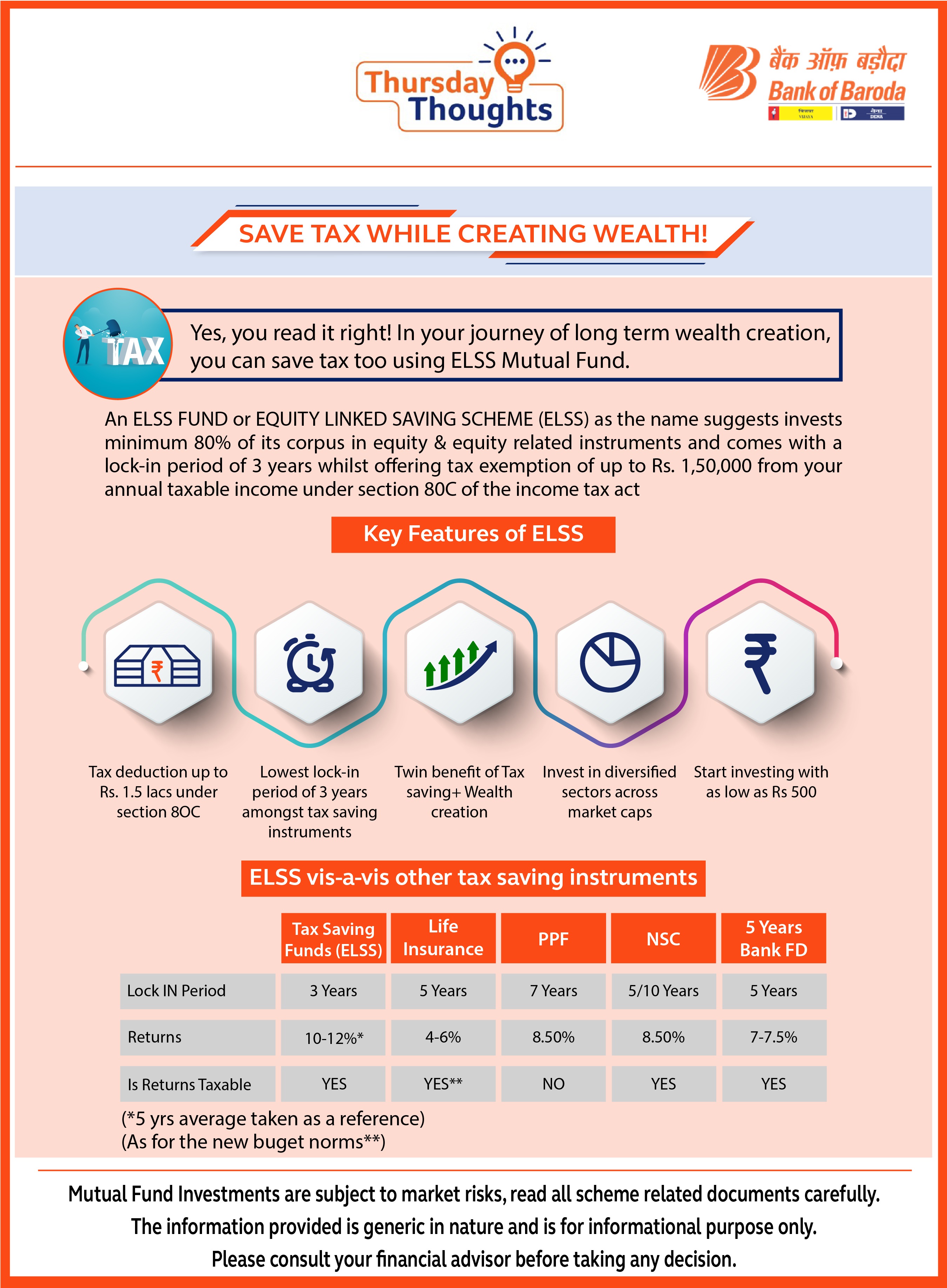 Yes, you read it right! In your journey of long term wealth creation, you can save tax too using ELSS Mutual Fund.
An ELSS FUND or EQUITY LINKED SAVING SCHEME (ELSS) as the name suggests invests minimum 80% of its corpus in equity & equity related instruments and comes with a lock-in period of 3 years whilst offering tax exemption of up to Rs. 1,50,000 from your annual taxable income under section 80C of the income tax act
Key Features of ELSS
ELSS vis-a-vis other tax saving instruments
Read more
The contents of this article/infographic/picture/video are meant solely for information purposes and do not necessarily reflect the views of Bank of Baroda. The contents are generic in nature and for informational purposes only. It is not a substitute for specific advice in your own circumstances. Bank of Baroda and/ or its Affiliates and its subsidiaries make no representation as to the accuracy; completeness or reliability of any information contained herein or otherwise provided and hereby disclaim any liability with regard to the same. The information is subject to updation, completion, revision, verification and amendment and the same may change materially. The information is not intended for distribution or use by any person in any jurisdiction where such distribution or use would be contrary to law or regulation or would subject Bank of Baroda or its affiliates to any licensing or registration requirements. Bank of Baroda shall not be responsible for any direct/indirect loss or liability incurred by the reader for taking any financial decisions based on the contents and information mentioned. Please consult your financial advisor before making any financial decision.