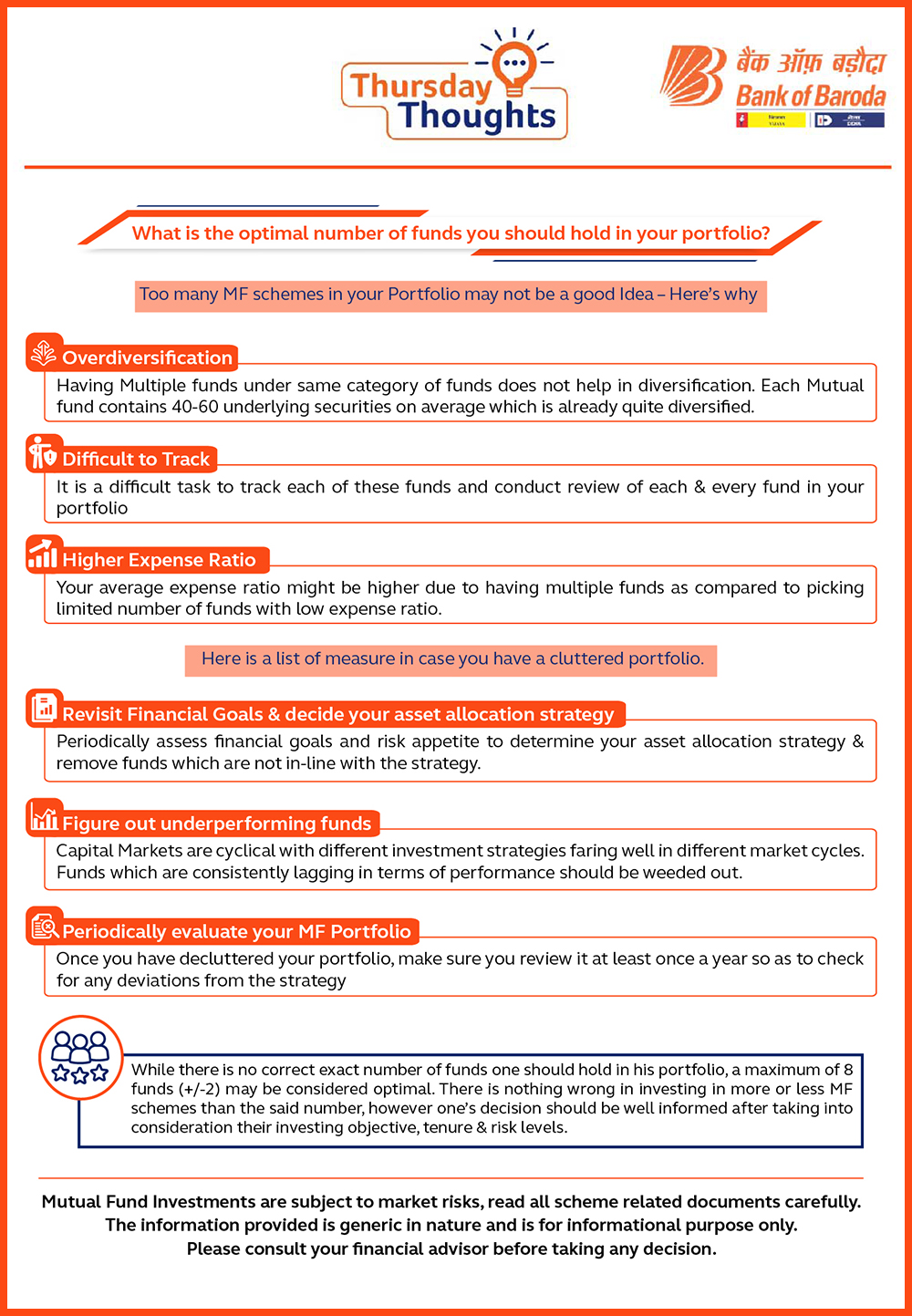 Too many MF schemes in your Portfolio may not be a good Idea – Here's why
1. Over diversification
Having multiple funds under same category of funds does not help in diversification. Each Mutual fund contains 40-60 underlying securities on average which is already quite diversified.
2. Difficult to Track
It is a difficult task to track each of these funds and conduct review of each & every fund in your portfolio
3. Higher Expense Ratio
Your average expense ratio might be higher due to having multiple funds as compared to picking limited number of funds with low expense ratio.
Here is a list of measure in case you have a cluttered portfolio.
1. Revisit Financial Goals & decide your asset allocation strategy
Periodically assess financial goals and risk appetite to determine your asset allocation strategy & remove funds which are not in-line with the strategy.
2. Figure out underperforming funds
Capital Markets are cyclical with different investment strategies faring well in different market cycles. Funds which are consistently lagging in terms of performance should be weeded out.
3. Periodically evaluate your MF Portfolio
Once you have decluttered your portfolio, make sure you review it at least once a year so as to check for any deviations from the strategy
While there is no correct exact number of funds one should hold in his portfolio, a maximum of 8 funds (+/-2) may be considered optimal. There is nothing wrong in investing in more or less MF schemes than the said number, however one's decision should be well informed after taking into consideration their investing objective, tenure & risk levels.
Mutual Fund Investments are subject to market risks, read all scheme related documents carefully. The information provided is generic in nature and is for informational purpose only. Please consult your financial advisor before taking any decision.
Read more