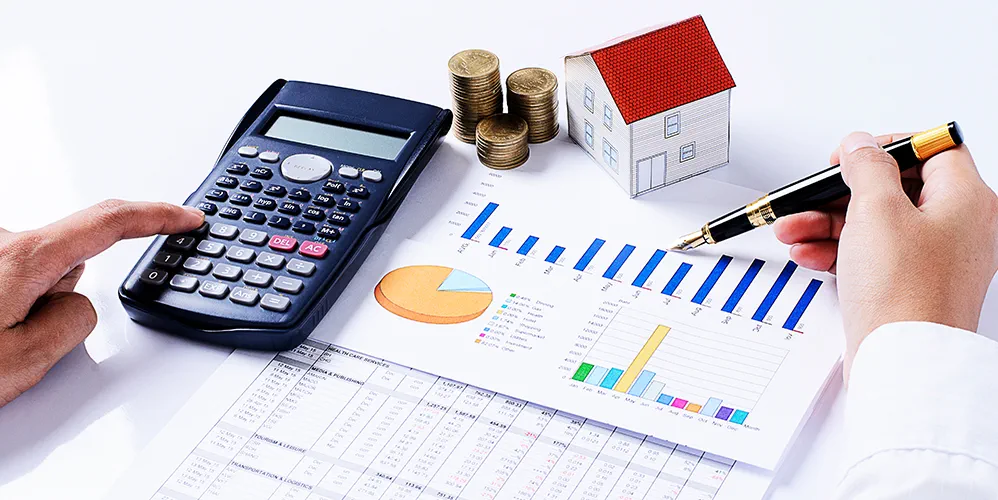 It's a new year and a new normal in the lives of most people. Yet buying a home of one's own continues to be one of the biggest aspirations. However, with skyrocketing prices of real estate, property purchase remains out of the reach of many individuals. For this very reason, homebuyers are now increasingly opting for Home Loans to fund their dream house purchase. Banks and several lenders these days offer housing finance at competitive rates of interest, subject to several terms and conditions.
Add to that a top-up on your existing Home Loan product. Many banks, like Bank of Baroda, have Top-Up Loan in their range of loan products. As the name suggests, existing Home Loan customers who may need extra funds can opt for a top-up on their running Home Loans. Their eligibility for the same is ascertained by the lender based on your relation with the bank , their repayment history and credit score, among other things. The money from such a loan can be used for various purposes, be it for a wedding, fund your child's education, or renovate/repair your home.
At Bank of Baroda, if you switch your existing Home Loan from another bank via a balance transfer, you can get a Home Loan Top-Up. The minimum is Rs. 1 lakh and a maximum of Rs 2 crore. A processing charge of 0.25% of the loan amount is applicable on a Home Loan Top-Up from Bank of Baroda (minimum Rs 5,000 upfront and maximum Rs 12,500 plus GST).
Are you wondering why you should you take a top-up loan? We try answering that question here. Keep reading to find out more.
Eligibility Criteria for Home Loan Top Up
An existing Bank of Baroda Home Loan customer (including NRIs, PIOs, staff and ex-staff members), who may have availed of a Home Loan under public scheme or staff housing loans, is eligible for a Top-Up Loan on a Home Loan. The applicant must be at least 21 years of age (and a co-applicant should be at least 18 years old, wherever applicable). For a resident Indian applicant, the borrower's age plus the Top-Up Loan tenure should not exceed 70 years, as per laid down norms mentioned under the Bank of Baroda Home Loan Product (the same should not exceed 65 years for in case of NRIs, PIOs or OCIs).
New customers who opt for a Balance Transfer Loan (called a Home Loan Takeover scheme at Bank of Baroda) are also eligible for a Top-Up Home Loan.
Benefits of a Top-Up Home Loan
Minimal documentation, swifter loan approval and disbursal
If you're an existing Home Loan customer, getting a Top-Up on your Home Loan is easier. There is minimal documentation involves since the lender already has most of the required paperwork with you. Plus, knowing your repayment history and credit score patterns makes it more convenient for the banks to go through your Top-Up Home Loan application. This makes a speedy and hassle-free loan disbursal possible. Approach your branch for a quick top up loan.
Attractive interest rates
If you opt for a Top-Up Home Loan, you can get funds at fairly lower interest rates than those available in case of any other personal loan option.
Available for longer tenures
Depending on the period left in your existing Home Loan, you can opt for a Top-Up Loan for a relatively long tenure compared to other loan options.
Can put funds to use for a wide range of purposes
You can use the funds from a Top-Up Loan in any manner you deem fit. The money can be used to finance another home purchase, renovation and extension of an existing house, and even fund medical emergencies, a wedding, or your children's education. No restrictions are placed on how you wish to utilise this option unless you plan to use for speculation or illegal use.
Lower processing fee as compared to personal loans
The processing fee levied by banks in case of Top-Up Home Loans is generally lower than that applicable in case of personal loans.
Conclusion
While one can argue the pros and cons of a Top-Up Home Loan, it does serve as a good source of emergency funds. Moreover, the fact that you can avail of the option on your existing Home Loan makes the process less cumbersome. So if you're moving into that new house right away and need some more funds to settle into your place, this may be an option you'd want to take a look at.
Bank of Baroda customers who wish to apply for a Home Loan Top-Up can visit https//www.bankofbaroda.in/apply-for-baroda-top-up-loan-resident-nris-pios.htm?33 and fill out the form to begin the process.
The contents of this article/infographic/picture/video are meant solely for information purposes and do not necessarily reflect the views of Bank of Baroda. The contents are generic in nature and for informational purposes only. It is not a substitute for specific advice in your own circumstances. Bank of Baroda and/ or its Affiliates and its subsidiaries make no representation as to the accuracy; completeness or reliability of any information contained herein or otherwise provided and hereby disclaim any liability with regard to the same. The information is subject to updation, completion, revision, verification and amendment and the same may change materially. The information is not intended for distribution or use by any person in any jurisdiction where such distribution or use would be contrary to law or regulation or would subject Bank of Baroda or its affiliates to any licensing or registration requirements. Bank of Baroda shall not be responsible for any direct/indirect loss or liability incurred by the reader for taking any financial decisions based on the contents and information mentioned. Please consult your financial advisor before making any financial decision.
What is a Home Loan Processing Fee?
What is a Home Loan Processing Fee?
Banks and lending institutions levy a onetime charge on the different types of Home Loan products. This charge, known as the Home Loan processing fee. It is generally not deductible from the loan amount, and the borrower pays it separately. This is a fee to cover the loan processing cost incurred by the lender or the bank. Some banks may waive such processing charges for a Home Loan as part of special offers.
In the case of Bank of Baroda Home Loans, we charge a unified upfront fee which consist of:

Document Verification/ vetting charges
Pre sanction Inspection (Contact Point VerificationCPV) charges
Onetime postinspection charges
Advocate charges for a legal opinion
Valuer charges for valuation
Bureau report charges
CERSAI charges
ITR Verification charges

Post sanction proceesing fee table of Processing Fees for Home Loan



S. No.
Area of Banking Service
Service Charges (excluding GST)  w.e.f. 20.06.2019


1
Baroda Home Loan & Baroda Home Improvement Loan


Slab-wise
Up to Rs 50 lakh 0.50% of the loan amount: Minimum: Rs 8,500 (Upfront) Maximum: Rs 15,000
Above Rs 50 lakh 0.25% of the loan amount: Minimum : Rs 8,500 (upfront) Maximum: Rs 25,000
The above charges are unified processing charges which include inspection, valuation and legal fees.
The above charges are for all categories of borrowers under Home Loans.




2
Baroda Home Loan Top Up
0.35% Minimum: Rs 5,000 (upfront) Maximum: Rs 12,500


3
Takeover of Home Loan (Resident /NRI/PIOs)
Flat: Rs 8,500 (upfront)


4
Pre-Approved Home Loan (In- Principle Sanction)
0.25% - 0.50%Rs 8,500 (upfront). Suppose the borrower submits the property documents within the validity period of a pre-approval letter. In that case, the balance amount of unified processing charges applicable to Home Loan will be recovered from the borrower.



Charges other than Home Loan Processing Fees
Banks also levy other charges like Home Loan prepayment fees or loan conversion charges. However, in case of a Bank of Baroda Home Loan, there are no charges applicable if the borrower chooses to prepay the loan amount before the tenure is over.
Impact of Home Loan Interest Rates
There is no correlation between the processing fee and the interest rate. However, your loan amount does factor in calculating the processing fee. A Baroda Home Loan is charged at the prevailing floating rate which is linked to external benchmark of REPO( RBI) or MCLR . The interest rate is linked to the Baroda Repo Linked Lending Rate (BRLLR) and is reset annually based on your bureau score(cibil).
Why Bank of Baroda for Home Loans
With a Bank of Baroda Home Loan, you can enjoy a free credit card and concession of 0.25% for car loans. Additionally, the bank offers free personal accident and property insurance with a Home Loan. You can also opt for a group credit life insurance cover when you apply. This cover protects the family against the borrower's death, and the family is not required to repay the Home Loan to the extent of the claim amount. You can pay the premium for the cover along with the EMIs.
EMI - Definition, Understanding & Why EMI is Important?
A loan is always taken for a specific purpose, be it a housing loan, an automobile loan, an education loan or a personal loan. Whenever a loan is taken it has to be returned to the lender. These repayments are done in a specific format where the amount is deducted from the borrower's account on a particular day of every month. The amount so deducted is also pre-decided and depends on various factors. This standardised deduction in financial terms is called as Equated Monthly Instalment or EMI.
The value of the EMI depends on four main factors. These are the amount borrowed, the rate of interest to be charged on the amount borrowed and tenure for which the loan is borrowed and the type of loan fixed or floating. If the loan is a floating one then there is one more component that affects the EMI which is called 'Rest'.
All other parameters being equal higher the principal amount borrowed higher will be the EMI. Similarly, a higher interest rate would mean higher EMI, all other things being constant. If the amount borrowed and the interest rate is constant then a higher tenure would mean lower EMI and a lower tenure would mean higher EMI.
In the case of both the fixed and floating interest rate loan, in the first EMI outgo, the interest rate component is the highest and the principal is the smallest. By the time the borrower reaches the last EMI, the interest component is the smallest and the principal is the maximum.
In case of a fixed interest loan, the EMI remains the same throughout the period of the loan. While in the case of a floating interest rate loan, the borrower has the option of reducing the EMI amount periodically as per change in the interest rate or allowing the EMI to be constant and the period to reduce.
The borrower has the option of part prepaying his loan. Whenever this happens the option available to him is to either ask the lender to reduce his EMI amount from the date of repayment or to let the EMI amount remain the same but reduce the period of the loan.
In the case of a housing loan, the interest and principal that is being paid through EMI, is summed up at the end of the financial year to calculate its impact on tax benefits that the borrower can avail of.
In case a borrower defaults on any EMI the lender will impose a penalty on the non-payment or late payment that was missed/delayed..
In the case of regular - non-payment of EMIs, lenders will be taking more severe action to recover their money and the CIBIL score of the borrower is adversely effected, resulting in adverse effect on credibility of borrower for future loans.
The good part about EMI is that the borrower knows exactly the amount that will be going out from his bank account and on which date it will be deducted. The lender also benefits knowing the cash flow that will be coming into his account every month.