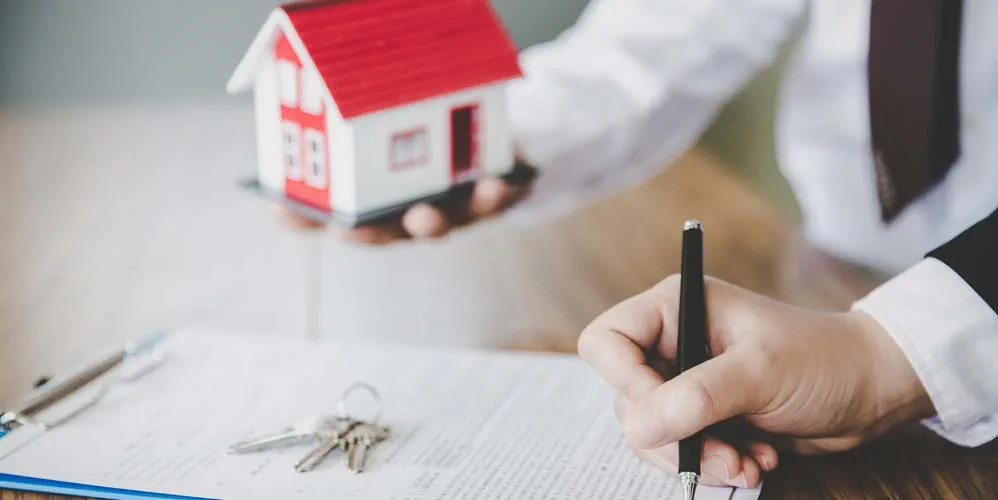 All of us dream of becoming homeowners. It is a way of ensuring lifelong financial security; the kind that does not come from living in a rented home. But buying a home is a complicated process. Whether it is years of savings to be given as down payment, or finding the right locality to invest in; the process of buying a home is elaborate. And since property investments take a huge chunk of savings, most of us rely on home loans. Yes, you can take out a home loan and pay it off in easy equated monthly instalments (EMIs) for tenures lasting up-to 30 years. Let's understand the home loan procedure.
Step 1: Fill the application form
The process of taking a home loan begins with the borrower filling an application form. The application form is the most basic document in which you have to provide personal information about yourself like your name, address, phone number occupation, monthly and annual income and education details. You must also provide details about the property you wish to purchase, the estimated cost of that property and the down payment you can afford. Note that you have to furnish your ID proof, address proof, income certificates, ITR of the last three years, bank statements etc., with your application form.
Step 2: Verification of documents
After you submit your documents, the bank verifies the documents provided by you. This is an important aspect of the home loan process and banks may take up to 2 days to verify your documents. During this time, you may also be asked to visit the bank and appear for a face-to-face interview. This is the banks way of confirming that you are capable of repaying your loan within the stipulated tenure.
Step 3: Background check
Apart from verifying your documents, the bank also conducts an independent background check of the borrower's credentials. To this effect, the bank may conduct an investigation basis the information supplied by you in the application form including your previous and current residential addresses, your place of employment, credentials of your employer, office contact details etc.
Step 4: Processing free payment
After the bank is convinced about your repayment capacity, it begins the housing loan process. As such, you must pay a processing fee which is an amount the bank collects to process your loan application. Banks typically charge anywhere between 0.25% and 0.50% of the principal loan amount +applicable GST as processing fees. The bank charges a processing fee because of the investigations conducted to check your eligibility and your Proposed Property's Valuation and Search. This does not necessarily mean that your loan is approved
Step 5: The loan approval process
By far, the most crucial stage in the entire home loan process; the bank now decides whether to approve or reject your loan. To ensure that your loan is not rejected you must furnish all the listed documents truthfully. This is also the stage in which the borrower can find out the maximum loan amount as approved by the bank, as well as the interest rate charged according to various tenures. The bank communicates these details by sending you an official sanction letter confirming that your loan is approved.
Step 6: Processing the property documents
After you receive the official sanction letter approving your loan, you are required to submit the original property documents to the lending bank, which remain in the bank's custody until the loan is repaid in full. The original property documents typically include the complete chain of ownership acquisition and transfers of ownership in sequence till your Sale Agreement execution, applicable NOCs from related authorities along with the seller's name, ID and address proof, etc. The bank verifies the property documents before approving the loan. Bank also sends it's representative twice to physically visit the property site, once before approval of loan and then after sanction of loan.
Step 7: Loan disbursal
The final step in the entire housing loan procedure is the loan disbursal stage. This includes the registration of the loan deal i.e. acceptance of Terms and conditions of Sanction by the borrower/s, the signing of the loan agreement/documents and the disbursement of loan as per terms stated in the Sale Agreement, including down-payment by the lender.
6 Effective ways by which your CIBIL Scores can Improve
One of the most important prerequisites for taking on any kind of loan today, is your CIBIL score. Whether it is a home loan, a vehicle loan, a personal loan or any other kind of loan
Applicant, banks always check one's CIBIL scores. Also known as credit score; this is a document containing information about the borrower's credit behaviour. Banks use potential borrowers' credit scores to check whether or not they have been repaying their loans on time. Through the CIBIL scores they can check if a borrower has defaulted on any loan payments, missed paying any EMI and even get an idea regarding one's financial conditions. If your credit scores are below 750 most lenders reject loan applications. So it is imperative to have good credit scores. Find out how to improve CIBIL score here.
Repay your debts on time
Whether it is your credit card bills or your loan EMIs, it is imperative that you repay your debts well in time. Missing out on repaying any outstanding debt can impact your credit rating. You especially need to be careful when it comes to paying loan EMIs because failure to do so, not only attracts penalties, but also affects your credit scores negatively. One easy way to pay your debt on time is to set reminders so that you don't forget the loan repayment dates and never miss out on making timely payments. You can also set up automatic payments so that the loan amount is directly debited from your savings account every month.
Don't take on multiple loans
A great way to improve CIBIL score is to ensure you do not take on multiple loans at the same time. Ensure that you've paid off your current loan before taking on another one. This prevents your credit scores from reducing. When you take on several loans at the same time, it shows your lender that you may not have sufficient funds to repay all of them. If you have only one loan to repay, the lender can feel confident in giving you the loan and your credit scores also remain unaffected.
Try to maintain a healthy mix of credit
Most people have to take on a variety of loans to fund the various life necessities. But when you take the loan, it is better to ensure that there is a healthy mix of secured and unsecured loans. While the home loan and car loan count for a secured loan, your credit card debt or personal loans are regarded as unsecured loans. It is necessary to maintain a balance since taking any loan in access can affect your credit rating.
Don't utilize your entire credit limit
Another important point that pops up when we talk about how to improve credit score is credit limit utilization. One of the quickest and the easiest ways to improve credit scores is not utilizing your credit card to the extreme limit provided by lenders. Try to spend only 30% of the credit limit provided on your card per month. For instance, if you have a credit limit of ₹200,000 per month, you should try to restrict your monthly credit spends to only ₹60,000. When you exceed the 30% limit, your potential lender may get the idea that your spending habits are impulsive, which can also reduce your credit scores.
Increase the credit limit
If you demonstrate good credit repayment behaviour, your bank can reach out to you to increase the credit limit on your credit card. It is better not to turn down this increased credit limit. Increasing the credit limit doesn't necessarily mean that you are going to increase your credit card spends. The idea is to have a higher credit limit but limiting your credit utilisation, and thereby improve CIBIL score. Doing this leaves a positive impact on your credit scores.
Ensure that your credit report is error free
While you may believe that your credit report is free of errors, there may be several unknown errors that may be reducing your credit score. For instance, you may have paid off your personal loan in full, but you may see that it is still unpaid owing to administrative errors. It is therefore important to check your credit score and ensure it is error-free before you apply for a loan so that your loan request is not rejected, thus further impacting your credit scores.
Computing Your Car Loan EMI Made Easy
Every individual's journey to buy a car is unique. It begins with where the individual is in his/her career, and the choice of vehicle they want, which is mainly based on why they want the car. During the process, they also focus on how they can get a car loan that suits their requirement.
When you, as an individual are considering a car loan, you are likely to do your due homework in checking for affordability and the loan tenure among other factors. While it is essential to go for a car loan from a lender who has banking expertise in the sector of car or auto loans, so you get the best rate and comfortable repayment options, you can also use the EMI calculator like the Bank of Baroda's Car Loan EMI calculator that will help you make a well-informed choice in picking your car loan.
In using a car loan EMI calculator, you need to key in three basic variables- the loan amount you are likely to need, the tenure or the repayment period that suits your finances and the rate of interest. Now, the rate of interest is what you get from the bank, while the other two are the ones you can play around with on the calculator. Here is why using a car loan EMI calculator works.
If EMI is more:
You can pick a longer loan term or
You can make the loan amount smaller
If you find the EMI is coming out to be lower, then you can plan for a larger loan value or a shorter loan term.
You can also use the PMT formula on Microsoft Excel to calculate the EMI (Equated Monthly Instalments), where PMT is your EMI, Rate is the rate of interest, Nper or number of periods is the total number of payments for the loan and Pv is the loan value or the principal. The formula is PMT (Rate, Nper, Pv).
You can keep trying the formula for various combinations and then choose the one with the lowest EMI, though this is a roundabout approach prone to human error.
Bank of Baroda offers car loans and has a wide range of benefits, irrespective of your loan amount or type of vehicle.

With a BoB car loans, you can ride home your dream car in a short period of time. Our loans are designed for those who may be unable to purchase a private vehicle due to paucity of funds.
You can benefit from quick processing, minimal documentation and speedy fund disbursal. Additionally, our loan borrowers are not required to pay foreclosure charges or pre-payment penalty, nor do they need to pay advance EMIs.
With higher limits on the car loan amount, you can avail loans for new cars based on your eligibility. So, if you have always had your eye on a luxury car, our loan can take you one step closer to your dream.
Also, say goodbye to down payment worries, as you can get up to 90% financing on the car's on-road price with Bank of Baroda's auto loan.
Bank of Baroda offer attractive interest rates on loans to all our customers based on their credit scores. Additionally, existing home loan borrowers with a good credit history enjoy a concession on their car loan interest rate.