Buying A Car This Festive Season? Here Is What You Must Consider Before Taking A Car Loan
10 Dec 2021
Back to all Articles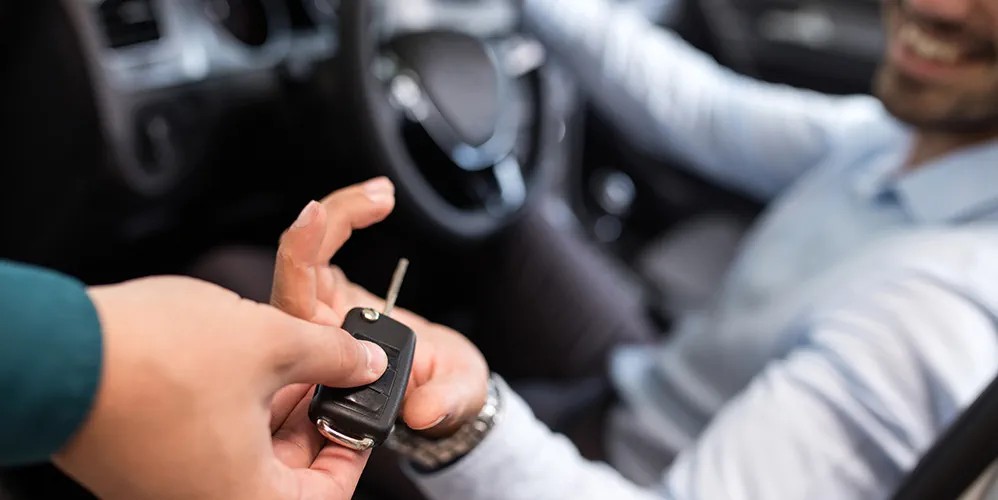 Owning your own vehicle has become more important now than ever before. The Covid-19 pandemic has completely altered social behaviour, forcing us to become highly cautious before using shared transport. And what better time to go car shopping than when the festivities ring in? With new car models being launched ahead of the festive season, it is the ideal time for consumers to make the most of the many attractive deals both from auto manufacturers and banks offering car loans .
Benefits of buying a car in the festive season
The festive season is considered to be very auspicious for embarking on new beginnings. Therefore, buying a car during such times is said to bring in positive energy and prosperity.
Moreover, this is the time when car manufacturers generally choose to introduce new models with new and enhanced features. With exciting launch offers and heavy discounts, consumers stand to benefit a lot.
Car manufacturers also usually offer many freebies like add-on accessories and additional and extended warranties during festive periods. This makes buying vehicles an attractive proposition for customers during festivals.
Car loan benefits while buying a new car
Before you plan to buy a car, you need to have a budget in mind and know how you are going to finance it. If you are looking to take a car loan, then one of the best car loan tips that anyone can give you is to plan your purchase during festivals, such as Diwali. During festivals, car dealers are known to partner with banks to offer some of the most attractive interest rates on car loans.
Car loan advantages
Taking a car loan is one of the easiest ways to finance the vehicle of your dreams. These days, car loan application processes are quick, effortless and require minimal documentation. If you plan to foreclose your loan, you do not need to pay foreclosure charges or pre-payment penalties. Additionally, some banks are known to offer added benefits, such as a good car loan interest rate, to existing home loan borrowers with good credit history.
Tax benefit on car loan
Did you know that if you are self-employed, you can actually save on taxes with a car loan? All you need to show is that your car is used for business purposes. In this case, the interest payment is calculated as a business expense. You can then claim a tax deduction under Section 80C of the Income Tax Act. However, salaried employees cannot avail of this provision as cars are considered as luxury items in this case.
How to pick the right car?
Before you zero in on your choice of car, you need to gauge whether buying a vehicle is a practical option for you and your family. While the car should suit your needs, you should not also compromise on your dreams. Here are a few parameters that will help you decide the right car model for you:
Car category:

From a hatchback or a sedan to an MUV to an SUV, the auto market is filled with a variety of options to choose from. Depending upon your requirements, choose the right car category.

Fuel-type:

Your travel needs and budget will help you choose the right type of fuel - petrol, diesel, CNG or Electric. This is an important decision as it will account for a major part of your monthly expenses.
Finally, choose between manual and automatic models to suit your comfort.
Car loan checklist
Once you have finalised the type of car you prefer, you must consider the financing options. Here is a quick car loan guide to help you with your car purchase:
Credit score

The first and most important criterion before you apply for a car loan is to check your credit score and history. Banks and financial institutions use CIBIL score to evaluate your creditworthiness. The higher the score, the better are your chances of getting loan approval at lower interest rates. A credit score above 701 is deemed to be a good one.

Eligibility criteria

Your car loan eligibility depends on various factors. These include your current income, the car value that you intend to buy and an assessment of your repayment capability
You need to fulfil the following primary parameters to avail of a car loan:
You can be either resident of India or NRI or PIO to avail car loan
You should be aged between 21 years to 70 years
You should either be a salaried or a self-employed individual with a minimum of two years of working experience
You should be residing at your current place of residence for a minimum period of one year
Documents required for car loan
If you fit the eligibility criteria for a car loan, the next stage is to check if you have your documentation in place. You will need to provide the following mandatory documents, which will be verified by the lender:
Duly filled loan application form
Two passport-size photographs
A copy of your PAN Card
One valid age and identity proof

Aadhaar card
Driving license
Voter ID
Passport

One valid address proof

Aadhaar card
Driving license
Voter ID
Passport
Utility bills

Income proof documents for salaried individuals

Bank statement for the last six months
Salary slips for the last six months
Income tax returns or Form 16 for one years

Income proof documents for self-employed individuals

Bank statement for the last six months
Balance sheets and P&L accounts for two years
Income Tax Returns for two years, 26 AS, traces
The down payment
Banks generally finance 90% of the on-road price of the car. You need to figure out how you will arrange to finance the remaining part, which is the down payment. Remember that a higher down payment will help reduce the overall loan amount. If your loan amount is lower, your financial burdens too become lighter.
Use our car loan EMI calculator or car down payment calculator online to help you figure out how you can manage your finances towards your new car purchase
Car loan interest rates
Car loan interest rates start at 7.00% per annum and are calculated on the daily reducing balance. You can avail of a loan of up to Rs. 500 lakhs ( Rs.3.00 Crore for Individuals and Rs.5.00 Crore for Corporates )
Apart from the interest rate, you need to check for the pre-payment charges, processing fee, and other related charges with the car loan. If you have a good credit score, you can try to negotiate with the lender for better interest rates and a waiver of charges. In case of Individuals there is No pre-payment charges in Bank of Baroda.
Car loan tenure
The tenure to repay your car loan generally ranges from 12 months to 84 months. If you opt for a shorter tenure, you will end up paying higher EMI amounts. Shorter tenures reduce the interest costs. So, a shorter tenure will help you pay off your loan sooner at a lower cost.
Conclusion
Buying a car may be a dream for you right now and the right car loan can make this dream a reality. Make sure to talk to your lender about how you can easily finance your favourite car today. Bank of Baroda offers easy and hassle-free car loans. Get in touch with us today.
Bank of Baroda Lowers Home Loan Interest Rate
On the other hand, if you had applied for a loan with the same loan amount and tenure at the old rates, you would have had to pay a minimum interest rate of 6.85% p.a. Your EMI payment, in this case, would have been Rs.32,763.
Lost your job due to Covid 19? Here's how to pay your home loan EMIs
Home loans are typically of high value and result in fixed obligations for long period of time in the form of EMI payments. For many individuals, a significant chunk of the monthly salary goes towards