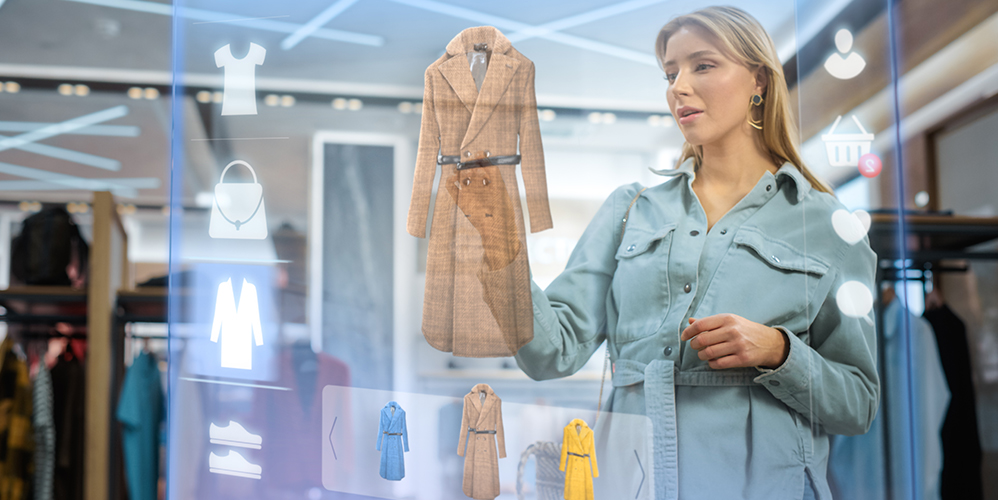 Dear Reader,
Fashion is one of the most challenging fields, highly impacted by global economic uncertainty as well as distinct trends and industrial changes. In response to the pressure for growth and cost efficiency, many brands have started a series of initiatives to improve their speed to market and to implement sustainable innovation.
As evident during the pandemic, the need to adapt and overcome has been paramount for fashion brands to survive. Brick-and-mortar fashion companies are feeling the pain augmented by Covid-19. Mall-based retailers reportedly saw earnings plunge 256% in Q2'20, according to Coresight Research and over 12,000 US stores closed in 2020, according to real estate company CoStar Group, up from 10,000 stores the year before.
One exciting innovation in the fashion industry has been the introduction of AI-based digital stylists and chatbots, that can give feedback to customers on outfit choices or suggest alternatives if required. For example, Stylesnap is an AI-powered feature built into the Amazon app that help you find looks you love quickly and easily. Take a photograph or screenshot of an outfit, upload it onto the Amazon app, and you'll be presented with items that look just like the ones in the picture.
Even Facebook is experimenting with an AI system of its own called Fashion++. The software uses AI to analyse a person's outfit and suggest subtle alterations that it thinks could improve the look, like rolling up the sleeves or removing an accessory.
Israel-based Syte offers retailers and brands a camera button that can be added next to the search bar on a mobile website or app. Shoppers can upload images of their favorite styles through the button, and then see looks "inspired" by those images on the brand's site. Syte counts a number of high-profile brands among its clients, including Tommy Hilfiger, Myntra, and Kohl's. Even luxury brands are testing digital stylists in select markets: Prada, for example, has introduced a "personalized concierge" chatbot for its relaunched Chinese website.
Fashion-tech company Style.me provides virtual styling solutions, and has recently launched a powerful plugin that can integrate a 3D virtual fitting room to any online retail website.
Recently, Fashion Innovation Agency has introduced digital human stylists (DHS) that is powered by Microsoft AI, IoT and natural language processing. It can understand what's in your wardrobe, what's in your calendar, where you're going, allowing personal recommendations that are visually and verbally communicated back to the user within your own home.
With the customers' lives becoming progressively entwined with the digital world, it is imperative that brands in Fashion Industry start embracing the latest technologies to push their limits of manufacturing, marketing and wearability.
Credits : Akhil Handa Aparna Anand
The contents of this article/infographic/picture/video are meant solely for information purposes and do not necessarily reflect the views of Bank of Baroda. The contents are generic in nature and for informational purposes only. It is not a substitute for specific advice in your own circumstances. Bank of Baroda and/ or its Affiliates and its subsidiaries make no representation as to the accuracy; completeness or reliability of any information contained herein or otherwise provided and hereby disclaim any liability with regard to the same. The information is subject to updation, completion, revision, verification and amendment and the same may change materially. The information is not intended for distribution or use by any person in any jurisdiction where such distribution or use would be contrary to law or regulation or would subject Bank of Baroda or its affiliates to any licensing or registration requirements. Bank of Baroda shall not be responsible for any direct/indirect loss or liability incurred by the reader for taking any financial decisions based on the contents and information mentioned. Please consult your financial advisor before making any financial decision.
The Ship Robots
The astounding progression of robotic technologies is playing a key role in the future of all industries. According to International Federation of Robotics (IFR), from 2020 to 2022 almost 2 million new units of industrial robots are expected to be installed in factories around the world. Like many different industries throughout the world, robots are impacting the maritime industry as well.
Take for example, SeaRobotics which has developed a Hull cleaning robot that helps save fuel and improves the efficiency of a ship. Their Hull BUG is a small autonomous vehicle which attaches itself to the underside of ships, using a negative pressure device that creates a vortex between the BUG and the hull. Sensors provide obstacle avoidance, path cleaning and navigational capabilities. A fluorometer lets the robot detect biofilm and then it uses rotary brushes or water-jets to scrub the fouling film off.
In another collaboration, the U.S. Maritime Administration (MARAD), has partnered with SEA-KIT to create robotic oil-cleanup vessels
Another solution by SeaDrone, can perform underwater Inspections in lieu of Dry Docking (UWILD). The solution is designed in a way that provides an end-to-end hull inspection solution, inspecting a vessel in 1 hour and creating a certified report that can be quickly shared with the stakeholders.
An alternative use case for robots in the maritime industry is strengthening of anti-piracy measures. ReconRobotics has developed a small, dumbbell-shaped robot that can infiltrate the main deck of a boat for stealth inspections. Magnetic wheels allow it to crawl up the side of a ship onto the deck and manoeuvre around. Cameras enable the operators to see what's happening in real-time, even during the night, with the help of infrared sensors. The company has recently been awarded a contract by U.S. Navy to develop the Recon Scout XT micro-robot for them.
Promare, a U.K. ocean-research nonprofit, in partnership with IBM will unveil their new, fully autonomous ship - Mayflower on Sept. 16th, across the Atlantic Ocean. This autonomous ship will follow the same route on which the original Mayflower travelled 400 years ago.
The Mayflower Autonomous Ship (MAS) is chiefly propelled by solar power, with a diesel generator on board as backup. IBM will power an onboard "AI Captain" with the ship leveraging edge computing for its AI and navigational smarts. All the data processing must be available on the ship because a vessel in the middle of the ocean can't rely on satellites or cloud connectivity.
As COVID-19 shifts global structures and accelerates innovation, we can easily visualise how robotic technology could help ships continue operating through future pandemics.
Credits : Akhil Handa
Zero Gravity Fridge
Dear Reader,
Thinking of a household kitchen without a refrigerator in it is almost impossible. Astronauts have been going to space since 1961, and have to eat canned and dried food that have only three years of shelf life as they still don't have a refrigerator that can work in space.
The simple reason being, refrigerators rely on gravity to distribute oil through the compressor system that regulates temperature, so in space these systems don't work or break down quickly.
Now, In a project funded by NASA, a team of engineers from Purdue University, Air Squared, and Whirlpool are building a prototype that can operate just as well in outer space as it does on Earth. The team of researchers is building a refrigerator that can keep food cold on longer missions in space, at zero gravity. It is aimed at giving astronauts a supply of food that could last five to six years.
Even though fridge experiments have been made in space before, they either didn't work properly or eventually broke down. Cooling systems currently on the International Space Station are used for experiments and storing biological samples rather than for storing food, as they consume significantly more energy than on Earth.
In a typical fridge, gravity helps to control the flow of liquid and vapour. Similarly, the oil lubrication system inside of a fridge's compressor is gravity-based. When bringing new technology into space, making the entire system reliable in zero gravity is the key challenge.
The device is about the size of a microwave oven that can fit into the International Space Station's rack system and can store biological samples for science experiments. Purdue researchers also demonstrated that the refrigerator can operate in different orientations, even upside down, an important capability for the variable gravity of lunar and planetary missions.
Overcoming the zero gravity problem and its effect on the flow of oil throughout the refrigerator has been addressed with the use of an oil-free scroll compressor developed by Colorado-based company, Air Squared, a specialist in oil-free scroll solutions. The compressor will be tested both in the prototype and in its larger, more instrumented counterpart built by Purdue researchers.
The engineers have built three experiments to test the effects of microgravity on a new oil-free fridge design: a prototype for potential future use on the International Space Station, a setup for testing the prototype's vulnerability to liquid flooding and a larger version of the prototype with sensors and instruments to capture how gravity affects the vapour compression cycle.
The team ran all the three experiments to test the machine in a specially-designed plane that flew in microgravity. They found that the refrigerator could operate in microgravity without any liquid flooding. The oil-free vapor-compressor inside the fridge addresses the   concerns about their suitability in zero gravity.
Thus, if we are to colonize Mars in the near future, it is safe to assume that we would have a ready prototype of a refrigerator for our households.
Credits : Akhil Handa Clint James