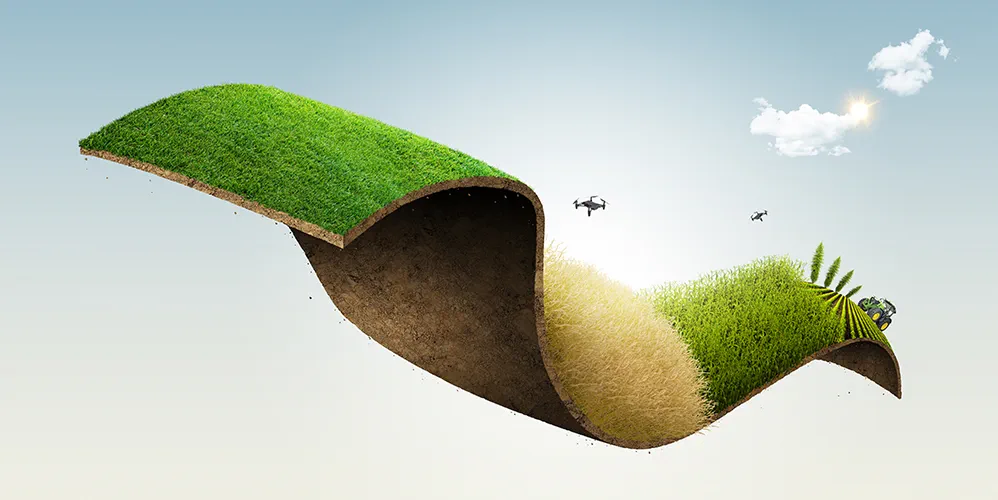 Dear Reader,
Tap a button on your phone and hop into the shower; walk downstairs 15 minutes later, and you have a fresh pot of coffee waiting for you. This is no longer just a fantasy for many people. The rise of the internet of things has allowed us to control remote appliances with just a tap of the touchscreen. Until now, the scale of these processes has largely been limited to personal devices: anything from brewing a pot of coffee to warming up your car on a frosty morning. But what if we could grow food for thousands of people, with that same tap of a button with "Smart Floating Farms".
Forward Thinking Architecture a Barcelona based firm's design comprises a multi-level agricultural farm that can be constructed, pushed out to sea, and left to work mostly on its own. The farm is designed to operate on three levels: a bottom level containing wave barriers, an aquaculture fish farm, a slaughterhouse, a packing facility and desalination plant; a second tier for hydroponic and aeroponic food production; and a rooftop level having skylights to let in light and photovoltaics to provide the energy required to power everything.
Each level is roughly 750,000 square feet – with enough room to grow up to 8.1 tons of vegetables and 1.7 tons of fish per year. The architects estimate that this would cover the project's expenses within 10 years. And since the farms are modular, a few or many of these structures could be grouped together to provide enough food for entire communities, especially those located in areas without arable land, or with a population so large it overwhelms its food supply capabilities. And unlike other forward-thinking agricultural techniques like urban farming, it spares valuable land space for alternate uses.
The world population is predicted to grow from 6.9 billion in 2010 to 8.3 billion in 2030 and to 9.1 billion in 2050. By 2030, food demand is predicted to increase by 50% (70% by 2050). The main challenge facing the agricultural sector is not so much growing 70% more food in 40 years, but making 70% more food available on the plate. To meet this ever growing demand, new agricultural techniques must be developed.
Floating Farms envisage making the farming process autonomous, placing the structures on top of the water allows the farms to adapt to rising sea levels and avoid flooding issues common to traditional agricultural techniques. While this strategy may seem outlandish, it actually has a long and successful pedigree, having been employed for centuries by Bengali farmers as a response to dramatic changes in water level during flood seasons. The farmers construct beds in lakes and rivers using several layers of bamboo and water hyacinth, fill them with semi-decomposed aquatic plants and then seed. The beds are tethered to the lakebed to prevent them from floating away. As a result production rates have increased manifold compared to existing land-based practices.
However, the true innovation of the Smart Floating Farms project is in taking non-traditional farming techniques and combining them with already-existing technologies. Jan Willem van der Schans, a senior researcher at Wageningen Economic Research who specialises in urban farming and circular economy issues, said such floating farms could be the future for sectors of agriculture such as fruit and vegetables in parts of the world.
As the architects acknowledge in their design statement, the project "is not meant to solve all of humanity's hunger problems or to replace existing traditional agriculture." One project alone will not save the world, but embracing the technologies available to us is a great start towards tackling these issues. If only it were as easy as the touch of a button.
Credits : Akhil Handa ClintJames
The contents of this article/infographic/picture/video are meant solely for information purposes and do not necessarily reflect the views of Bank of Baroda. The contents are generic in nature and for informational purposes only. It is not a substitute for specific advice in your own circumstances. Bank of Baroda and/ or its Affiliates and its subsidiaries make no representation as to the accuracy; completeness or reliability of any information contained herein or otherwise provided and hereby disclaim any liability with regard to the same. The information is subject to updation, completion, revision, verification and amendment and the same may change materially. The information is not intended for distribution or use by any person in any jurisdiction where such distribution or use would be contrary to law or regulation or would subject Bank of Baroda or its affiliates to any licensing or registration requirements. Bank of Baroda shall not be responsible for any direct/indirect loss or liability incurred by the reader for taking any financial decisions based on the contents and information mentioned. Please consult your financial advisor before making any financial decision.
Edutainment
Edutainment comes from the words "education" and "entertainment." It refers to any form of entertainment that is educational. Edutainment startup aims to make the learning process smooth by engaging students and young learners mostly aged 15 and below with fun and memorable experiences through smartphones and other internet-connected devices, virtual reality-powered tools and other gamified digital learning content.  
Mumbai-based Ontamo Entertainment has developed Ria Rabbit, an animated cartoon from Pashu Nagari, India, for kids in the age group of 0-6. It is India's first age-appropriate, culturally relevant home-grown intellectual property (IP) content for children. Their storytelling animated videos, audios and picture books engage the attention of kids while building the sense of Indian values which parents would want to inculcate in them through these characters. 
Another startup, SP RoboticsWorks has developed a platform wherein concepts are taught using animation videos and real-world examples. It has established more than 83 dedicated centers across India called SP Robotics Maker Labs which offers courses in Robotics, Internet of Things (IOT), Image Processing, Virtual Reality (VR) and more, both in the online and offline Smart-Class mode. 
 
Similarly, Paper Boat Apps Pvt Ltd has launched Kiddopia, a subscription-based pre-school edutainment app, which teaches a variety of skills to kids. It covers everything from Math, Language Skills, GK and Social Skills to Creativity and Self-expression by engaging kids with its visuals as well as fun and exciting gameplay. 
Similarly, Panda & Wolf Holding created a mobile-gaming app Eco-warrior for children between the age of 6 - 11. It uses game-based learning to teach children about waste sorting and recycling. Through an engaging storyline and immersive stages, the app informs young users about issues plaguing the environment like deforestation, waste pollution and overconsumption. 
Mumbai-based startup Shirsa Media Labs offers an app NewsPIK which is a digital newspaper for children. The Shirsa team creates news articles, events, quizzes and other information, so children are aware of the world around them. It stimulates young minds and keeps them informed. 
In this pandemic situation where education has gone online, startups are combining the concepts of education and entertainment to offer children interactive learning experience. 
Geospatial Analytics in Insurance
Dear Reader, 
Insurance industry is slowly embracing remote property intelligence as a quick, dependable, and cost-effective alternative to relying on estimates based datasets. COVID-19 lockdowns and corresponding physical-distancing protocols have double-downed the need to rethink underwriting. 
High-resolution aerial imagery can reveal the underlying risks of the properties and add to the details in application data for underwriting purposes. According to a report by Markets & Markets, the global geospatial imagery analytics market size is expected to grow from $6.9 billion in 2020 to $27.9 billion in 2025, at a Compound Annual Growth Rate (CAGR) of 32.1% during 2020-2025. 
Insurers are likely to increase the use of geospatial analytics to take advantage of the latest in AI & ML advancements to allow for automated damage classification by combining this with location information such as an address and other information like the extent of damage. Pre and post-disaster imagery also will provide intelligence needed to expose insurance fraud.  
Companies such as CAPE Analytics provides instant geospatial property intelligence for buildings across the USA and have now expanded to Canada. When integrated with Guidewire, Cape Analytics and Betterview offer insurers improved visibility and actionable insights into damage or risk so they can more accurately price, underwrite and adjudicate commercial and personal lines. 
InsitePro by Intermap is a cloud-based software solution that brings together all the necessary data and analytics for underwriting natural catastrophe risk. Detailed elevation and terrain knowledge provides critical data giving underwriters the ability to expand portfolios and reduce risk exposure. 
Under GOI's crop insurance scheme, Pradhan Mantri Fasal Bima Yojana (PMFBY), agencies will be conducting large-scale pilot studies for technology-based gram panchayat level yield estimates, using Geospatial Analytics. 
Skymet in India is opening up  its 10-year geospatial proprietary farm-level data repository through a digital platform 'SkAlgeo'. It can help the banking and insurance sector to create programmes after evaluation of crop risks using different indices. Some banks are using a digital lending solution built using the SkAlgeo platform to assess the risk profile of the farmers. 
The pace of change has been augmented by the industry's need for quick decision making, driving down costs and optimizing the customer experience. We believe, geospatial analytics can help insurers make more accurate underwriting decisions, help reduce losses and assess claim payouts judiciously. 
Credits : Akhil Handa,Aparna Anand