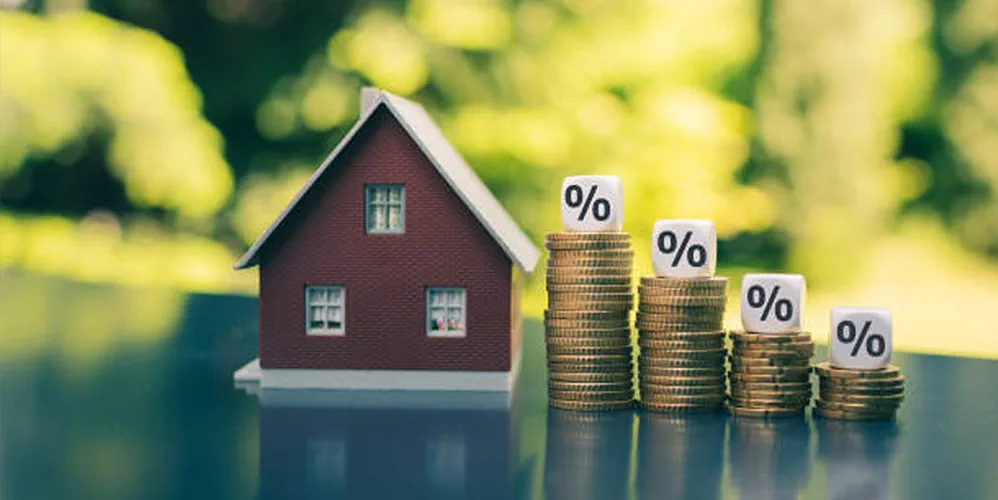 Many people confuse home loans with mortgage loans. However, there is a major difference between the two. While a home loan is a secured loan that is obtained to purchase a property by offering it as collateral, a mortgage loan has no restrictions on the usage of the loan amount. It can be used to finance businesses as well as personal needs except speculation A mortgage loan is a loan that is taken by keeping your property as collateral. Mortgage loans are easier to get approval on since the lender gets to keep collateral as assurance of debt repayment. Till the time your debt is not repaid in full, you cannot sell the property placed as collateral for the mortgage loan. Hence, many people try to make quicker mortgage repayments to get back complete control of their finances as soon as possible.
Before you apply for a mortgage loan, it is better to get a fresh understanding of your finances and compare your monthly budget against your monthly EMI. This will help you calculate how much extra money you can allocate each month towards payment of your mortgage loan. Once you have your numbers in place, you can make plans to pre-pay your debt swiftly. To help you with some mortgage advice, here are three methods by which you can pay off your mortgage loan quickly.
Make extra payments whenever possible
To clear off your loan before its scheduled termination date, it is essential to make extra payments to the lender. These are instalments you pay to the lender other than your monthly EMI. Do check with your lender if they charge any fee for making an extra loan repayment and plan your instalments accordingly. You can make an extra payment whenever you like. However, it is better to plan these payments and either pay them quarterly, twice a year, or annually. The additional payment can be made using your savings, tax rebates, bonuses, or capital gains from investments, among many other options. Making extra payments will shorten the tenure of your mortgage loan and help you save a significant amount of money on your loan interest. Just ensure that these extra payments are affordable and do not eat into other expenses you have.
Select a higher monthly EMI
Selecting a higher monthly instalment is the fastest way to pay off a loan. A high monthly EMI will help you shorten your loan tenure quite significantly. Lenders providing mortgage loans can charge a floating interest rate or a fixed interest rate on your debt. If you have a mortgage loan that charges you a fixed interest rate, you may need to pay the penalty for the pre-payment of your debt. As a result, you may not want to make any extra payments on the loan. Thus, it is best to be calculative in your approach and select right EMIs beforehand. This will help you avoid any penalties you may need to pay for repaying your debt before its scheduled termination date.
On the other hand, if you have applied for a mortgage loan that charges you a floating interest rate, your monthly EMI may decrease if the running interest rate in the market falls. However, you should keep in mind to continue paying a high monthly EMI. This will help you significantly shorten the time taken to repay mortgage and help you save a lot of money on the interest you will owe.
Do not miss your monthly payments
It is important that you plan your monthly payments before you apply for a mortgage loan. This will help you avoid defaulting on your loan due to the insufficient availability of cash. Paying your monthly EMIs on time is crucial towards clearing off your debt quickly. This is because missing your scheduled payments can cause you to pay a penalty on the subsequent EMI payments and hence, increase the amount of your instalment. This may compel you to lengthen the tenure of your loan to be able to manage the expenses. Furthermore, missing your monthly EMI would also negatively affect your CIBIL score; this will make it difficult for you to procure other loans in the future.
Quick tip :You can also consider refinancing your mortgage loan in order to pay it off quickly.
Why should you repay your mortgage loan faster?
Settling a loan early is advantageous for you. A loan is a form of liability, and hence the pre-payment of loan helps you take better control of your finances. When you have no EMIs to pay, you can use your money for any other important expenses or goals. This would not possible if you have debt. You always need to track your expenses when you have a loan and make sure that no matter what, you have the EMI ready every month. Moreover, the EMI for a mortgage loan is usually of a high amount, and it can compel you to cut down on other monthly expenses. However, if you repay a mortgage loan faster, you can utilise your hard-earned money for other important goals and dreams, such as a holiday you have always wanted to go on.
Before you plan to pay off your mortgage loan early, do talk to a mortgage advisor. Ask them to clearly explain any penalties that may be involved. This way, you can compare the pre-payment penalties you would owe against what you would pay if you let the mortgage run its full tenure and take a good decision.
Points to consider:
If you are taking a mortgage loan for the first time, here are a few points to keep in mind:
Choose wisely between prepaying your loan and making an investment
Do not cross your financial limits only to pre-pay the loan. Keep your investment goals in mind when strategising the pre-payment of your mortgage loan. It is always better to check if it is more profitable to pre-pay the loan or invest the extra money and garner a larger financial corpus. Thus decision regarding pre-payment should be made only after assessing its opportunity cost.
Choose a shorter loan tenure but do not compromise on the repayments of other debts
It is better to select a shorter loan tenure only after carefully understanding your finances. You need to factor in the repayments of any other debt that you may have. It is better to pay off personal loan and other such debts that charge you a high-interest rate before pre-paying your mortgage loan. However, if choosing a shorter tenure for the repayment of your mortgage loan fits your budget, you can save a lot of money on the interest.
Get a mortgage loan at an interest rate is comfortable for you
It is important to choose the right lender who offers you an interest rate that is suitable to your budget. Hence, do your research and find the lender that charges you the type of interest rate (fixed or floating) that you prefer. Choosing a lender that charges a low interest will also help you reduce your EMI.
Key Takeaways
Clearing up your mortgage loan before its scheduled termination can help you reduce your interest and give you peace of mind.
You can clear off your debt quickly by asking the lender to refinance your loan to a shorter tenure.
Choosing a higher monthly EMI instalment can help you shorten your mortgage loan tenure and reduce your interest.
Make extra payments whenever possible to boost the repayment of your loan.
Do not go out of your comfort zone to pay loan faster. You should consider paying off other debts that charge you a higher interest rate before you decide to start pre-paying your mortgage loan.
The Importance of Good CIBIL Score for Home Loan
Are you looking for information on CIBIL score for home loans? Have you been wondering what is the minimum CIBIL score for home loans and how you can bring your credit score within that range? If so, then you've landed on the right page! Continue reading the article to know all there is about CIBIL score for housing loan application.

Established in 2000, the Credit Information Bureau Limited (CIBIL) is a credit information company that maintains records of individuals and organisations. A lending agency/company/bank gives out loans on the basis of the CIBIL score generated.

What is the relevance of CIBIL Score for home loan?

The CIBIL score is basically a three-digit number that ranges between 300 and 900. The higher the score, the greater are your chances of getting a home loan easily. Lenders mandatorily check your credit score to know your creditworthiness when you apply for a home loan.

Here is a quick look at how the CIBIL score impacts your home loan application:

● The CIBIL score is essentially the first impression that your lender gets of you as a borrower
● Borrowers applying for home loans with low CIBIL scores might face a harder time in getting their applications approved
● Having a good or high CIBIL score allows you to get the better interest rate


Can a good CIBIL score help you get a home loan at a lower EMI?

Having a good CIBIL score when you apply for a home loan not only makes you eligible to get one but also helps you get funding at a lower interest rate. Lower EMIs will help bring down the overall cost of your housing loan. As we all know, a home loan is long term debt that runs into decades. So, even a small reduction in interest can see you potentially save lakhs of rupees.

Thus, having a higher CIBIL score can prove to be immensely helpful for a housing loan.


What is considered to be a good CIBIL score for home loan applicants?

Generally higher CIBIL score is considered good. It increases chances of getting easy approvals and better rates of interest. Bank of Baroda requires a minimum credit score of 701 for a customer to be eligible for a home loan.


Want to know how to increase your home loan eligibility?

Here are a few tips that can enhance your chances of getting a home loan:

● Paying off existing loans:
This is the major tip which will help you increase your chances of getting your home loan sanctioned. Ensure that you are paying your existing EMIs on time regularly and there is no default. If you have a habit of using your credit card, make sure you pay off your entire card debt on a regular basis so that you don't have to pay any interest on those expenses. In short, pay the whole balance and not just the minimum due.
● Record your variable pay:
Another way to increase your eligibility is by giving the bank proof of your variable pay apart from submitting your income documents.
● Opt for a joint home loan:
You can add your close relatives as co-applicant, while reviewing an application for a joint home loan, the lender considers the income of both the parties. Hence, a combined monthly income will appear higher and increase your chances of getting the loan value you need.

Quick tip: You can use an online tool called the Home Loan EMI Calculator to understand what your monthly payments will look like for a certain loan amount. Knowing what kind of EMIs you can expect will help you plan your finances better. This will save you from defaulting on your payments and help you keep your credit score in good standing throughout the tenure of your home loan.

Steps to check your CIBIL score online

These days, we have become accustomed to the new normal of doing as many things as possible online, from transferring money to someone to applying for cards and opening bank accounts too. In the same way you also check your CIBIL score digitally!

Simply follow these quick steps to easily check your credit score online:

Step 1 - Go to the official CIBIL website, log in and select "Know Your Score"

Step 2 - Fill up the digital form that appears and enter relevant details such as your name, date of birth, past loan history, ID proof etc.

Step 3 - After the form has been properly filled, a payment page will appear. You can choose your preferred form of payment method like debit/credit cards or net banking.

Step 4 - After successful payment you will have to answer five questions CIBIL asks about your credit history, out of which three need to be correct, in order to get your identity authenticated from CIBIL.

On approval, you will get your credit report mailed to you in the next 24 hours, and you can check your CIBIL score, also existing BOB customer can check their CIBIL score through bob World mobile banking app.

Conclusion

Now you can be the proud owner of your very own dream home with the easy home loan options given by Bank of Baroda. Our home loans have low interest rates, affordable processing fees, and longer tenures too. At Bank of Baroda, you can also enjoy many other benefits such as a free credit card when you apply for a home loan. Choose from our wide range of home loans including pre-approved home loan, home improvement loan, and loan takeover scheme, among others. You can check your home loan eligibility online on our website and even apply for your home loan online too. It's that convenient!

Get in touch with us today to know more.

Why Choose Bank of Baroda Housing Loan?
There is no feeling like home. Buying a house brings unmatched joy and happiness in our lives. An owned home gives us a sense of security and a feeling of achievement. Long back, people had to spend numerous years saving up a corpus to finance their dream of buying a house. But today, you do not need to do so. You can simply take a home loan.
Opting for a home loan is an excellent way to finance the purchase of your dream house. This loan allows you to pay the property amount in a systematic and periodic manner. Bank of Baroda offers home loans at attractive interest rates on easy repayment terms. The maximum tenure of repayment is 30 years, and you can apply for a top-up for five times during this entire tenure.
Benefits of taking a home loan from Bank of Baroda
At Bank of Baroda, we truly believe in simplifying the process of getting finance for your home. As such, we offer a range of loans designed to meet your various requirements. From our pre-approved home loans to home improvement loans and home loan takeover scheme, there is something for everyone. Here are a few more benefits of getting your home loan from Bank of Baroda:
• Low interest rates and processing charges
• Higher loan amounts
• Free credit card
Let's take a closer look at why you should consider opting for a Bank of Baroda home loan to buy your next or first flat or house. We will show you how to apply for home loan by discussing home loan eligibility, fees and charges, and documentation required in detail.
Bank of Baroda housing loan eligibility criteria
To help more people finance their dream home, we have put together an easy to meet eligibility criteria.
Conclusion
Signing up for a home loan is a long-term commitment. And we, at Bank of Baroda, promise to be there for you every step of the way. From helping you sail through the documentation process with ease to offering expert advice on planning your loan repayment, we have it all covered for you.
In fact, you can now apply for a housing loan with Bank of Baroda online with a matter of a few clicks. We hope this was a great read for you today.