A Life vest for your lifetime savings.

---
Open Jeevan Suraksha Savings Bank Account to manage your savings.
Salary and Pension Solutions for Central/State Government employees for drawing Salary/Pension
Salary and Pension Solutions for Central/State Government employees for drawing Salary/Pension.
Comprehensive Personal Accidental Insurance upto Rs. 40 Lakhs#
Permanent Total Disability cover upto Rs. 40 Lakhs#
Permanent Partial Disability cover upto Rs. 20 Lakhs#
Air Accident Insurance cover upto Rs.10.00 Lacs#
Personal Accident Insurance cover between age 18 -70 years
Overdraft facility available*
100% waiver in processing charges on Home loan, Auto Loan, Education Loan, Mortgage Loans and Personal Loan#
# T&C Apply
*subject to approval as per extant guidelines of Bank
Eligibility
All Customers in Age Group of 18-70 are eligible to avail the Life Insurance benefits Any resident individual who has attained the age of 18 years and has not completed the age of 70 yrs can avail the facility of Life Insurance Cover from "IndiaFirst Life Insurance Co. Ltd" (IFLIC) upto an amount of Rs.5.00 lac after payment of required premium and submission of simple Health Declaration Form (DOGH)
---
Sum Assured
The Sum assured starts at a minimum of Rs.1.00 lac and goes up to Rs.5.00 lacs (in multiples of Rs. 1.00 lac).
Under the Scheme, Only one insurance cover per person shall be allowed.
---
Periodicity
Period of Insurance is one year from 01st January to 31St December every year and is annually renewable. In case of those accounts which are opened in due course in the middle of the year, premium shall be paid on prorata basis only for the year in which the insurance is subscribed as per details mentioned below:
---
Premium Table
Insurance premium chart - 1 Lac
Age in Years
18-35
36-50
51-59
60-70
Month of joining the Scheme
Premium ( Inclusive of GST )
with effect from 01.01.2020
Coverage in Months
Jan
138
276
768
1,975
12
Feb-20
127
253
704
1,811
11
Mar-20
115
230
640
1,646
10
Apr-20
104
207
576
1,482
9
May-20
92
184
512
1,317
8
Jun-20
81
161
448
1,153
7
Jul-20
69
138
384
988
6
Aug-20
58
115
320
823
5
Sep-20
46
92
256
659
4
Oct-20
35
69
192
494
3
Nov-20
23
46
128
330
2
Dec-20
12
23
64
165
1
From second year onwards the premium for the full year will be auto debited at central level in the month of January.
Insurance cover shall be available only till the Savings Account is active and Premium amount once collected shall not be refunded even if the account is closed.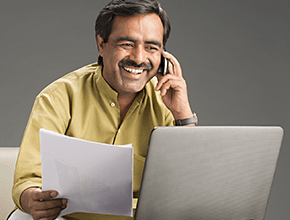 Request Callback
Please fill in these details, so we can call you back and assist you.

Baroda Advantage Saving Account

Super Savings Account

Jeevan Suraksha Savings Bank Account

Baroda Champ Account

Baroda Mahila Shakti Saving Account

Baroda Pensioners Savings Bank Account

Baroda Platinum Saving Bank Account

Baroda Salary Classic Account

Baroda Salary Premium

Baroda Salary Privilege

Baroda Super Salary Account

Baroda Senior Citizen Privilege Scheme

Baroda Police Forces Salary Package

Salary and Pension Solutions for Indian Central Forces Personnel

Salary and Pension Solutions for Indian Military Personnel

Baroda SB Self Help Group

Government Savings Account (Baroda Gov Bodies SB Account)