Saving is good. Saving smartly is even better.

---
Choose from our wide range of Baroda Savings Accounts
Baroda SB Self Help Group
Baroda SB Self Help Group is available in two variants - SB Self Help Group General & SB Self Help Group - Women empowerment. The minimum balance requirement is Rs. 1000. 30 cheque leaves will be free in a financial year. OD facility available: Up to Rs. 3 lakhs ROI is One year MCLR+ Strategic premium+ 0.50%. For limit above Rs. 3 lakhs ROI is One year MCLR+ Strategic premium+ 1.00%.
Self Help Groups including Women SHGs subject to submission of resolution and list of members of the SHG.
Mode of Operation
Jointly as per resolution.
Minimum balance
Rs. 1,000 (QAB)
Maximum Amount
There is no ceiling on the amount deposited/held in the account.
Non-maintenance charges
Branch Category
With Cheque Book
Without Cheque Book
Metro/Urban
1000
500
Rural/Semi Urban
500
0
Debit Card Variant & Annual Fee
Not Applicable
Cheque book
Non-Personalized Cheques – (30 leaves per calendar year not chargeable) Beyond that Rs. 3 per leaf. *Total 30 leaves will be free for financial year for personalized and non-personalized cheque book.
Value Added SMS alert facility
Rs.10 + GST charged quarterly
Auto sweep facility
Not Available
Overdraft Facility
Available Limit up to Rs. 3 lakhs: As applicable to Agriculture/Other Priority Sector Advances, as the case may be, presently One year MCLR+ Strategic Premium+ 0.50%
Limit above Rs. 3 lakhs: One year MCLR+ Strategic Premium+ 1.00%
Internet Banking/Mobile Banking
Not Available
Collection of outstation cheque
Available
Nomination facility
Not Applicable
Convertibility of existing accounts
Not Permissible
Pre-closure charges
If an account is closed after 14 days or before 1 year of first customer induced credit transaction in the account, a service charge of Rs.200/- plus GST will be levied.
SHG account is to be closed on receipt of written request with resolution.
Staff to verify that there is no outstanding amount in the name of SHG.
Most important Terms & Conditions of Baroda Self Help Group
Interest calculation and frequency:
Interest is calculated on daily product basis and credited to accounts quarterly. For this purpose bank's quarters are April to June, July to September, October to December and January to March. Interest is credited to the account within 15 days of end of quarter. However, value date effect as of 1st day of the month is given while crediting interest.
---
Dormant/Inoperative Account:
Account becomes inoperative/dormant if there are no customer induced transactions in Savings Account for over a period of two years. Interest is continued to be applied in all such Savings Bank accounts. No charges are levied for in-operation of accounts.
Activation/Closure of Dormant/Inoperative accounts will be done after submission of necessary KYC documents, photo, and fresh specimen signature subject to satisfaction of the Bank.
All accounts which have remained inoperative/dormant for a period of 10 years and above will be treated as unclaimed deposits and will be transferred to RBI. Upon receipt of the request from the customer such deposits will be returned subject to conditions.
---
Disclosure of Information:
The Bank may disclose information about customer's account, if required and permitted by law, rule or regulations, or at the request of any public or regulatory authority or if such disclosure is required for the purpose of preventing frauds, or in public interest, without specific consent of the account holder(s).
All relevant policies including code of commitment to customers and grievance redressal policy are available at the branches.
MITCs OF ATM/DEBIT Card, Mobile Banking, Net-Banking in Application Forms are available separately.
The Bank will notify, 30 days in advance, any change in terms and conditions/interest rates & charges on its website.
Deposits along with interest kept in different branches of our Bank is insured by Deposit Insurance & Credit Guarantee Corporation (DICGC) maximum up to Rs. 5,00,000 (Rs. 5 lakhs).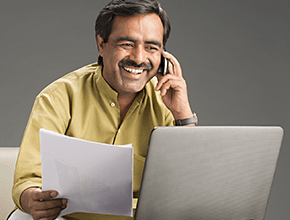 Request Callback
Please fill in these details, so we can call you back and assist you.

Baroda Advantage Saving Account

Super Savings Account

Jeevan Suraksha Savings Bank Account

Baroda Champ Account

Baroda Mahila Shakti Saving Account

Baroda Pensioners Savings Bank Account

Baroda Platinum Saving Bank Account

Baroda Salary Classic Account

Baroda Salary Premium

Baroda Salary Privilege

Baroda Super Salary Account

Baroda Senior Citizen Privilege Scheme

Baroda Police Forces Salary Package

Salary and Pension Solutions for Indian Central Forces Personnel

Salary and Pension Solutions for Indian Military Personnel

Salary and Pension Solutions for Central/State Government employees for drawing Salary/Pension

Government Savings Account (Baroda Gov Bodies SB Account)