Small savings today for bigger happiness tomorrow.

---
Opt for Flexible Recurring Deposit Scheme and get multiple benefits.
Flexible Recurring Deposit Scheme
The Yatha Shakti Jama Yojana is a flexible recurring deposit account with attractive offerings like monthly instalments. Eligibility is simple and can be opened by any individual in his/her name or more than one individual in joint name. Clubs, associations, educational institutions, partnerships are also eligible to open an account.
Most Important Terms and Conditions (MITC)
An individual in his/her own name.
More than one individual in joint name.
Minor of age 10 and above on terms laid down by the bank. Accounts can also be opened in the name of a minor of minor with their father/mother, as guardian as per bank extant guidelines.
Clubs, associations, educational institutions, partnerships and joint stock companies, provided they are registered and the bank is satisfied that the account is opened for genuine savings purposes.
The product is not available for NRE deposits.
Interest will be paid and credited half yearly (September and March).
Senior citizen shall get benefit of additional interest as per guidelines effective from time to time (as applicable on recurring deposit account).
Staff members (including ex-staff) shall get the benefit of additional interest as per guidelines effective from time to time (as applicable on recurring deposit account). Retired staff members who are senior citizen shall get both benefit of staff rate as well as senior citizen interest rate benefit.
Eligibility
All individuals and non-individuals
---
Amount of Deposit
Minimum: Minimum amount of core instalment required to open an account is Rs. 100 thereafter in multiple of Rs. 100 above core instalment.(flexibility of changes in instalment amount)
Maximum: Monthly deposit amount can be increased only up to three times of the core instalment subject to maximum of Rs. 10,000 per month
---
Tenure of Deposit
Minimum : 12 months
Maximum : 120 months
---
Instalment Frequency
Monthly
---
Rate of interest
As per the maturity period of the deposit
---
Payment of Interest
Interest will be paid and credited half yearly (Sept & March)
Interest will be on daily balance.(Half yearly compounding of interest)
---
Premature Closure
Interest should be paid after deducting a penalty of 1% from such applicable rate or the contracted rate whichever is lower in the cases which are subject to charging penalty.
---
Availability of Loan/Overdraft
Loan/overdraft facility is permitted up to 95% of outstanding balance at interest rate as per bank's guidelines issued from time to time.
---
Maturity of Deposit
One month after payment of the last instalment or due date, whichever is later.
---
Penalty on delayed Payment of Instalments
No penalty
---
Rate of Interest to Senior Citizen: An additional interest @ 0.50 % is payable for deposits below Rs. 1 crore. only

Payment of Instalments:The instalment for any calendar month must be paid on or before the last working day of that month. In case of delay in payment of any instalment, penalty shall be charged which is at present, `.1.00 + GST for every `.100 p.m., fraction of a number being treated as a full month for the purpose of calculating such penalty.
Instalments paid during the course of the calendar month in which it is due, shall be deemed as payment made in time.
Alternatively, the depositor may continue the account till maturity without regularising it (i.e., without paying the amount of instalment in arrears plus penal interest). In such cases deposits are to be treated at par with Yatha Shakti Jama Yojana for the purpose of calculation of interest.

Nomination Facility:Nomination facility will be available

Tax Deduction at Source: TDS will be deducted as per income tax rules. No TDS will be deducted if a person submits form 15G/ 15H as applicable.

Method of Calculation of Interest on or Before Maturity:: In all cases of domestic term deposits (period of deposit less than a year) where the terminal quarter is incomplete, interest should be calculated for complete quarter and for the actual number of days, reckoning the year 365/366 days, i.e., the calculation of interest on such deposits should be in order of completed quarters and days.

TDS Certificate: TDS certificate will be provided to all customers.

Advance Against Deposits:This facility is not available to a minor account in single name and HUF. For advances taken against deposits, if the depositor does not settle the account within 90 days, bank has the right to settle the overdraft account against his term deposit.

Interest certificate available at request of customer
Customer will be provided with a passbook for the account
Recurring Deposits can be transferred from one branch to another branch at the request of the customer.

Mode of Payment: Maturity proceeds are credited to the SB/CA account of the customer. In cases where there are no operative accounts of the customer, maturity proceeds can be given in cash below Rs. 20,000 above which DD/ pay order will be issued.

Minor Accounts can be opened for individuals above 10 years subject to maximum cap of Rs. 1,00,000

A regular RD can be converted to Baroda Yatha Shakti Jama Yojana Scheme.

---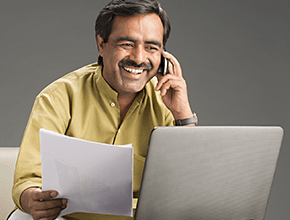 Request Callback
Please fill in these details, so we can call you back and assist you.